Sam Farmer's NFL picks for Week 17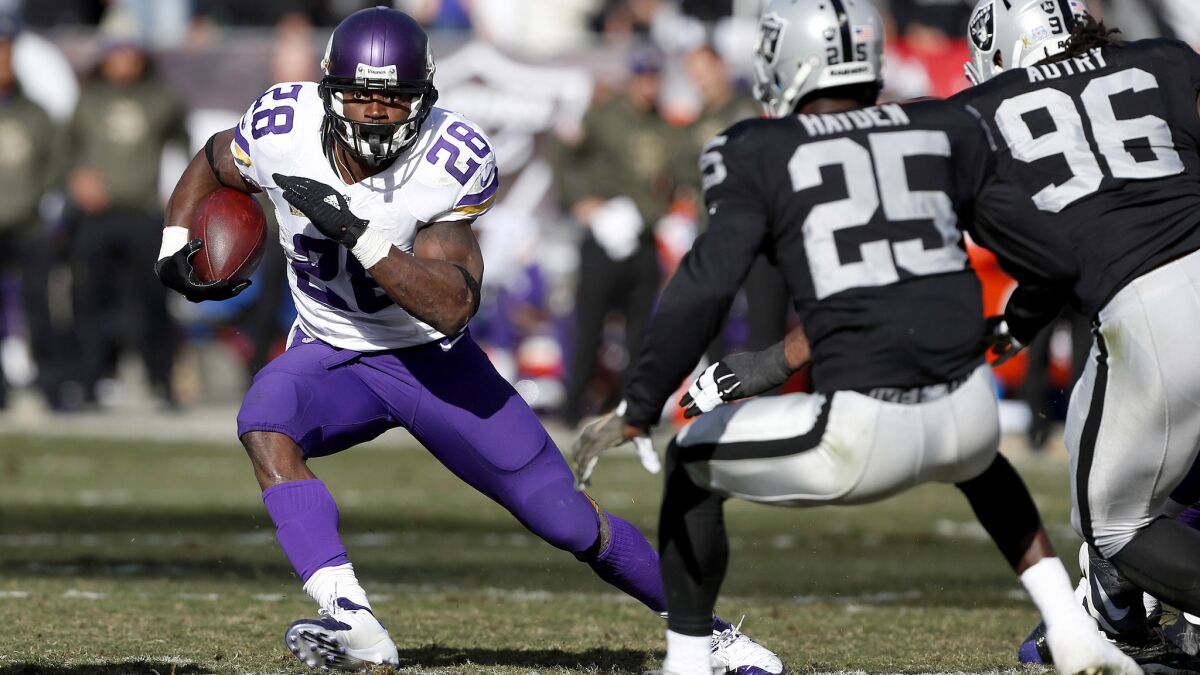 The Times' NFL writer, Sam Farmer, examines this week's matchups. Lines according to Pregame.com (O/U = over/under). Last week's record 10-6 (.625); season 146-94 (.608). Using point spreads with the scores Farmer predicted, the record against the spread last week would have been 9-7 (.563); season 122-114-4 (.517).
::
New Orleans (6-9) at Atlanta (8-7)
Sunday, 10 a.m.
Falcons 23, Saints 21
TV: None. DirecTV: 705.
Line: Falcons by 4. O/U: 52 1/2.
Even though the Falcons could be in line for a letdown after their huge upset of Carolina last Sunday, they should be able to take advantage of New Orleans' horrible defense. Devonta Freeman helps here.
::
Detroit (6-9) at Chicago (6-9)
Sunday, 10 a.m.
Lions 27, Bears 24
TV: None. DirecTV: 706.
Line: Bears by 1. O/U: 46.
Detroit's defense is playing well enough, and Matthew Stafford could be in for a big day. The Bears, who made a nice push around midseason, stopped a three-game stumble with a win Sunday.
::
Washington (8-7) at Dallas (4-11)
Sunday, 10 a.m.
Redskins 21, Cowboys 17
TV: Channel 11. DirecTV: 707.
Line: Cowboys by 4. O/U: 40.
As long as Washington doesn't rest its starters, the Redskins should win pretty handily. With Tony Romo and Dez Bryant on injured reserve, the Cowboys are a shell of the team they thought they would be.
::
Philadelphia (6-9) at N.Y. Giants (6-9)
Sunday, 10 a.m.
Giants 28, Eagles 24
TV: None. DirecTV: 708.
Line: Giants by 3 1/2. O/U: 51 1/2.
The Eagles have said goodbye to their coach, and the Giants might do the same soon. Odell Beckham Jr. is back for New York, and Eli Manning should be able to close season with a punctuation mark.
::
Baltimore (5-10) at Cincinnati (11-4)
Sunday, 10 a.m.
Bengals 28, Ravens 21
TV: None. DirecTV: 709.
Line: Bengals by 9. O/U: 41 1/2.
Even with all their injuries, the Ravens are still playing hard, as Pittsburgh learned last weekend. Ryan Mallett will have a tough time putting together back-to-back great games. Bengals need a win.
::
N.Y. Jets (10-5) at Buffalo (7-8)
Sunday, 10 a.m.
Jets 24, Bills 17
TV: Channel 2. DirecTV: 710.
Line: Jets by 3. O/U: 42 1/2.
With a playoff berth on the line,Ryan Fitzpatrick and the Jets are in position to get the job done against their former coach. The Bills will have a tough time running on a New York defense that's getting healthy.
::
Pittsburgh (9-6) at Cleveland (3-12)
Sunday, 10 a.m.
Steelers 30, Browns 13
TV: None. DirecTV: 711.
Line: Steelers by 11. O/U: 47.
Ben Roethlisberger always seems to play well in his home state. Watch for him to have a big game, and for Pittsburgh's defense, although vulnerable, to turn the screws on QB Austin Davis.
::
Jacksonville (5-10) at Houston (8-7)
Sunday, 10 a.m.
Texans 24, Jaguars 20
TV: None. DirecTV: 712.
Line: Texans by 6. O/U: 46.
A division title is dangling in front of the Texans, so they're motivated. Jadeveon Clowney has come alive. Jaguars QB Blake Bortles has been excellent but his team is otherwise unreliable.
::
Tennessee (3-12) at Indianapolis (7-8)
Sunday, 10 a.m.
Colts 21, Titans 17
TV: None. DirecTV: 713.
Line: Off board. O/U: Off board.
The Colts are a mess at quarterback, and a coaching/front office housecleaning figures to be right around the corner. Still, Tennessee was destroyed by Houston last week and has run out of gas.
::
New England (12-3) at Miami (5-10)
Sunday, 10 a.m.
Patriots 30, Dolphins 21
TV: None. DirecTV: 714.
Line: Patriots by 10. O/U: 47.
The Patriots' offensive line is banged up and having a hard time protecting Tom Brady. New England has Rob Gronkowski, though, and incentive of clinching the top seed. Up-and-down Miami loses at home.
::
San Diego (4-11) at Denver (11-4)
Sunday, 1:15 p.m.
Broncos 27, Chargers 17
TV: Channel 2. DirecTV: 715.
Line: Broncos by 9. O/U: 41 1/2.
The Chargers are playing like they're ready for the season to end. Brock Osweiler made some terrific throws on Monday night. If he doesn't lay an egg, defense-strong Broncos win going away.
::
St. Louis (7-8) at San Francisco (4-11)
Sunday, 1:15 p.m.
Rams 21, 49ers 17
TV: None. DirecTV: 716.
Line: Rams by 3 1/2. O/U: 37.
These franchises have been heading in opposite directions lately, with the Rams winning three in a row, and the 49ers losing three in a row. St. Louis has relocated its defense and finishes with a road win.
::
Oakland (7-8) at Kansas City (10-5)
Sunday, 1:15 p.m.
Chiefs 23, Raiders 21
TV: None. DirecTV: 717.
Line: Chiefs by 7. O/U: 43 1/2.
The Raiders are filled with young players who seemed to hit the wall a few weeks ago, but have gotten a second wind. Plus, it's Charles Woodson's final game. Still, the Chiefs are at home and rolling.
::
Tampa Bay (6-9) at Carolina (14-1)
Sunday, 1:15 p.m.
Panthers 23, Buccaneers 20
TV: None. DirecTV: 718.
Line: Panthers by 10 1/2. O/U: 47.
This should be close. Carolina's defense is not playing as well as earlier in the season, and Tampa Bay won't roll over. The Panthers have enough to get it done, but Buccaneers make it interesting.
::
Seattle (9-6) at Arizona (13-2)
Sunday, 1:15 p.m.
Cardinals 27, Seahawks 23
TV: Channel 11. DirecTV: 719.
Line: Cardinals by 6 1/2. O/U: 47.
If Carolina loses and Arizona plays its starters to secure the top seed, the Cardinals win big. If the Cardinals rest Carson Palmer, it will be closer, but they're good enough to win with backup Drew Stanton.
::
Minnesota (10-5) at Green Bay (10-5)
Sunday, 5:30 p.m.
Vikings 30, Packers 20
TV: Channel 4.
Line: Packers by 3 1/2. O/U: 45.
Whether it's their porous offensive line, or their receivers who can't get open, the Packers are struggling. The Vikings' defense is getting healthy, and will get after Aaron Rodgers. Division is up for grabs.
---
Get our high school sports newsletter
Prep Rally is devoted to the SoCal high school sports experience, bringing you scores, stories and a behind-the-scenes look at what makes prep sports so popular.
You may occasionally receive promotional content from the Los Angeles Times.