Clay Matthews hopes to end unusual streak as defenders try to adapt to new rules for QB hits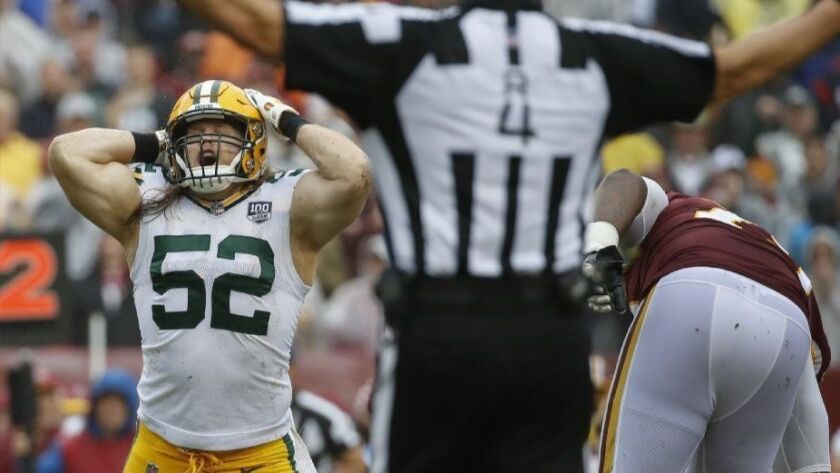 Clay Matthews has a strange streak going, one that he hopes to break Sunday.
The Green Bay linebacker has been flagged for roughing the passer in each of the Packers' three games, and two of those penalties appeared to many observers to be normal tackles.
Officials are eagle-eyeing quarterback hits this season, and particularly ones in which the tackler uses his full body weight to drive quarterbacks into the ground. There have been 34 roughing-the-passer penalties this season, more than double the total called through three weeks last year (16).
"It's ridiculous," Cleveland defensive end Myles Garrett told reporters this week. "I feel bad for Clay Matthews. He just can't win at this point right now. I mean, I'm going to take them down how I have to."
It isn't just Matthews. All over the league, players are drawing those flags. Miami defensive end William Hayes suffered a season-ending knee injury last week when trying a pull up on a hit to Oakland quarterback Derek Carr.
Fellow Dolphins defensive end Cameron Wake said the league should acknowledge that, when it comes to caring about injuries, all things are not equal.
"Just tell me, `Listen, we're going to protect quarterbacks differently,'" Wake told reporters. "Just be blunt about it. Not, `We care about your safety,' because you don't care about my safety. You care about some people's safety.
"My knees mean just as much to my family and my ability to play and provide just as much as [Dolphins quarterback Ryan] Tannehill's does. I can understand that his are more important than mine."
During the NFL competition committee's regular conference call this week, Troy Vincent, the league's football operations chief, said there would be no changes made to the point of emphasis on roughing calls put in place in the spring.
Part of the issue could be that teams are playing their starters less and less during the exhibition season, and the league wants to send a message early so defensive players adjust accordingly. That would suggest fewer of these calls as the season progresses.
Either way, Matthews, who will face Buffalo rookie Josh Allen on Sunday, is out to break a streak.
We meet again
It was a largely meaningless game, but Kansas City's Patrick Mahomes made his starting debut in last season's finale against Denver, leading the Chiefs to a 27-24 come-from-behind victory.
Sunday, the Broncos will get another look at Mahomes, who has an NFL-record 13 touchdowns and no interceptions in his first three games of the season. The 3-0 Chiefs and 2-1 Broncos are 1-2 in the AFC West standings, and Kansas City has beaten Denver five times in a row.
"Every game I go in, I know that the defense is going to have some surprise they're going to try to throw at us," Mahomes told reporters this week. "I know that defenses in this league are good, and that defensive coordinators are going to try to find ways to distract us and keep us from doing what we do."
The Chiefs have scored on their opening possession in each of their games this year. Then again, that's a microcosm of recent seasons — they tend to start fast, then fade. Mahomes is hoping to change that.
Just wince, baby
The Raiders are just the second team in 20 seasons to get off to a 0-3 start despite leading at halftime in all of their games. The pressure is mounting on $100-million Coach Jon Gruden, who traded the team's best player, defensive end Khalil Mack, just before the opener.
"It's justifiable," Gruden told reporters in reference to the growing impatience. "I have a pretty good idea of what this business is all about. But I'm also realistic. I'm also very optimistic. I'm going to continue to work hard. I think I have as good a coaching staff as there is in football. The results will happen."
Good hands people
One of the remarkable aspects of the Rams and the rise of Jared Goff is the job general manager Les Snead and others did in restocking the shelves with receivers, even when it seemed the club didn't have the salary space or draft picks to do so.
Whether it was trading for Sammy Watkins (now with the Chiefs) and Brandin Cooks, signing Robert Woods, or drafting Cooper Kupp in the third round, the Rams have made the necessary moves to rebuild with head-spinning speed. Cooks, Kupp and Woods all caught more than 100 yards in passes in Thursday's win over Minnesota.
"When you sat down with Sean [McVay], you knew he was the difference maker," Snead said of the Rams coach. "He would create a difference-making scheme, a difference-making environment for Jared to evolve. Now it was on us to fix the skill, get the players that let him be the scientist that he is."
Follow Sam Farmer on Twitter @LATimesfarmer
---
Get the latest on L.A.'s teams in the daily Sports Report newsletter.
You may occasionally receive promotional content from the Los Angeles Times.