Rams free agent quarterback Luis Perez has pro bowler skills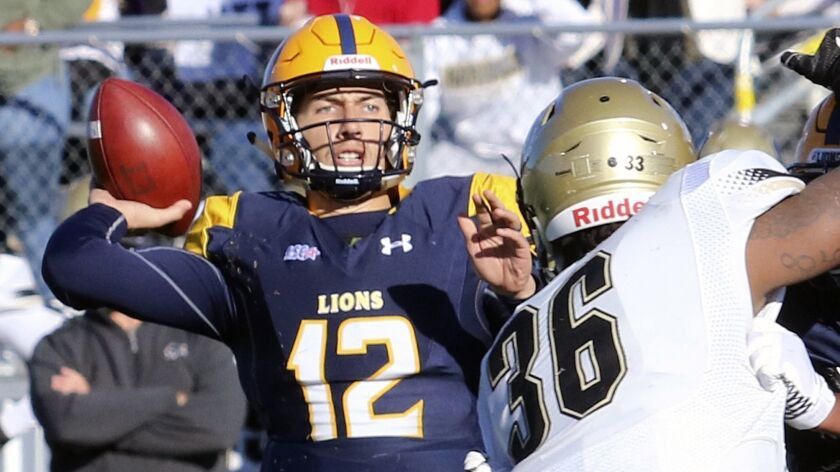 The Rams have found an overlooked quarterback who could wind up being a pro bowler one day.
Well, that's not exactly like it sounds.
The team has signed rookie free agent Luis Perez, a young man from Chula Vista who once was on track to be a professional bowler. He barely played football in high school, instead focusing on a sport where he racked up far more Xs than O's.
"I first started bowling when it was my dad's birthday," said Perez, 23. "We went out to bowl, and I did pretty good compared to everybody else, my brothers and my dad. That's when I kind of fell in love with it, I guess you could say. I started going every Tuesday night. Got my own ball, got my own shoes, joined a league, and then started bowling pretty good and got into tournaments."
That took him to competitions all over California, Arizona and Nevada. Perez has rolled 12 perfect games.
But Perez loved football as a kid, even though he didn't stick with it long enough to make varsity at Otay Ranch High near San Diego, and ultimately gave it a second chance. He played quarterback for a couple of seasons at Southwestern College in Chula Vista — he ascended to the starting job after being the ninth of nine quarterbacks on the depth chart — before moving on to Texas A&M Commerce, where last season he led the Lions to a Division II national championship.
Perez, whom the Rams list at 6 foot 3, 220 pounds, showed an uncommon knack for reading defenses, making adjustments on the fly and putting the ball in the right place. He threw for 5,001 yards and 47 touchdowns last season, completing 70.6% of his passes. That earned him the Harlon Hill Trophy, which is the Division II version of the Heisman.
"Talent-wise, there are probably better out there," said Matt Storm, offensive coordinator at Texas A&M Commerce. "But he's meticulous, he's detailed, and he's going to figure out a way to be successful."
It's not as if the Rams are looking for a quarterback to replace Jared Goff. And they already have a backup in Sean Mannion and a third-stringer in Brandon Allen. But it's a coup that Perez has gotten this far, with a chance to get to training camp, and another — albeit a slim one — to make the practice squad. Already at offseason workouts, he has made a good impression.
"He comes up to you, looks you in the eye, shakes your hand," coach Sean McVay said. "You can see he's got a command and a nice presence about himself. Everybody that I've talked to can't say enough about the human being. But then when you just watch him in terms of a natural base, balance, body position to deliver the ball. He earned the right to be able to be on this team and carve himself out a role as far as being able to compete as a quarterback."
Perez, whose father was a professional soccer player in Mexico, always had a good arm as a kid, and routinely would play quarterback when getting together with friends. He played a bit in high school, but didn't see a lot of action as a receiver in a Wing-T offense. His interest in the game was reignited during his senior year, when friends from the team asked him to come watch their finale.
"I'm sitting in the stands and looking around and I'm seeing everybody come out of the tunnel and I'm like, 'Holy cow! What am I doing up here? I need to be down there,' " he said. "That was the moment that I decided, you know what, it's time to play football."
So, off came the bowling shoes and on came the cleats.
And now, after a rookie tryout?
"Dream come true, that's all I can say," he said. "To be able to come out here and compete with all these guys, show them what I'm made of, is just a dream come true. Close to home, L.A., I'm used to this weather, I'm loving it."
That he's gotten even this far was as unlikely as picking up a 7-10 split.
Then again, for Perez …
Follow Sam Farmer on Twitter @LATimesfarmer
---
Get our high school sports newsletter
Prep Rally is devoted to the SoCal high school sports experience, bringing you scores, stories and a behind-the-scenes look at what makes prep sports so popular.
You may occasionally receive promotional content from the Los Angeles Times.