Column: In the NFL, sometimes it's motivation by rejection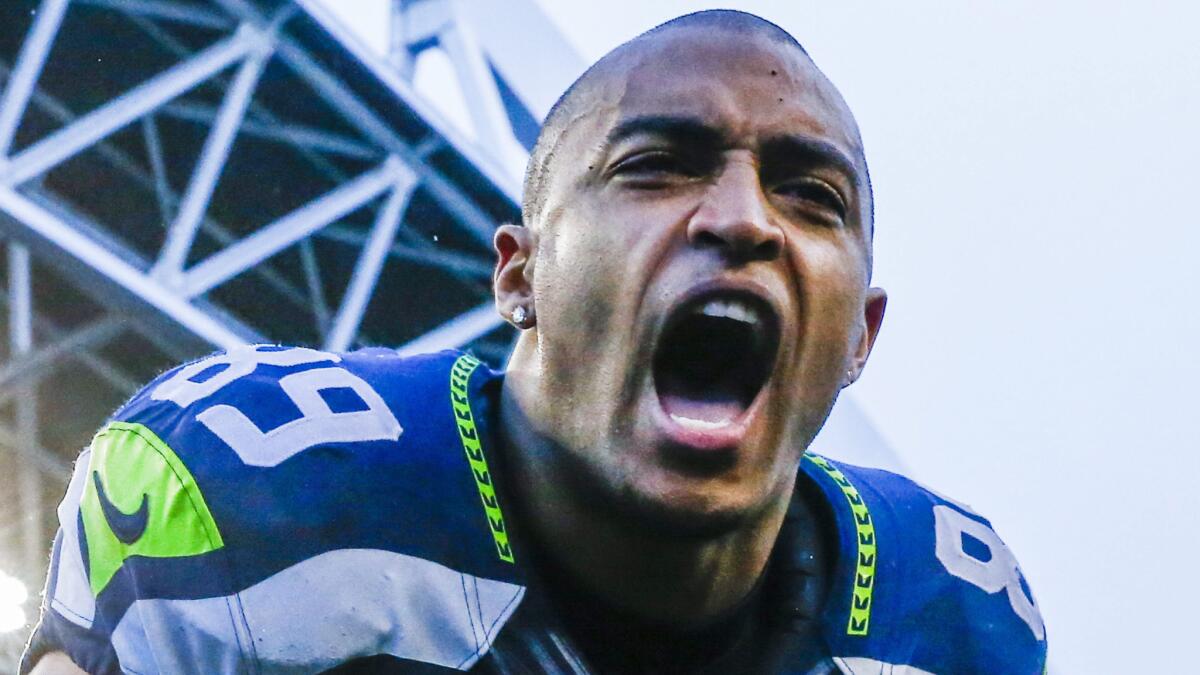 Reporting from PHOENIX —
The Seattle Seahawks had just pulled off a huge comeback in the NFC championship game last Sunday to beat the Green Bay Packers and secure a second consecutive trip to the Super Bowl. Fans at CenturyLink Field roared their approval. A gleeful city was delirious.
But receiver Doug Baldwin couldn't resist. On his way up the tunnel to the locker room, wearing a freshly minted championship cap, he tore into a large group of reporters.
"Y'all didn't believe in us," he shouted. "A whole bunch of people thought we weren't going to make it, right? When we were 6-4, 'Aw, that's OK, they've got a winning record but they're not going to go to the playoffs.' Remember that? Was 16-0 in the first half. How many of y'all counted us out? How many of y'all doubted us? It's indicative of our entire season. Y'all don't want to believe in us it's OK. You ain't gotta believe in us, because we're going to believe in ourselves."
This isn't just about the Seahawks. What bubbled to the surface in Baldwin is what countless athletes and achievers hold on to: every kernel of disrespect, whether it's real, perceived, or entirely fabricated.
It is an unbroken thread that runs through every NFL locker room, the notion that a given team or player was written off, dismissed, completely counted out. It's comical sometimes, because even heavily favored teams will find a way to twist reality and sound like an underdog. (The Seahawks were favored by a touchdown over the Packers.)
And you can expect both Seattle and New England will beat the we-get-no-respect drum this week as they prepare for Super Bowl XLIX, as neither team had an easy path to this point.
What's more, look at the quarterbacks. Seattle's Russell Wilson wasn't drafted until the third round, and New England's Tom Brady was a nobody, a sixth-round afterthought.
Disrespect is a potent motivational tool. A decade ago, when the Green Bay Packers made him their first pick in the 2005 draft, quarterback Aaron Rodgers tacked two college rejection letters to the wall of a walk-in closet in his new home. One was from Illinois, the other from Purdue, and included the condescending backhand: "Good luck in your attempt at a college football career."
Cleveland quarterback Brian Hoyer, once a backup to Brady in New England, kept the letter the Patriots sent him when they released him. It's at his home for safekeeping.
"Had there been something for 'you're not drafted,' I'm sure I would have pinned that up," Hoyer said. "It's something I keep in here [touches chest]. I've always been underestimated, whether it was through the recruiting process — I weighed 170 pounds coming out of high school. A lot of schools thought I'd never get big enough to play football. I was a pitcher so I never lifted weights because I didn't want to affect the way I threw a baseball.
"So I think being that underdog mentality suits me really well, because when somebody tells me I can't do something, I'm going to do whatever it takes to be able to do it."
"You look back to Michael Jordan, the greatest basketball player of all time, and he gets cut. Anyone who hasn't had to go through any adversity, to me at some point they're going to fail because you don't know how to handle that adversity."
The summer before his senior season in high school, San Diego quarterback Philip Rivers and his mom made a 10-hour drive from Athens, Ala., to Ann Arbor, Mich., because Michigan coaches had promised to offer Rivers a scholarship if he attended their one-day football camp.
Rivers got there, participated in the camp, and waited for that scholarship offer which never came.
"We'll keep looking at your tape," the coaches told him.
Being an Alabama kid, Rivers had his heart set on playing at either Alabama or Auburn. Only Auburn truly recruited him, and that school saw him as a tight end.
"I remember saying, 'I want to play quarterback,' " Rivers said. "And one of the guys who recruited me said, 'Don't you just want to be an Auburn Tiger?' I was like, 'No, I really just want to be a quarterback.' "
Auburn's offensive coordinator at the time was Noel Mazzone, who now has that role at UCLA. Rivers wound up going to North Carolina State, where he went on to have great success as a quarterback and was the No. 4 pick in the 2004 draft.
And who was hired as North Carolina State's offensive coordinator before Rivers' senior year? It was Mazzone, the coach who originally envisioned him as a tight end.
"I'll never forget coming off the field for a workout and here he comes," Rivers said. "I said, 'Don't you try to stick me in an 80 jersey.' We had a good laugh about that."
Chargers teammate Dwight Freeney had some similar experiences. He wanted to play defensive end — and has been a three-time All-Pro in the NFL — but many colleges saw him as too short to be effective at that spot. He's generously listed at 6 feet 1.
"Penn State was No. 1 on my list," said Freeney, who wound up at Syracuse. "They were calling me, wanted me to come out. I came out to a visit and all of a sudden it was like, 'Hmmm.' All of the calls stopped. Then, they called me one day and said, 'Sorry, but we had to stop recruiting you because you're not tall enough to play defensive end.'"
Freeney said that type of rejection, and he encountered it frequently, helped shape the player he is today.
The Patriots envisioned Rich Gannon as a safety when they selected him in the fourth round of the 1987 draft. Gannon was a quarterback, though, and when he resisted switching to defense, New England traded him to Minnesota, which began his decade-long odyssey as mostly a backup with the Vikings, Washington and Kansas City.
"I never felt like coaches believed in me, were vested in me, or that I was their guy," Gannon said.
That changed when he was making visits as a free agent in early 1999 and sat down with the second-year coach of the Oakland Raiders.
"It wasn't until Jon Gruden sat across from me in a Mexican joint and said, 'Hey, man, you and me could do something special,' that I knew this guy really believed in me and wanted me," said Gannon, who would win NFL most-valuable-player honors and lead the Raiders to the Super Bowl. "He carried my bag up to my freakin' hotel room for me. That's never happened before."
Gannon said all the criticism, dismissals and even minor slights have only fueled his competitive flames.
"You look at Aaron Rodgers, and one of the things that made him so great is he had to go to JUCO," Gannon said. "Nobody wanted that guy. And then he went to the draft and he had to sit there in the dang green room because nobody wanted to take him in the first round [until the Packers selected him 24th]. I think the thing that makes him so great is he's still hungry, he's still mad."
Former NFL quarterback Trent Dilfer is now in position to provide that inspirational kindling, because he has to tell a lot of young quarterbacks they're not quite good enough.
In addition to his work as an ESPN analyst, Dilfer is coach of the Elite 11, a top-shelf camp for the nation's best high school quarterbacks.
Dilfer, who endured his share of rejection during his playing days, has the difficult task of calling to inform 30-40 quarterbacks that they didn't make the group of 18 who advance to the ANNUAL Elite 11 finals.
"Nothing will make me happier than if you prove me wrong," he said, recounting what he commonly tells them. "In fact, if you get drafted one day, nothing will make me happier than if you were to say, 'When I was 17, Trent Dilfer didn't invite me to the Elite 11, and I used that as motivation to get better and get where I am right now.'
"Use it. Use the pain of this moment to lift more weights, to work on your mechanics, to study more football, to be a better teammate, to grow in your leadership capabilities. Use it."
Get our high school sports newsletter
Prep Rally is devoted to the SoCal high school sports experience, bringing you scores, stories and a behind-the-scenes look at what makes prep sports so popular.
You may occasionally receive promotional content from the Los Angeles Times.