Tom Brady often spent summers at family farm in Minnesota, where he'd milk cows, play ball and fish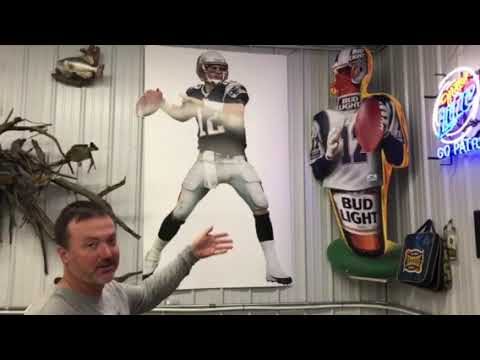 Tom Brady's cousin, Paul "Pickle" Johnson, talks about Brady's visits to a family farm in Browerville, Minn. about a hundred miles from where the Super Bowl will be played.
Reporting from browerville, minn. —
There are no stoplights here. Everyone knows everyone else. They are hardy people, unflinching in the face of winters so cold that the temperature routinely dips into negative numbers.
New England's Tom Brady would seem to be an (ice) fish out of water here.
But this central Minnesota town of 750 people has a piece of the cosmopolitan quarterback's heart. It's where his maternal grandparents lived, and where his mom, the former Galynn Johnson, was 1962 homecoming queen. The Brady family used to spend two weeks each summer here, a two-hour drive from Minneapolis, where Sunday the Patriots will play the Philadelphia Eagles in Super Bowl LII.
"I've known Tommy since he was this big," said his uncle, Allen Johnson, holding his hands about a foot apart. "My dad was a dairy farmer. All the sisters and Tommy would be here. We'd play ball, they'd help Grandpa milk the cows, and Tommy loved to fish. Once, we took him up to the lake and it started to pour. We had enough sunfish to come back and have a fish fry, but he didn't want to stop. He didn't want to leave."
On a typically frigid Monday, Johnson is wearing a bright red Patriots jacket that's sore-thumb visible in a state painted Vikings purple. He lives in the modest farmhouse of his late parents, a place that might go unnoticed but for the Patriots doormats.
The town is filled with Johnsons, some directly related to Brady, others at the furthest reaches of the family tree. All are proud to call him one of their own.
"It will be fun because my uncles still live there, my cousins," Brady said recently on WEEI radio, when asked about returning to Minnesota for his eighth Super Bowl. "It's a great place. It's really special to go back there. The last time we played Minnesota, I had a lot of people come, a lot of family and extended family. There will be a lot of great support there in Minnesota too."
Brady's grandfather was a dairy farmer and part-time barber, whose shop is now a vacant standalone building on the main street through town. His grandmother was a hairdresser who shared space in the shop. The quarterback's mother might have stayed in Browerville like her two brothers, Allen and Gary, but left to become a TWA flight attendant. She moved to the West Coast, met and married Tom Brady Sr., and they started a family.
"She was so doggone nice, and a nice-looking gal," said Gary, her older brother. "She was so compassionate."
Brady's mother was the focus of media attention during last year's Super Bowl because of her battle with breast cancer, yet was able to make it to that game against the Atlanta Falcons, a historic comeback victory by New England.
Of the Browerville family, Brady is closest to his cousin Paul "Pickle" Johnson, who got his nickname because he sold pickles door to door as a kid. He has fond memories of the Bradys visiting from California each August and for the occasional Christmas, whether it was fishing, or playing in nearby gravel pits, or endless games of Wiffle ball.
"He was persistent, full of energy, and very athletic," said Johnson, 50, a son of Gary. "He can golf, play baseball. His sisters are closer to my age, and Tommy would tag along. The whole family's athletic."
Johnson pays tribute to his cousin's NFL accomplishments in a large steel shed on his property. The heated structure is a comfortable winter hangout, with a big TV in the corner, a couch in the middle, along with mounted fish and animals, and Patriots memorabilia everywhere you look. There's a massive Fathead poster of Brady on one wall, seat pads from New England's Super Bowl victory over Carolina, neon Patriots signs, even fishing lures featuring the team's logo.
Johnson, married with two children, has an array of shots of Brady with his kids, including two family trips to Gillette Stadium and to Super Bowls.
"They've been so good, they go out of their way to accommodate us," Johnson said of Brady and his wife, Gisele Bundchen. "They don't treat us any different, we don't treat them any different. They're just the same humble and kind people, and I like to think we're that way too."
Once, Johnson was on the commuter train in Boston with his wife and kids. They were all dressed in Patriots garb, and their Minnesota accents attracted the attention of a fellow fan. He asked where they were from, and they told them of their Brady connection. The young man was so excited, he and his girlfriend took selfies with the family and promptly posted them on Instagram.
Johnson still marvels at the hubbub surrounding his cousin, that tag-along kid.
"It's amazing," he said. "But it's still Tommy. The Tommy we know."
Follow Sam Farmer on Twitter @LATimesfarmer
Get our high school sports newsletter
Prep Rally is devoted to the SoCal high school sports experience, bringing you scores, stories and a behind-the-scenes look at what makes prep sports so popular.
You may occasionally receive promotional content from the Los Angeles Times.