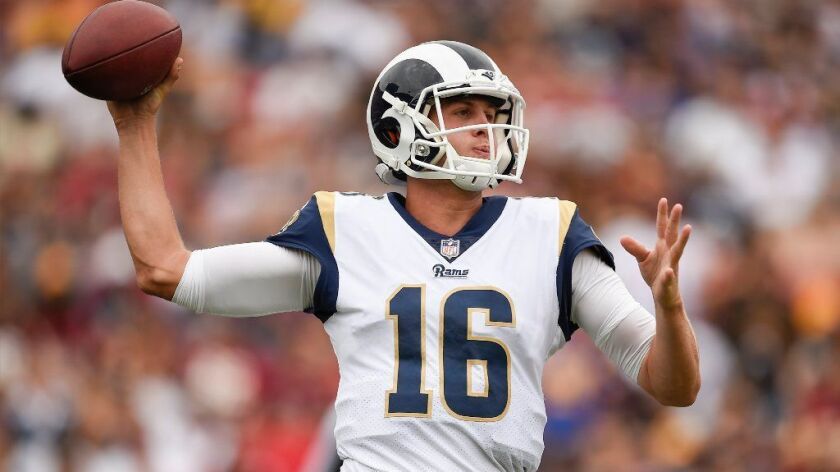 Reporting from santa clara —
The last time Rams quarterback Jared Goff was in Levi's Stadium for an NFL game, he stood on the sideline wearing a sweatsuit.
The No. 1 pick in the 2016 draft, who grew up and played college football in the Bay Area, was inactive for the Rams' opener against the San Francisco 49ers last season. The situation — and the television closeups — sent into overdrive speculation about the Rams' decision to bet their future on Goff.
Asked this week about his mind-set during that game — a 28-0 Rams' defeat — Goff declined to look back. He has done the same nearly every time he has been queried about the difference between his rookie season under former coach Jeff Fisher's staff and this season under first-year coach Sean McVay.
"You guys keep wanting to talk about last year, man," he told reporters. "We're done with that."
Goff returns to Levi's Stadium on Thursday night, this time as the starter for a Rams team that routed the Indianapolis Colts in its opener and lost to the Washington Redskins on Sunday.
The Rams' chances of defeating the Redskins ended when Goff had a pass intercepted with less than two minutes left.
Four days later, the Rams play a 49ers team that is 0-2 under first-year coach Kyle Shanahan.
"If there's ever a week to have a short memory," Goff said, "it's this one."
Goff rooted for the 49ers while growing up in Novato. He was born in 1994, two years after Hall of Fame quarterback Joe Montana played his last game for the 49ers, and he wears jersey No. 16, the same as Montana.
Goff said he was 7-years-old, and playing youth football, when he had to choose between Nos. 12 and 16.
"My dad was saying, 'Oh, Joe Montana is 16,' " Goff said. "I had no idea, I was seven and I was like, 'All right. I'll wear 16.'
The Times' Gary Klein and Lindsey Thiry preview the Rams (1-1) Week 3 game the San Francisco 49ers (0-2) at Levi's Stadium on Thrusday night. 
"And just never left it. Then, as time went on, I obviously learned about Joe Montana and made it even more special."
Goff enters Thursday's game with nine NFL starts — and one victory — on his resume.
He passed for 306 yards and a touchdown without an interception against the Colts. Against the Redskins, he passed for a touchdown and made several good plays. But he also was stripped of the ball and threw a pass that resulted in a game-ending turnover.
As the Rams prepared for their first road game under McVay, Goff said he was looking forward to playing in front of family and friends who also watched him play at Marin Catholic High and in college at California.
"It'll be fun for myself, just being home and probably seeing a lot of people," he said. "But at the same time, it's just like any other game."
The matchup against the 49ers marks the second consecutive game that McVay will coach against a mentor.
Shanahan, 37, helped hire McVay to the Redskins staff in 2010. Both young coaches interviewed for the 49ers job before the Rams made McVay their coach. The 49ers had to wait until after the Super Bowl to officially hire Shanahan, the Atlanta Falcons offensive coordinator the previous two seasons.
"He understands all the little nuances, both offensively and defensively, and how to manipulate certain schemes that people are running," McVay said. "Really, he's had a huge influence on some of the things that we believe in here, philosophically, on the offensive side."
The Rams defense is aiming to bounce back after surrendering 229 yards rushing against the Redskins.
Defensive coordinator Wade Phillips said there would be improvement against a 49ers offense that rushed for 159 yards against the Seahawks.
But he acknowledged that "they've got to be licking their chops."
The Rams reviewed and have corrected their mistakes, linebacker Alec Ogletree said.
"When you give up that amount of yards … everybody's going to say you can't stop the run," he said. "But we know we can."
This much is certain: The Rams will at the very least look different from Sunday.
The Rams and 49ers will wear so-called "Color Rush" uniforms.
The Rams' ensemble includes mustard yellow jerseys and pants with blue numbers and accents.
"It can be a little bit bright on the eyes," Goff said, "but it'll be fun."
Follow Gary Klein on Twitter @latimesklein
---