Winning culture has helped Rams avoid losing streaks under Sean McVay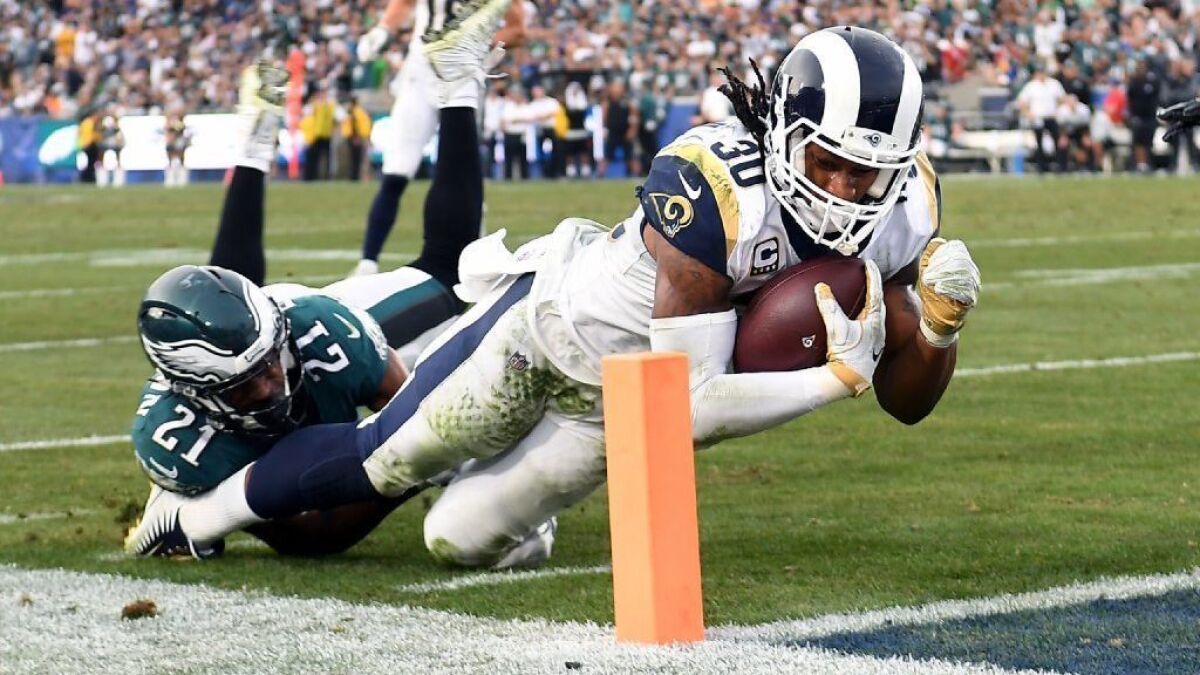 After failing to accomplish the task in Week 14 at Chicago, the Rams once again have the opportunity to clinch a bye through the wild-card round of the playoffs.
And history, at least what qualifies as such during Sean McVay's near two seasons as the Rams coach, suggests the Rams will reach their goal on Sunday night against the Philadelphia Eagles at the Coliseum.
The Rams have never lost consecutive regular-season games under McVay. And the "regular-season" qualifier is necessary only because McVay rested starters in the 2017 finale against the San Francisco 49ers before a playoff defeat by the Atlanta Falcons.
This season, the Rams lost to the New Orleans Saints in Week 9. They bounced back with a victory over the Seattle Seahawks and won three games in a row, including an NFC West-clinching victory at Detroit in Week 13 before their 15-6 defeat at Soldier Field.
The Rams' "winning culture" under McVay enables the Rams to avoid losing streaks, linebacker Mark Barron said.
"Some teams, when they lose, they might go into the tank, and then it's negativity and some of that starts to follow into the locker room," said Barron, a seventh-year pro. "That doesn't happen here. We simply learn from our mistakes and move on."
If the Rams move past the Super Bowl-champion Eagles, they will remain in contention for the No. 1 seed in the NFC playoffs, which brings with it home-field advantage throughout the postseason.
Eagles quarterback Carson Wentz, doubtful the entire week because of a back injury, was officially ruled out Saturday. Nick Foles, last season's Super Bowl MVP, will start in his place for a 6-7 Eagles team that is still alive in the playoff hunt.
Foles lacks Wentz's mobility but also can present a formidable challenge, as the Rams discovered last season when he came off the bench for the injured Wentz in a 43-35 victory at the Coliseum.
"He won a Super Bowl last year," Rams defensive tackle Aaron Donald said, "so he can do a lot."
The Rams appeared at ease and focused this week after their loss to the Bears.
It was the same mood that permeated their training facility after six previous regular-season losses under McVay. The 32-year-old coach said he could not identify a specific reason why the Rams respond so often with victories.
"Whether we won or lost last week, our approach and focus would remain the same," he said. "But, you certainly don't avoid the things that led to us not getting the outcome that we want.
"You address those, you flush it out, and part of that DNA that we want our team to embody is being a mentally tough team, being unaffected by the circumstances and find a way to be our best regardless of what those circumstances are."
Offensive lineman Rodger Saffold is in his ninth season with the Rams. He endured long losing streaks during his first seven seasons before McVay was hired.
McVay and his staff point out mistakes but they don't harp on them, Saffold said. Coaches also acknowledge their own mistakes, so the entire operation can "collectively get better," he said.
"The relationship between coaches and players is different than I've ever felt," Saffold said. "It's good, it's really good, and it makes you want to play harder for them; it makes them want to coach harder for us."
Receiver Robert Woods went through several three-game losing streaks in his first four NFL seasons with the Buffalo Bills. Attention to detail enables Rams players to avoid making the same mistakes twice, he said. Accountability also factors in.
"We're selfless guys," he said.
It starts at the top with McVay, defensive coordinator Wade Phillips and special teams coordinator John Fassel, safety Marqui Christian said.
"Some teams can lose and get in a slump and not be able to crawl out of there," Christian said. "We're blessed enough to have great coaches and great character guys to get refocused and keep moving."
The loss to the Bears was "a little bit of setback" that the Rams have turned into a "positive force," McVay said.
"Guys have done a good job with that," he said. "Then, hopefully, it leads to a good performance on Sunday night."
Follow Gary Klein on Twitter @latimesklein
Get the latest on L.A.'s teams in the daily Sports Report newsletter.
You may occasionally receive promotional content from the Los Angeles Times.