Rams need to get away on their off week, but then the rest is a grind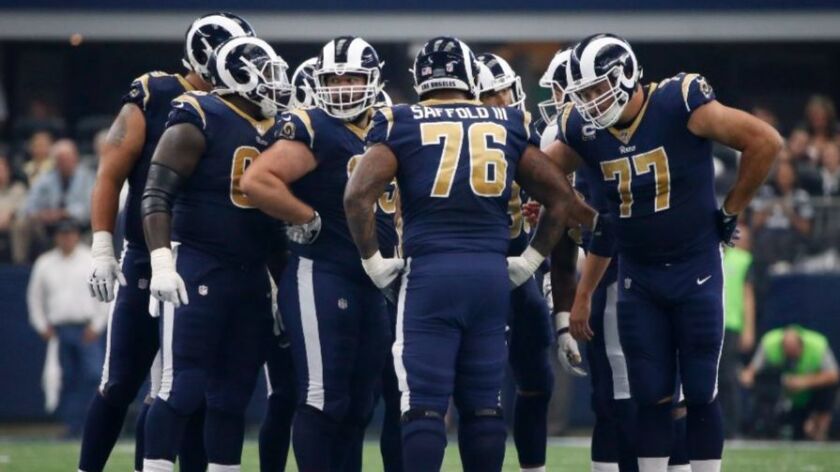 Some Rams are leaving town to visit family or friends. Others will spend their bye week relaxing close to their Southern California homes.
Even workaholic first-year coach Sean McVay, who has guided his team to a 5-2 start, said Monday that he would take time to decompress.
"It will be important for me to be able to get away for a couple days," he said Monday after a team meeting, "and just like we talk about with the players, get refreshed and get recharged."
The Rams will return next week to begin preparations for their Nov. 5 game against the New York Giants at MetLife Stadium in East Rutherford, N.J.
In the interim, they are enjoying but not wallowing in the spotlight.
The Rams have become a national media darling, a team on the rise with an ascending quarterback, a touchdown-scoring running back and an early coach-of-the year candidate.
After routing the Arizona Cardinals in London, they maintain a half-game lead over the Seattle Seahawks in the NFC West.
The Rams no longer are mercilessly pilloried for selecting quarterback Jared Goff with the No. 1 pick in the NFL draft. Todd Gurley is back to the form he showed as the NFL's 2015 offensive rookie of the year.
And the 31-year-old McVay has guided the franchise to a start that legitimately puts the Rams in the playoff conversation.
But McVay imparted a message for players.
"You say, 'Who were you talking about after seven weeks in the NFL last year? What were guys' record? Nobody cares. Because really it's about what you do at the end,' " he said.
Players said they could handle the attention.
"Stay focused," defensive lineman Aaron Donald said. "Enjoy it, but at the same time we know you got to keep working because it's a long season and got a lot more games to play.
"Come back a little better and a little bit more hungry, and we'll be fine."
Said offensive lineman Jamon Brown: "We know what we have to do moving forward. And we know that when it looks pretty, everybody going to being hanging on your coattail. But when it's ugly, everyone wants to shy away from you."
Veteran offensive lineman Andrew Whitworth played on Cincinnati Bengals teams that advanced to the playoffs. The Rams, he said, could not be satisfied by their start and the attention that comes with it.
"It's important that myself and other guys that have ever been in that situation continue to encourage guys to realize that the standard's got to keep rising," he said. "I mean, the season goes on, the expectation will grow, the pressure will grow, the games will get bigger and your standard of what is good and what is expected out of you has to rise with it.
"And so that's really going to be the hard part of going forward is it's not easy to do."
Still searching
Receiver Robert Woods is tied for the team lead with 27 catches for a team-best 381 yards.
But he has no touchdowns.
"Of course you want to get in," he said after the victory over the Cardinals. "We're completing passes, we're putting together scoring drives and we're getting into the end zone — that's the main thing.
"I'm running to the guys that are scoring touchdowns and celebrating with them. The offense gets the points. That's what we want."
Etc.
Center John Sullivan appears to be OK after leaving the Arizona game because of a knee injury, McVay said. "You look at that replay, it certainly didn't look good," McVay said, "but he's like Gumby, so I think he's going to be OK." … McVay reiterated that he must improve his management of timeouts, a problem that arose Sunday when he had used three by early in the second quarter. Because he was out of timeouts, McVay was unable to challenge an officials' ruling that probably would have been reversed. "If we're going to talk about process over results," he said, "I've got to be the same way as a coach and make sure that I'm looking at myself critically with regards to the game management, just leading in the right way."
Follow Gary Klein on Twitter @latimesklein
---
Get the latest on L.A.'s teams in the daily Sports Report newsletter.
You may occasionally receive promotional content from the Los Angeles Times.