Last exhibition is final dress rehearsal for Rams rookie coach Sean McVay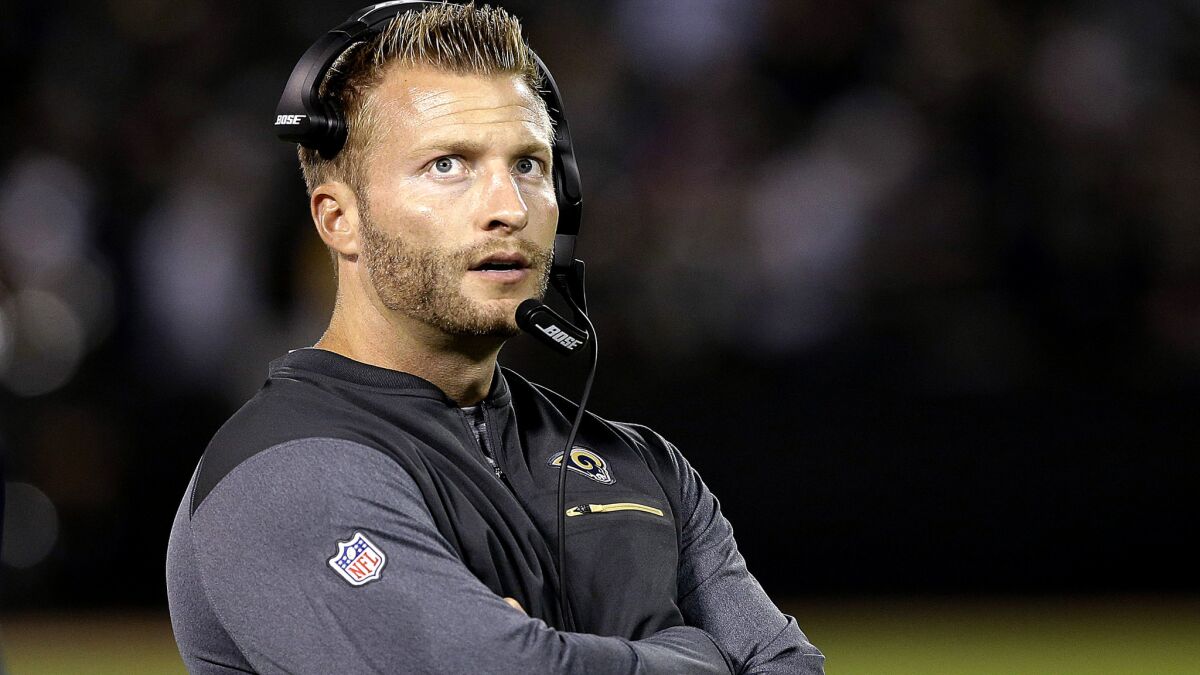 Reporting from Green Bay, Wis. —
The Rams are not taking any chances in their final preseason game against the Green Bay Packers.
Quarterback Jared Goff and other starters will safely relax on the Lambeau Field sideline on Thursday and encourage players trying to make the roster in their last chance to impress.
At least one rookie still has work to do: First-year coach Sean McVay.
The Rams open the season Sept. 10 against the Indianapolis Colts. So this is the final dress rehearsal for McVay, who was hired by the Rams despite having no experience as a head coach.
McVay, 31, spent the first three preseason games acclimating to in-game head-coaching duties. The transition from offensive coordinator to head coach forces him to pay attention to defense and special teams, a responsibility he never had during eight seasons as an assistant with the Tampa Bay Buccaneers and Washington Redskins.
Veteran defensive coordinator Wade Phillips and special teams coach John Fassel have eased the transition.
"You feel very comfortable to allow them to do their job," McVay said. "What that frees you up to do is, really as a guy that's going to be heavily involved in the offense calling the plays, be focused on that similarly to the way that you would approach it as an offensive coordinator."
McVay is not completely turning over responsibilities to experienced assistants.
Phillips, in his 40th NFL season, has McVay's blessing to decide whether to accept or decline penalty yardage if McVay is otherwise engaged. But McVay got a run-through on the challenge procedure last week against the Chargers. McVay instructed his assistant, Bill Nayes, to throw the challenge flag.
"He was quick, ready to roll and he got that thing out there in enough time," McVay said after the game. "I make the joke that my pants are a little bit too tight to fit that flag in there."
After Thursday's game, the Rams and all NFL teams will trim the rosters from 90 players to 53.
Coaches are still evaluating all areas, particularly offensive line, inside linebacker and pass-rushing depth, McVay said.
"It's going to offer a great opportunity to see a lot of players that, at some point just based on the way an NFL season goes, we'll probably be relying on," McVay said.
Sean Mannion will start at quarterback against the Packers. Dan Orlovsky also is expected to play.
Running backs Justin Davis and Aaron Green, who are competing to back up Todd Gurley and Malcolm Brown, should get plenty of opportunities against the Packers.
Receivers Robert Woods, Sammy Watkins, Cooper Kupp and Tavon Austin will not play. Mike Thomas, who is suspended for the first four games of the regular season, did not play against the Chargers because he was in concussion protocol. He is doubtful to play Thursday. Nelson Spruce also did not practice early in the week.
That could leave Pharoh Cooper, rookie Josh Reynolds, Paul McRoberts and Shakeir Ryan as the receivers.
Tight ends Gerald Everett and Tyler Higbee are not expected to play. With Temarrick Hemingway sidelined indefinitely because of a broken leg, undrafted rookies Travis Wilson and Johnny Mundt will play significant snaps.
Goff, knowing he would not play against the Packers, said he spent part of this week preparing for the Colts.
"So we have an idea of what we're doing heading into next week and get a head start on it," he said.
On Thursday, Goff and other starters will be rooting for players that will no longer be their teammates next week.
"It's always tough just seeing all those guys go," Gurley said, adding, "Most guys don't even get cut just because they didn't have a good preseason, it's just a numbers game.
"So, you know try to make sure you talk to those guys, keep in touch with them and just tell them, 'Just keep grinding, keep working.' "
Follow Gary Klein on Twitter @latimesklein
Get the latest on L.A.'s teams in the daily Sports Report newsletter.
You may occasionally receive promotional content from the Los Angeles Times.