'You won too fast too soon': NFL coaches on Sean McVay, burnout, pressure of winning
The season is over for the Rams, but the hand-wringing is heading into overtime.
What will Sean McVay do? Will he continue to coach the team? Will he take a TV job? How about a leave of absence on a beach in St. Somewhere?
Whatever McVay decides — and that could come any day — there's a community of former NFL coaches, some of them in the Hall of Fame, who are all too familiar with the pressures of the job. They understand the notion of burnout, even among those with incredibly high-paying and coveted positions.
"There's only a few Bill Belichicks or Andy Reids out there," said Dick Vermeil, citing two of the league's longest-tenured coaches. "There's only a few Don Shulas or Bud Grants around. I think coach McVay has proven he's in that talent level. He's a potential Hall of Fame coach. But if he doesn't have that personality make-up, no fault of his own, then that may not happen."
Vermeil gets it. He was Philadelphia's head coach from 1976-82 and took the Eagles to the Super Bowl. But then he left for a TV job — doubling his $75,000 salary — and didn't return to coaching until taking over the St. Louis Rams in 1997. There, he won a Super Bowl with Kurt Warner and the "Greatest Show on Turf," before closing out his career as coach of the Kansas City Chiefs from 2001-05.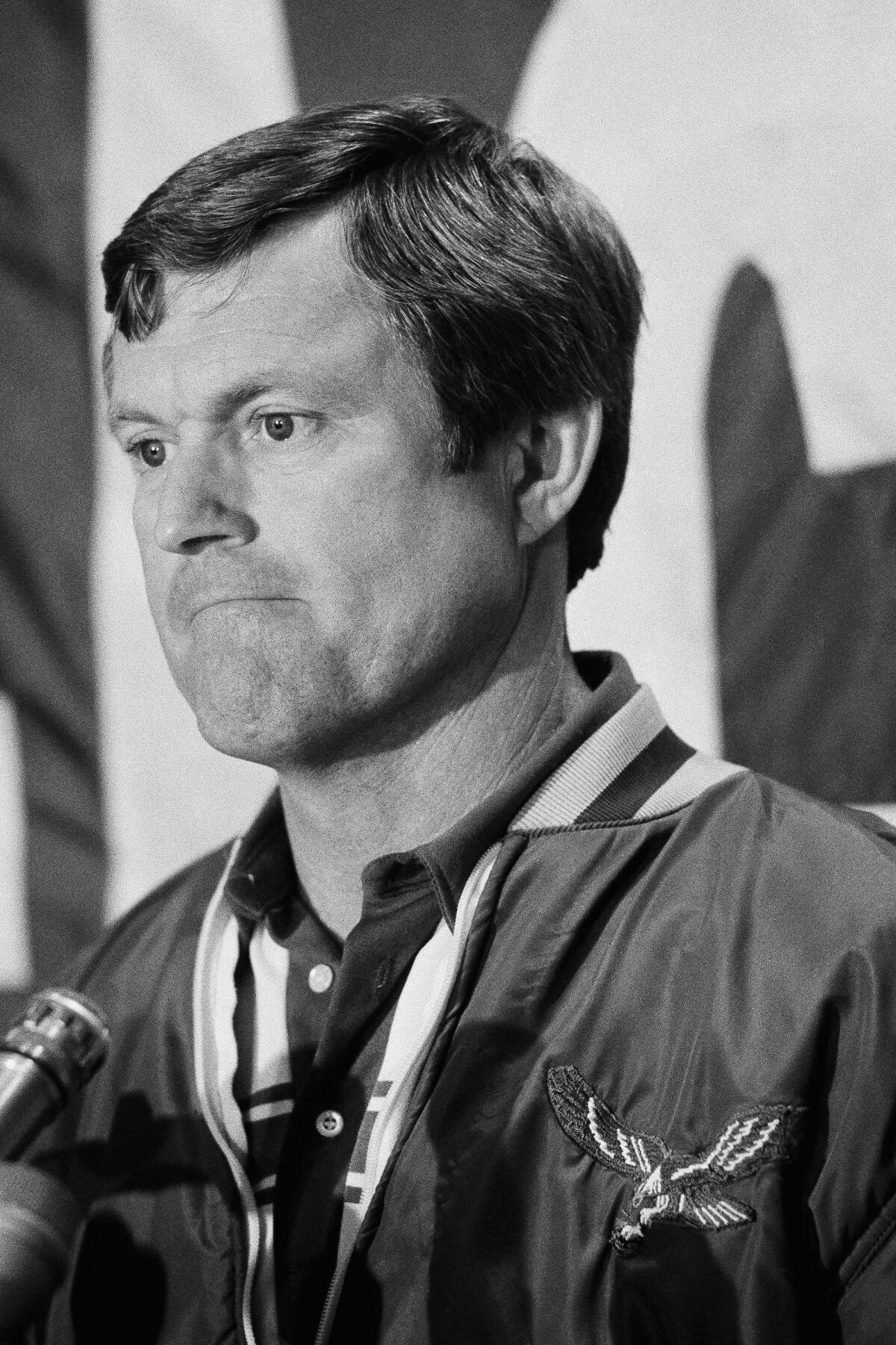 He said he retired from coaching the first time because the euphoria of winning had evaporated. He only was relieved when his team won, depressed when it lost.
"The loss hurt far more emotionally than the win affected you positively," said Vermeil, 86, enshrined in Canton last summer. "I found myself thinking about what I should have done last week to win when I should have been thinking about what I had to do to win next week."
The idea of NFL coaching burnout isn't going to elicit a lot of sympathy from the public. These coaches aren't saving lives, and they can make as much in one season as five teachers can earn in their entire careers. Nonetheless, coaching burnout does happen and the topic is particularly relevant to the Rams, who have enjoyed tremendous success with McVay at the helm.
Tony Dungy played for and later worked as an assistant under legendary Pittsburgh Steelers coach Chuck Noll, who oversaw that organization for 23 years. Instead of being an old-school, sleep-in-the-office coach, Noll was ahead of his time in supporting a work-life balance for people in the organization. Those coaches left work early once a week to play golf and frequently had family days at team headquarters.
"One of the first things coach Noll told us when I was a rookie player was, `Do not make football your whole life. If you do, you're going to be disappointed when you leave the game,'" said Dungy, inducted in the Hall of Fame in 2016. "He told us that as players, and I watched him demonstrate that for the 10 years that I was there.
Should the Rams' Sean McVay ride into the coaching sunset? Times columnist Bill Plaschke says he should for his own good, at least temporarily.
"I worked at some other places where it wasn't necessarily like that and where guys thought, `I have to make sure everything goes perfectly.' If you take that approach, it can get to you right away. Because there are a lot of things to manage and oversee. If you have to be cognizant of everything, and everything happens to come across your desk, it can wear you down and wear you out."
Winning has always been the bottom line for NFL coaches. That's nothing new. But with the popularity of the league, round-the-clock news coverage, fantasy football and everyone feeling like an expert, the spotlight on coaches has never been brighter.
"It's almost unfair today to compare the longevity and stamina of [the coaches from 30 to 40 years ago] with what the job is today," Vermeil said. "Because the evaluation process has gotten so intense, so magnified. It's like comparing a 1980 Cadillac with a 2023 Cadillac. They all move forward but the technology and everything within it is totally different. … I think it's tougher today on coaches."
McVay, hired at 30 in 2017, was the youngest head coach in NFL history and remains the youngest of the 32 now employed. He got to the Super Bowl in his second season, and his team won it all in February, hoisting the Lombardi Trophy at SoFi Stadium, no less. He inherited a 4-12 team that ranked 32nd in scoring, and flipped that in his inaugural season when the Rams were No. 1 in that department.
Rams coach Sean McVay has had to deal with injuries and off-field issues galore this season. In fact, defensive coordinator Raheem Morris says: 'This is the most adversity he's had'
"I only sat down and visited with coach McVay one time," Vermeil said. "The only thing I can remember saying to him was, 'You won too fast too soon.' Every team I took over had been losing, especially the Eagles and Rams. Anything you did — make a first down and they applauded you.
"But when you start out as fast as coach McVay has, it makes every year tougher. Even after you win it all last year. Geez. What do you do to prove that you still have the ability to do it? It's tough."
This season's Rams took a dramatic plunge from last season's dizzying heights, finishing 5-12.
"It isn't the workload," said Rick Neuheisel, a former college head coach and offensive coordinator of the Baltimore Ravens. "You get up in the morning, you come into work but you're never looking at the clock. Ever. You're just doing what you love to do.
"The problem is the pressure of winning, and the weight that it puts on you when you're unsuccessful. For Sean McVay to go through the year he went through, after the euphoria of the year before, is a feeling like burnout. He's never gone down a road where it's been this exasperating."
As with every season, Sean McVay likes to take a breath to assess his coaching future but, with or without him, Matthew Stafford assures he will return.
Even before and in the immediate aftermath of the Super Bowl win, there was rampant speculation McVay might leave for a TV job. This season there was a revolving door of Rams offensive linemen, almost never the same group from week to week, and an injury list that included the club's biggest stars: quarterback Matthew Stafford, receiver Cooper Kupp and defensive tackle Aaron Donald.
"You know all that next-man-up stuff? That's just coach-speak," said Steve Mariucci, former coach of San Francisco and Detroit, speaking generally about losing star players. "That's like false bravado sometimes. The next man up isn't as good as the guy he follows, OK? That's the reality of it. When you've got a lot of next-men-up, you're going to get your butt kicked. Let's face it. Let's talk real here."
And no matter how compelling a coach might be in talking to his players, at some point those messages lose their edge.
Said Mariucci: "When I got hired by the Niners, [team president] Carmen Policy says, `Coach, you're not going to be here forever. Bill [Walsh] wasn't here forever. George [Seifert] wasn't here forever. There's going to be a shelf life for every coach. That's how it works in this league. Enjoy it while you can. It's going to be the ride of your life.'
Sam Farmer breaks down the matchups and predicts winners for the first six NFL playoff games during wild-card weekend.
"He was very forthright in knowing full well that in his mind the message gets a little boring or stale and it needs to come from somebody new every now and then. Bill lasted 10 years, George lasted eight and I was six. Not everybody is Bill Belichick or Mike Tomlin or Pete Carroll. That's the exception to the rule."
McVay isn't tipping his hand. He wants time to mull his future, and the Rams want to give him that. There are strong indications they are willing to give him a leave of absence, a sabbatical to reboot, but they want him back when he's ready to return. They don't want to coach against him.
And there's no denying the appeal of TV for him. He only needs to look at former New Orleans coach Sean Payton, who worked as a studio analyst for Fox this season and whose coaching stock has exploded. He's the most coveted coaching candidate out there.
Said McVay of the network interest: "It's flattering. These are always going to be things that you anticipate and expect that are going to come up, because I haven't run away from the fact that down the line, or whenever that is, that's something I've been interested in."
Dungy took a job as an NBC studio analyst after retiring from coaching at 53. He wasn't conflicted about leaving coaching; he was ready to go. He loves working in TV, but the job doesn't tick the same boxes that coaching did.
"It's not the same thing," he said. "You are involved in the game. You do get to see your buddies. You do get to talk. You get to think about strategy and all those kinds of things. But it's not the same thrill as bringing an organization together, getting everybody going in the same direction, chasing that one goal and knowing at the end of the year that there's only one of us that's going to achieve it and 31 that are going to come up a little bit short but try again next year.
"The satisfaction you get out of molding a team and taking them to the playoffs, winning playoff games. TV is great, it's fun, but it's not that."
Ultimately, for Vermeil, the allure of coaching proved too strong. He had to come back.
"You miss being the king," he said. "You miss being the boss. You miss making the decisions. The only thing you don't miss is the pressure."
Get the latest on L.A.'s teams in the daily Sports Report newsletter.
You may occasionally receive promotional content from the Los Angeles Times.