Eric Wynalda is in the soccer wilderness of Las Vegas and he's loving it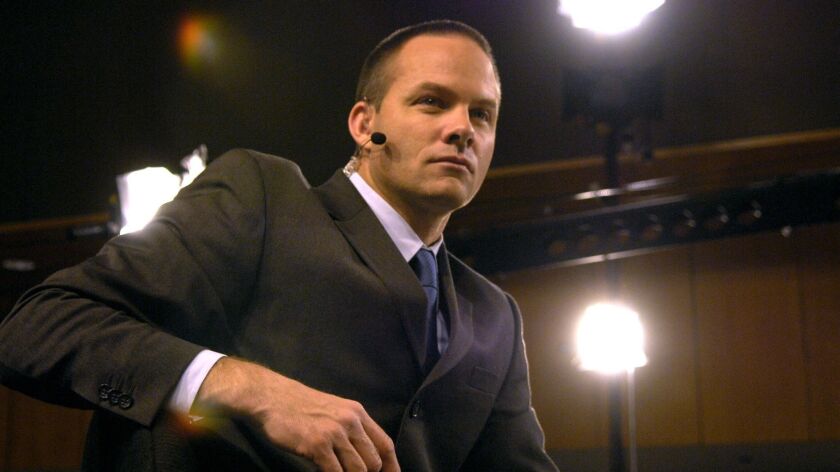 Reporting from las vegas —
Something was bothering Eric Wynalda.
He learned the 16-year-old attacker he had invited to train with the team was named Nate.
"How did I think that kid's name was Sergio?" Wynalda asked.
Assistant coach Auggie Rodriguez replied, "Because we have a thousand things going on?"
Wynalda nodded quietly.
One of his players had to sign a disciplinary report for missing a team bus. Another for working out without the team's knowledge, which resulted in an injury. Speaking of injuries, there were players in the training room he had to check on. And with seven of his players ineligible to play in the upcoming U.S. Open Cup, he had to figure out how to field a team in a competition that will include Major League Soccer franchises.
On this particular Thursday, Wynalda was also opening his practice to a local talk radio host, who was broadcasting his hourlong morning show from the inside of one of the goals. The host had joked on the air that considering the trouble Wynalda's team had scoring, the inside of its goal was probably the safest place in all of Las Vegas.
"I'm not entirely convinced you're wrong," Wynalda joked on the show after a two-hour training session.
The former all-time leading scorer of the U.S. men's national soccer team, the 49-year-old Wynalda is the head coach of the Las Vegas Lights Football Club of the United Soccer League. The Lights play in Cashman Field, a downtown baseball stadium that was abandoned by the triple-A affiliate of the New York Mets. Advertisements on what used to be the outfield wall include a display for a local marijuana dispensary.
This is soccer's version of purgatory, only Wynalda doesn't see it like that. Wynalda recalled the words of a friend who visited him recently.
"He said he's never seen me happier," Wynalda said, nodding in agreement.
That's because he's coaching full time.
Seventeen years after his retirement as a player, someone finally offered him an opportunity.
Part of the reason this didn't happen sooner was because he was reluctant to leave lucrative broadcasting positions with Fox and ESPN. The greater obstacle was perception.
Though his supporters think of him as insightful and outspoken, his detractors view him as selfish and temperamental — in essence, the stereotypical striker. If a storied career as the first U.S.-born player to play and thrive in Germany's top division was his strongest selling point, it was also his greatest liability.
This spoke as much to the sensibilities of the U.S. soccer establishment as it did anything about Wynalda. In any other country, a player of his stature would have received multiple chances by now.
Lights owner Brett Lashbrook admitted he didn't know what to expect when he started speaking to Wynalda about the coaching vacancy of the second-year franchise. Lashbrook used to work in MLS' headquarters, and he heard stories about Wynalda.
"I was expecting 'quote-unquote' that Eric," Lashbrook said.
The more Lashbrook spoke to Wynalda, the more he started thinking of him as misunderstood.
"I see a man who has a passion for coaching, has a passion for the American player, has a passion for being the underdog," Lashbrook said.
Another plus in Lashbrook's view was that Wynalda was familiar with the market. Las Vegas was Wynalda's offseason home from 1992 to 2003.
Wynalda's contract with Fox expired in October, making it the right time for a move. Wynalda said he would have taken the job with the Lights even if he were still employed as a broadcaster.
Lashbrook has designs on gradually transforming the Lights from a USL team to an MLS expansion franchise. He came to believe not only in Wynalda's soccer acumen, but also his willingness to promote the club.
Hence, the talk show host in the goal on Thursday.
Wynalda moved to Las Vegas with his 17-year-old son, Tim, who is the team's equipment manager and is taking online classes. Four of his other children remain in Southern California with his wife, who is in a rental property they moved into after the Woolsey fire burned down their family home.
It wasn't happily-ever-after from there.
The Lights are drawing 7,000 to 8,000 per home game, but are in 16th place in the USL's 18-team Western Conference with a 2-4-2 record. Wynalda has already let go of five players for reasons unrelated to performance.
"It's not everything I wanted it to be, but it's everything I knew it would be," Wynalda said.
Wynalda turned over a significant portion of the roster, retaining only a handful of players from last year's team. Many of the additions were players he coached on semi-professional teams in Southern California.
Like the owner, goalkeeper Thomas Olsen was initially apprehensive about Wynalda. He wondered if Wynalda would be the kind of coach who would berate the players. Olsen's fears quickly dissipated.
"He instills confidence," Olsen said. "He loves his players."
Some of the Lights players on the overwhelmingly Latino roster are former youth national team players looking for another chance. One of them is former UCLA defender Javan Torre, who represented the U.S. at the under-20 World Cup in 2013.
Sign up for our daily sports newsletter »
"He's a coach you can speak to upfront and he will understand what you're going through," Torre said.
The players have ambitions of catching the eye of an MLS franchise. Wynalda does, too.
Wynalda knows he could spend the next few years building up the Lights for him to reach that point. But experience has made him patient. He waited nearly two decades for this opportunity. He can wait a little longer for his next.
---
Get our high school sports newsletter
Prep Rally is devoted to the SoCal high school sports experience, bringing you scores, stories and a behind-the-scenes look at what makes prep sports so popular.
You may occasionally receive promotional content from the Los Angeles Times.