Galaxy must win, which means Zlatan Ibrahimovic must play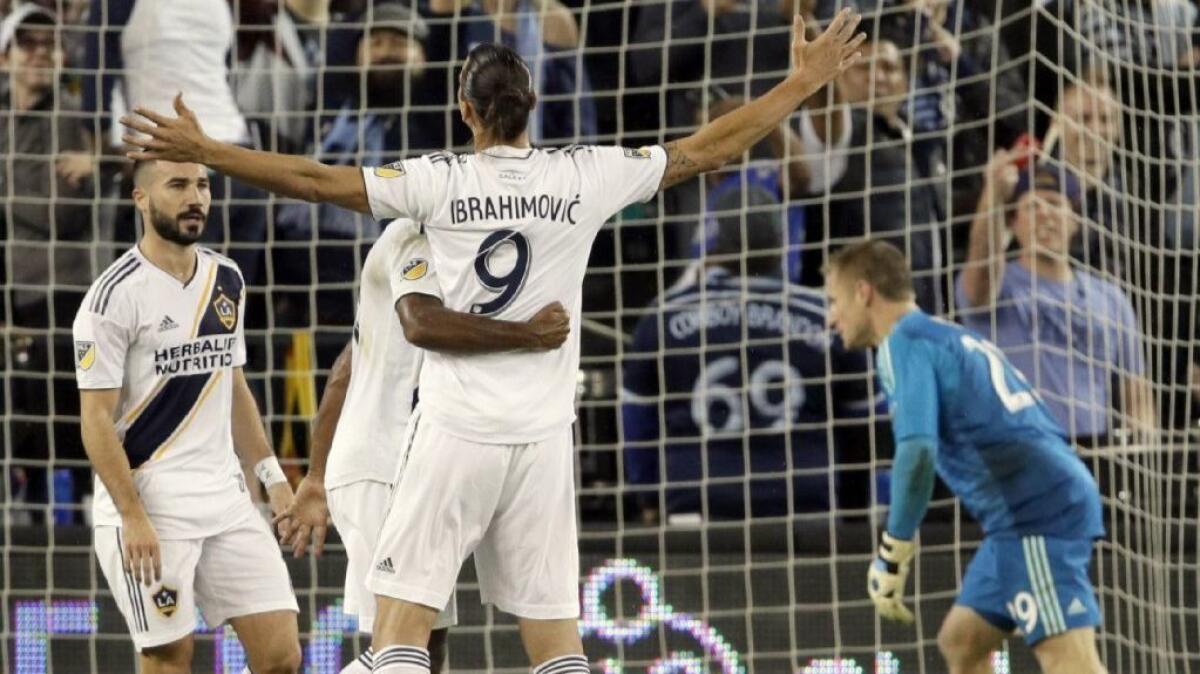 The Galaxy approached each of their last five games as if they were must-win matches. Yet, though they failed to win three of those, they didn't fall out of the MLS playoff race.
There will be no such wiggle room Sunday, when the Galaxy face Minnesota United before an expected crowd of more than 50,000 on the rugged artificial turf of TCF Bank Stadium. Trailing Real Salt Lake (14-12-7) by four points in the race for the final Western Conference playoff berth with two games left, the Galaxy (12-11-9) need at least a draw, coupled with an RSL loss Sunday, if they hope to catch Salt Lake in the standings.
But even that won't mean much since the first tiebreaker is total wins. And the Galaxy need two victories over the next eight days to have a chance at matching sixth-place Salt Lake — or catching fifth-place Portland, which is still within reach.
Bottom line? Anything short of wins over Minnesota on Sunday and Houston next week means the Galaxy's season is over.
"You need to win games in order to get to the playoffs," interim coach Dominic Kinnear said. "You can't rely on the other teams to fall. You have to help yourself."
Added forward Zlatan Ibrahimovic: "If we want to make it we have to win. We must win."
That's where TCF Bank's FieldTurf Revolution surface comes in. Some consider it the worst artificial field in MLS — the Galaxy's Baggio Husidic broke his leg when his left foot caught on the turf there last year. And Ibrahimovic, 18 months removed from extensive reconstructive surgery on his right knee, has gone to great lengths to avoid plastic grass all year, accepting a suspension for missing the MLS All-Star Game in Atlanta and skipping games in New England and Seattle. (He did play 18 minutes off the bench on Portland's FieldTurf carpet but was ineffective, failing to take a shot.)
The Galaxy are a different team with Ibrahimovic, the conference leader with 21 goals. In the 14 games in which he has scored, the Galaxy are 8-2-4. In all other games, the team is 4-9-5.
He's also had a goal or an assist in six straight games and has either scored or assisted on eight of the team's last 13 goals.
For Ibrahimovic, that makes the decision to play an easy one.
"It's the first time I'll play on turf," he said after training Thursday. "But I will not focus on that. I'll focus on the game. I will make the best out of the situation."
Kinnear didn't sound so sure.
"As a coach, you don't want to put a player into a position where he'll maybe not be successful, or injure himself," the coach said. "He knows the importance of what's going on. He definitely wants to play."
One alternative would be to keep Ibrahimovic on the bench, inserting him into the game in the second half only if victory is not assured. However, that would open Kinnear to criticism if the Galaxy stumble at the start against Minnesota, whose 10 wins at home is second-best in the conference.
Given his short roster, the coach may not have that luxury. Midfielder Chris Pontius is facing surgery for an injured groin and attackers Gio dos Santos and Bradford Jamieson are also out.
"It's important that we go there with the attitude that we've got to win this game," Kinnear said.
Because this time, the Galaxy really must win.
kevin.baxter@latimes.com | Twitter: @kbaxter11