Source: Galaxy reaches agreement with Argentine manager Guillermo Barros Schelotto to become new coach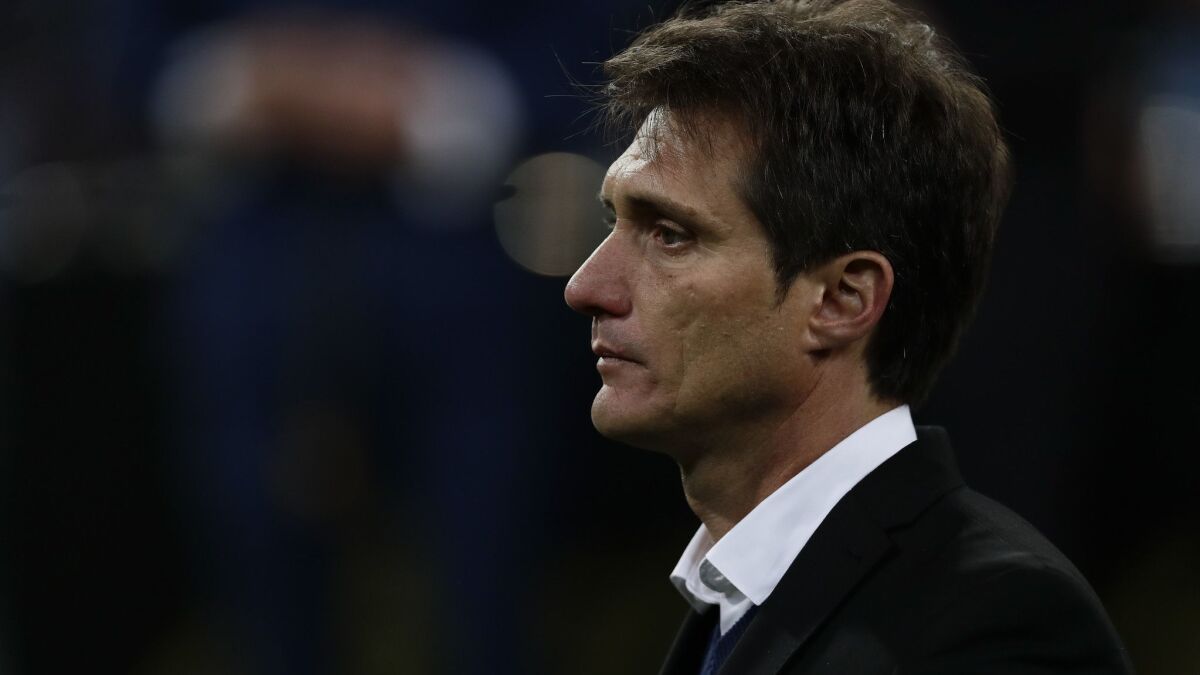 The Galaxy has reached an agreement with Argentine manager Guillermo Barros Schelotto to become their new coach, a source with knowledge of the negotiations confirmed Wednesday.
The team declined comment but a formal announcement of Schelotto's hiring is expected next week. He was told earlier this month that his contract with Argentine powerhouse Boca Juniors, one of the world's top teams, would not be extended.
Schelotto's acceptance of a multiyear contract ends a productive December in which the Galaxy went a long way toward stabilizing a franchise that appeared to be in flux. In the last month the team announced the hiring of Dennis te Kloese as general manager, re-signed striker Zlatan Ibrahimovic to the richest contract in MLS history and welcomed back popular Brazilian midfielder Juninho.
Now comes the hiring of Schelotto, which ends a nearly four-month coaching search that began when the Galaxy fired Sigi Schmid in September with six games left in the regular season.
In 2½ seasons at Boca Juniors, Schelotto, 45, led the team to two Argentine Primera Division titles. But the club announced it would not renew his contract, which expires at the end of this month, after it lost to fierce rival River Plate in the Copa Libertadores final.
Schelotto came to Boca from Lanus, another Buenos Aires club, where he won the Copa Sudamericana in 2013.
A four-time Libertadores winner as an attacking midfielder and forward with Boca, Schelotto also spent four seasons in MLS with the Columbus Crew, winning league and MLS Cup MVP honors under Schmid, who made him the franchise's first designated player in 2008. He had long talked of returning to MLS as a coach and when it became obvious he wouldn't be asked back by Boca, his name was mentioned repeatedly in reference to managerial vacancies in Atlanta and Columbus and well as with the Galaxy.
Earlier this month, the Galaxy appeared close to signing Caleb Porter, who led Portland to the 2015 MLS Cup, as it new coach — with Porter joining Te Kloese, team president Chris Klein and Dan Beckerman, CEO of Galaxy parent company AEG, courtside at a Lakers game. That deal blew up days later, however, partly because the Galaxy refused to agree to Porter's request for a three-year contract.
Te Kloese immediately turned his attention to Schelotto, whom the Galaxy had been talking to since early fall.
When Schelotto joins the Galaxy for the opening of training camp in Carson in 3½ weeks, he will become the team's fifth head coach in 26 months. Bruce Arena, a five-time MLS Cup winner, left in November 2016 after leading the Galaxy to its last playoff berth. He was replaced by Curt Onalfo, coach of Galaxy II, the team's United Soccer League affiliate. Onalfo was fired after just 20 games and replaced by Schmid, the winningest coach in MLS history.
But Schmid also failed to last a full season before being pushed out in September, after winning just 12 times in 41 tries. Schmid was replaced by top assistant Dominic Kinnear, who finished the season as interim manager.
Schelotto is just the second Latin American-born coach in Galaxy history after Ecuadoran Octavio Zambrano, who took the team to a franchise-record 24 wins in his only full season in 1998. Schelotto's hiring is something of a coup for Te Kloese, a former Chivas USA executive who came to the Galaxy from the Mexican soccer federation, where he was director of the national teams program.
Since officially beginning his job with the Galaxy, Te Kloese re-signed the popular Juninho, who last played for Tijuana of Mexico's Liga MX, renegotiated new deals with midfielder Chris Pontius and defender Dave Romney and, most importantly, finalized a contract with Ibrahimovic that will pay him more than the league-record $7.167 million Orlando City gave Kaka in each of his four MLS seasons. Ibrahimovic made $1.5 million this year when he scored a Western Conference-best 22 goals and tied for the team with 10 assists.
How valuable was Ibrahimovic in his first MLS campaign? The Galaxy was 9-2-4 in games in which he scored a goal and 4-10-5 when he didn't.
To fit Ibrahimovic's new contract under the MLS salary cap, Te Kloese will have to create a designated-player spot by trading, releasing or restructuring the contract of one of the team's three current DPs. Midfielders Romain Alessandrini and Jonathan dos Santos and forward Gio dos Santos are all signed through the 2019 season.
kevin.baxter@latimes.com | Twitter: @kbaxter11