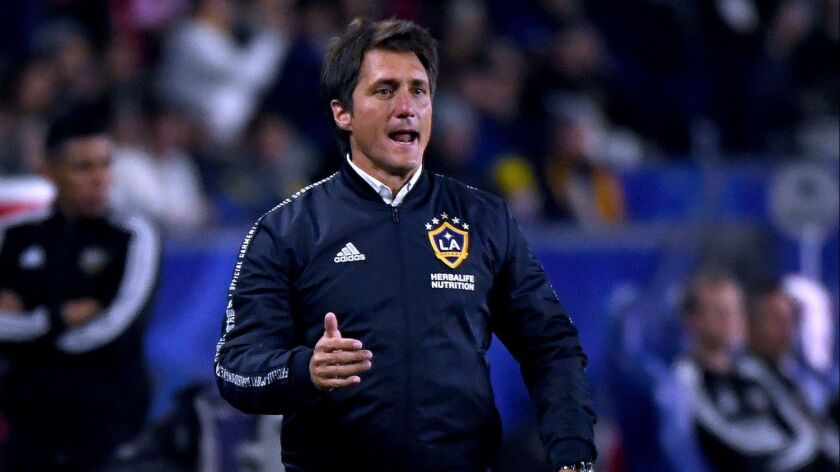 Guillermo Barros Schelotto's first brush with MLS came in Columbus, where he played four seasons for the Crew and won both an MVP award and a league title in 2008.
Ten games into his return to the league, this time as coach of the Galaxy, Schelotto will be back in Columbus on Wednesday for a homecoming that could be more tense than joyous.
For starters the Galaxy (7-1-2) come into the game still smarting from Saturday's loss to the New York Red Bulls, their first loss in nearly two months and one that kept them from jumping over LAFC at the top of the MLS standings.
Then there are the two coaches. Before hiring Schelotto, the Galaxy nearly gave the job to Caleb Porter, with negotiations over his hiring reportedly hitting a snag over the length of the contract. A couple of weeks later the Galaxy instead hired Schelotto – the man new general manager Dennis te Kloese wanted all along – and Porter signed with Columbus.
Now the two meet for the first time since then with their teams heading in opposite directions: The Galaxy have the Western Conference's best record since March 15 while Columbus (4-6-1) has lost five in a row.
And the Galaxy may be building momentum. Tuesday the team acquired versatile attacker Favio Alvarez from Argentinian club Atlético Tucumán on loan just hours before the primary transfer window closed. Terms of the agreement were not released but the club financed the deal using targeted allocation money, meaning the value of the acquisition exceeded $530,000, the maximum budget charge under the MLS salary cap.
Alvarez, 26, is expected to help fill the void left by the injury to midfielder Romain Alessandrini, who is out until September following knee surgery, while providing backup for forward Zlatan Ibrahimovic, at 37 the oldest outfield player in the league.
Ibrahimovic has gone the full 90 minutes in all eight of his starts, scoring nine goals and assisting on two others, giving him a hand in 11 of the Galaxy's 17 goals this season.
For the Galaxy, Wednesday's game is the second of three in eight days and three states, so expect Schelotto to make some lineup changes. That could result in Giancarlo Gonzalez getting his first start of the season at center back in place of Daniel Steres, who has played every minute this season.
As for Schelotto, "the truth is it will be a nice return," he said. But, he added, he's only thinking about the result.
---