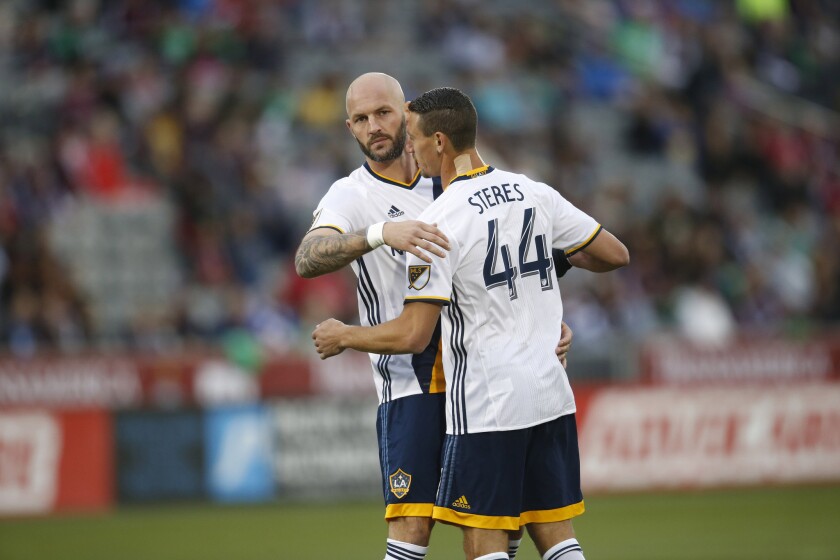 Daniel Steres' Major League Soccer career consists of two games, yet the defender has already experienced a range of emotions some veterans have never encountered.
In his debut with the Galaxy two weeks ago, he scored the team's first goal of the season, sparking a 4-1 victory over D.C United. Six days later, his poor clearance deep in stoppage time led to the only score in a 1-0 loss to the Colorado Rapids.
"It's something to expect in the first year in the league," Steres said as he prepared for Saturday's game with the San Jose Earthquakes.
"You're going to have your high moments, you're going to have your low moments. [They] just happened one week from each other."
The fact Steres is having any kind of moments in MLS, good or bad, is something he long envisioned but never realized until this month.
After an all-CIF career at Calabasas High and four years at San Diego State, Steres was drafted by Chivas USA in 2012 but never signed. Six months later he joined the Seattle Sounders but never played for the first team, bouncing to the third tier of U.S. Soccer with the Wilmington Hammerheads before returning to Southern California and signing with the Galaxy's USL reserve team in 2014.
He needed 50 games there to show others he deserved a chance in MLS.
"I always knew," said Steres, 25, who made his league debut in place of the injured Jelle Van Damme. "That's why I stuck it out so long and battled so long."
He certainly proved his point in his first game. Playing before dozens of friends and family members, he provided a physical presence on defense, then snapped a 387-minute scoreless streak for the Galaxy by heading in a corner kick from Mike Magee.
As a result his fan base grew four days later when state assemblyman Mike Gatto, who represents the San Fernando Valley district where Steres was born, honored him with a certificate of recognition.
Then came Colorado, where Steres started after a sore back sidelined Ashley Cole. With the Galaxy running out the final seconds of a scoreless tie, Steres' attempt at a clearance instead found the boot of the Rapids' Marco Pappa, whose shot found the back of the net on the game's final play.
"I don't throw all the blame on Daniel," Coach Bruce Arena said. "There were a bunch of teammates standing around watching."
How many more chances Steres will get remains to be seen. Van Damme and Cole both returned to the lineup Saturday, but Steres kept his spot just the same, with Arena choosing to sit A.J. DeLaGarza instead.
Steres has already seen the best and worst the league can dish out.
"I don't think I'll ever get to the point where I'm way up in the clouds," he said. "I'm always staying grounded and just trying to improve each week."
Follow Kevin Baxter on Twitter @kbaxter11
---