Galaxy acquire Giancarlo Gonzalez from Italy's Bologna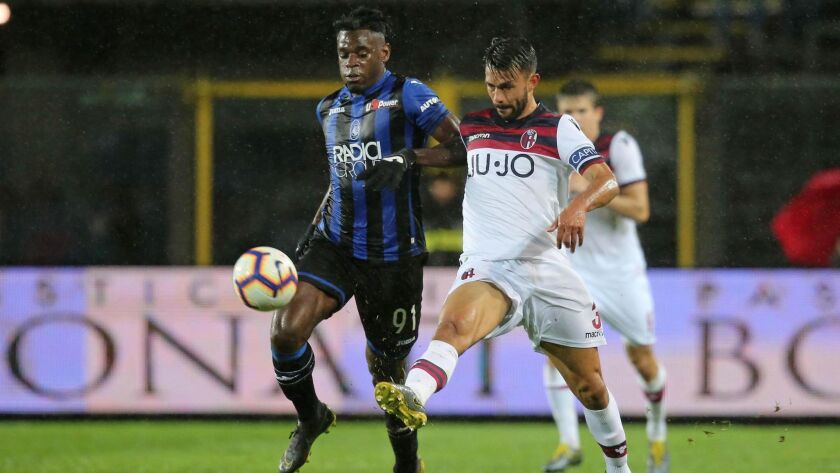 Dennis te Kloese's blueprint for building out the Galaxy became a little clearer this week when the team landed center back Giancarlo Gonzalez from Bologna of Italy's Serie A after nearly two months of negotiations.
Major League Soccer's byzantine rules complicated the acquisition, forcing the Galaxy to trade a No. 1 SuperDraft pick to Toronto and $400,000 to Orlando City for the rights to Gonzalez who, as a former MLS player, was subject to the league's allocation process.
A member of two World Cup teams for Costa Rica, Gonzalez, 31, trained with the Galaxy on Thursday but may not be eligible to play in Saturday's game with Philadelphia pending completion of his transfer and immigration paperwork. Details of his contract were not released, but Gonzalez was signed using allocation money, meaning he will make more than $530,000 this season.
Te Kloese, the Galaxy's general manager, says he isn't done adding. The addition of Gonzalez leaves the team with nine defenders, so now Te Kloese is in the market for a versatile attacking player. He has already scouted a few options, he said, but may not be able to get a deal done before the primary transfer window closes May 7.
That would force the team to wait until the next window opens in July, something Te Kloese is prepared to do if it means signing the right player and not just the player who's available right now.
"We know where we want to go," he said. "The players that we bring in, they're not just short-term solutions. We obviously want to win against Philadelphia. But the things that we do on the team go beyond this Saturday's game."
Te Kloese and coach Guillermo Barros Schelotto both joined the Galaxy (4-1-0) in the offseason and since their arrival they have added eight players, including three starters, as they slowly mold the team to fit the attacking 4-3-3 system Schelotto used successfully at his last stop with Argentina's Boca Juniors.
"It will take a little bit of time for this to pan out to be the way, the shape that Guillermo is comfortable with," Te Kloese said.
Sign up for our weekly soccer newsletter »
kevin.baxter@latimes.com | Twitter: @kbaxter11
---
All about the beautiful game
Go inside the L.A. pro soccer scene and beyond in Kevin Baxter's weekly newsletter.
You may occasionally receive promotional content from the Los Angeles Times.