With regular season behind them, LAFC now looking to make history in the MLS playoffs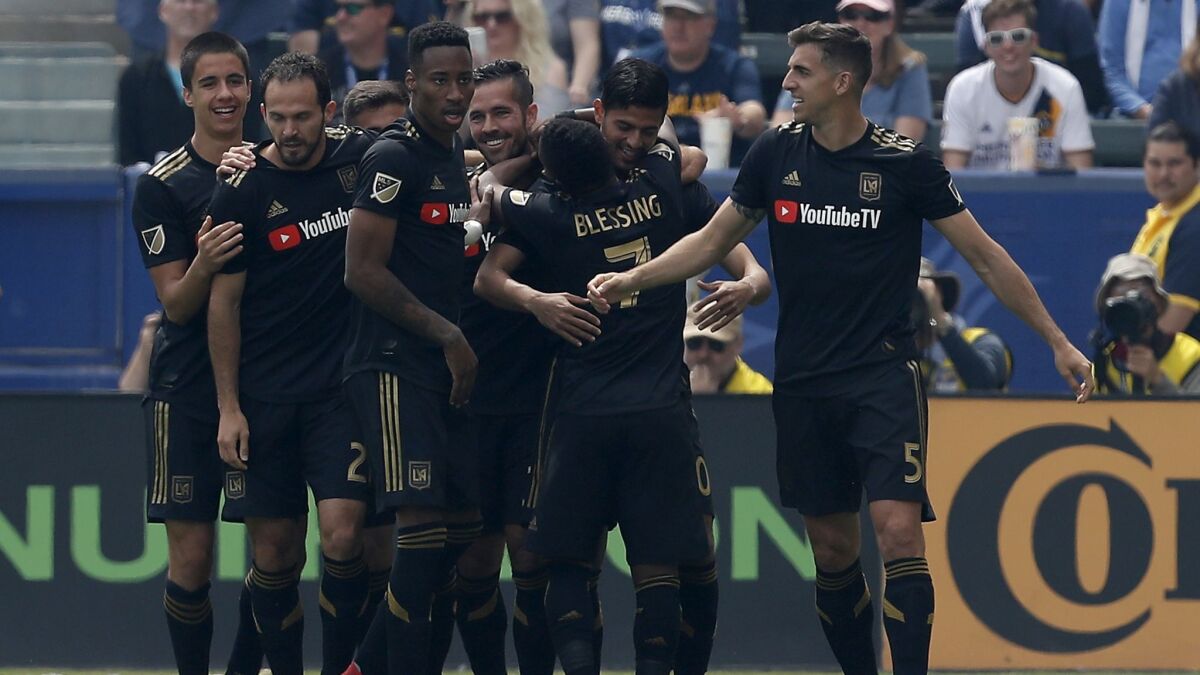 As an expansion team, the Los Angeles Football Club spent much of its first Major League Soccer season in learning mode. The players had to learn how to play with each other, had to adapt to a new coach and a new style, and many had to learn a new league.
But class is over now and it's time for the final exams, beginning with Thursday's knockout-round playoff opener against Real Salt Lake at Banc of California Stadium.
"There's nothing more for us to learn," captain Carlos Vela said in Spanish following Wednesday's practice.
"We've exceeded the expectations everyone had for us. Now here we are fighting for a title. And obviously it's a do-or-die game. We have to win."
LAFC (16-9-9) is the fifth team to make the MLS playoffs in its first season and only one of those — the 1998 Chicago Fire — won a game once it got there. For midfielder Lee Nguyen that means the real challenge is just beginning.
"Everything we've done in the past to get to this point has been great. But now all that's behind us and we've got to focus on this one game," he said. "Our ambitions, we've grown. We feel like we have the pieces, we have everything in place. Now we have to go out and take care of it."
Both teams enter the playoffs looking for momentum. LAFC had a man advantage and a chance to finish atop the Western Conference standings last Sunday but let that get away in a 2-1 loss to Sporting Kansas City that dropped it to third, costing the team a first-round playoff bye.
LAFC won only two of its final five regular-season games, giving up multiple goals in the last three matches.
RSL (14-13-7) is in an even bigger funk, having won once since Sept. 1 and slipping into the playoffs as the conference's final seed only after the Galaxy blew a two-goal second-half lead to lose in their regular-season finale. Plus Salt Lake's 3-11-3 road record is the worst among playoff teams while LAFC's one home loss is tied for the fewest.
Rest may be RSL's one advantage; it was the only team that had the season's final weekend off and it hasn't played in 12 days. But LAFC coach Bob Bradley says all the regular-season numbers — including his team's two wins over RSL by a combined score of 7-1 — are now meaningless.
"There's this expression you play like there's no tomorrow. So yes, in a knockout game, guess what? You play like there's no tomorrow," said Bradley, who coached that 1998 expansion Chicago team to a league title.
LAFC has been a dynamic, attacking, ball-control team all season — its 68 goals were most in the conference and second-most in the league — and Bradley said that won't change Thursday. But LAFC will also have to be mindful of RSL forward Damir Kreilach and midfielder Albert Rusnak, who combined for 22 goals, and playmaker Jefferson Savarino, who had a team-high 11 assists.
"It's a different beast. Guys are starting to understand that and the intensity's starting to pick up," defender Steven Beitashour, whose 15 games of playoff experience leads the team, said of the postseason. "There's no plays off. Defensively, offensively, every single play matters."
And if his teammates, only eight of whom have appeared in an MLS playoff match, haven't learned that by now, they'll get an intense refresher course when the game kicks off.
"Everything needs to be almost perfect. That's the only way you get through the playoffs," said Beitashour, whose team, with a win, would play host to the Seattle Sounders in the first game of the two-leg conference semifinals Sunday.
"It's going to be a mix of sometimes pretty football and sometimes having that grit. That's what playoffs are about."
kevin.baxter@latimes.com | Twitter: @kbaxter11