Galaxy's Robbie Rogers makes his mark in defense position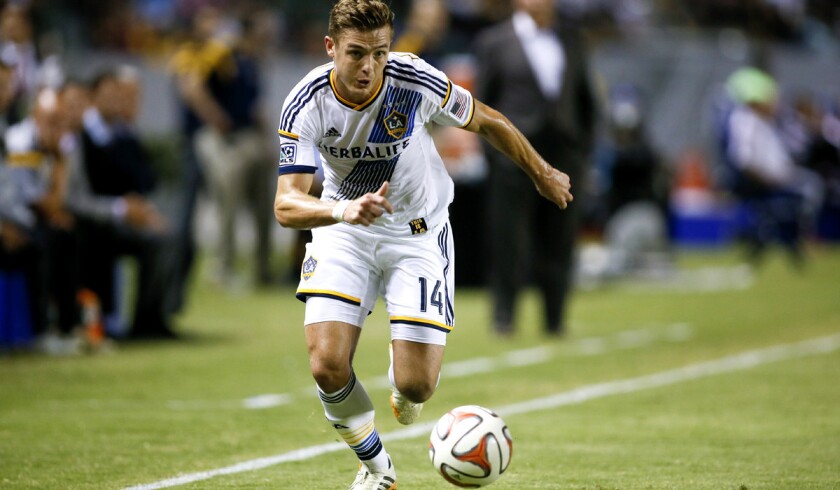 Forget about Landon Donovan and his impending retirement for just a second.
Because while Donovan holds virtually every significant record with both the U.S. national team and in Major League Soccer, he's not the Galaxy player with an autobiographical book coming out next month and an ABC sitcom in the works.
That would be teammate Robbie Rogers, who also has his own clothing line.
But with two crucial games left in the regular season before the MLS playoffs, Rogers says all his non-soccer businesses will have to wait.
"Right now I'm just really busy with this stuff," he said of the Galaxy's push for its third championship in four seasons.
And Rogers figures to be a major factor after reinventing himself at midseason, moving from the midfield to the back line to save both his career and, perhaps, the Galaxy's season.
Rogers had a disastrous performance in last year's MLS playoffs, with the Galaxy bowing out in the Western Conference semifinals. So the team stocked up on midfielders during the winter and Rogers quickly became an afterthought, appearing in just one game in this season's first three months.
But then a series of injuries and absences left the Galaxy with a gaping hole on defense. And when Dan Gargan came out of an early June game, Coach Bruce Arena rolled the dice and sent Rogers in to play right back.
Never mind that Rogers had never played the position in an MLS game. It was a little like asking Tom Brady to come off the bench and play inside linebacker.
Arena went with his hunch, though, and Rogers rewarded him by playing solid defense and setting up the tying goal in a 1-1 draw, starting a streak that has seen the Galaxy lose just three times in 22 games. It's vaulted the Galaxy from near the bottom of the conference standings into a tie with Seattle atop the league table heading into Sunday's showdown with the Sounders at StubHub Center.
"He's athletically outstanding, and certainly you would think from that perspective he could handle the defensive responsibilities," Arena said of Rogers. "In the early going it wasn't perfect, but you could see there was something there."
Since that early June move, the Galaxy has a league-high 53 goals, outscoring opponents by an average of 2 1/2 goals a game, while Rogers, who missed Sunday's loss in Dallas with a strained left hamstring, has gone from expendable to indispensable.
"It would be ridiculous for me to take credit for that," said Rogers, 27, who has moved across the field to left wing, where he has started 13 times. "But I do think the coaches have found a great system that suited all the players. It definitely suited me as a left back. And it's made us such a dangerous team now."
The transition from midfielder to defender hasn't been as difficult for Rogers as it may have been for other players. When he played for Coach Bob Bradley on the U.S. national team, Rogers said he was expected to drop back on defense in addition to pushing forward with the ball.
"I've always been a two-way midfielder," he said. "Bob … was the guy who really said to me, you can't just attack. It's not possible in modern football. So I kind of paid a little more attention and started to focus on that."
That made Rogers perfectly suited to play defender on a Galaxy team whose offensive strategy centers on getting the ball up front to Donovan, Robbie Keane and Gyasi Zardes, the most dangerous trio of scorers in the league. In the past, Arena relied on wingers Sean Franklin and Todd Dunivant to go wide while bringing the ball out of the back.
But Franklin left for D.C. United last winter, and Dunivant has been limited to five starts this season because of injuries. As a result, the Galaxy tried 10 different defenders before Rogers stepped up and made the position his.
However, learning a new position isn't the only thing that allowed him to blossom this year. When Rogers joined the Galaxy last season, it was just five months after he publicly announced he was gay. And to acquire his rights, the Galaxy traded popular forward Mike Magee, who would become the league MVP with Chicago.
So by the time Rogers made his Galaxy debut in May last year – becoming the first openly gay male athlete to play in one of the five major U.S. professional sports — the burdens he carried were heavy.
Combine that with an initial lack of fitness, followed by injuries, and Rogers never found his stride last year.
"It was really tough," he conceded. "People think when you come out, it's perfect now and everyone loves you. [But] now you're dealing with all those years of being closeted. And it didn't matter how supportive people were. It was me wrapping my head around that, like, 'No, I'm just another guy on the team'."
Well, not exactly, since Rogers' life on and off the field has inspired a TV project entitled "Men in Shorts," a sitcom with Rogers as a producer. And his book "Coming Out to Play," about the transition from the closet to a starring role with the Galaxy, will be released by Penguin next month.
Clearly, the past year has been one of discovery for Rogers. And finding a new position, he said, is just a happy part of that mix.
"I love it," he said. "I feel very comfortable. I hope I can play there the rest of my career."
Twitter: @kbaxter11
---
All about the beautiful game
Go inside the L.A. pro soccer scene and beyond in Kevin Baxter's weekly newsletter.
You may occasionally receive promotional content from the Los Angeles Times.