MLS may lose momentum if players strike before 2015 season starts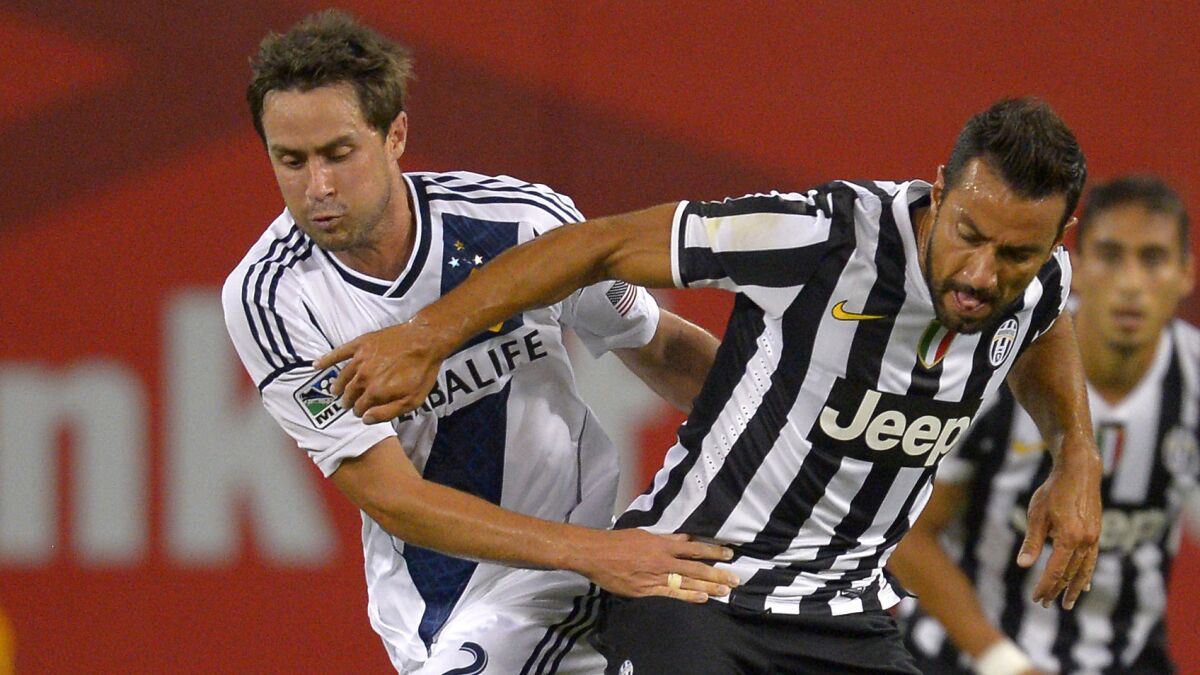 Last year was a very good one for Major League Soccer.
Average attendance topped 19,000 a game for the first time, and new TV deals guaranteed MLS a record $90 million in broadcast fees over each of the next eight seasons. The league disbanded financially troubled Chivas USA, then sold the franchise rights to a deep-pocketed group of L.A. investors for more than $100 million.
And in the first month of the new year, Liverpool Captain Steven Gerrard, Italian internationalist Sebastian Giovinco and U.S. World Cup veterans Jozy Altidore and Mix Diskerud all announced they were coming to MLS. They could soon be joined by German World Cup star Miroslav Klose.
But all that momentum might soon be lost to a strike that could delay the 2015 season. The collective bargaining agreement between the players union and the league expired at midnight Saturday, and though both sides have agreed to keep preseason training camps open under terms of the old deal as negotiations continue, that goodwill won't last forever.
So if a new contract isn't in place by the March 6 opener at StubHub Center, the union says its members won't play.
"It's a loss for everybody if that happens. But sometimes those things can't be avoided," said Galaxy defender Todd Dunivant, the senior member of the union's executive council. "The players are ready to do what needs to be done to get what we feel is right."
The two issues on which the league and the players are furthest apart are salaries and free agency. And neither side appears willing to budge on either.
The average MLS paycheck jumped dramatically in 2014 — going from $165,066 to $207,831, according to the Empire of Soccer website. But seven designated players accounted for 31% of the league's total payroll while 54 others had contracts worth less than $37,000.
The union believes that the minimum wage should be higher.
"I think DPs are great for the league. But at the same time, you need to invest in everybody, unless you want to play three-on-three soccer," said Orlando City goalkeeper Tally Hall. "You have an 18-year-old kid looking at our league, and if he's looking at a salary that would put him below the poverty line, and he has to do coaching on the side, that's not going to be as enticing as a proper salary."
The league, which is losing more than $100 million a year, insists the MLS salary cap will continue to grow. But under the old CBA, that growth was minimal. Last year, for example, teams could spend $3.1 million on the first 20 spots of their rosters, excluding designated players, a jump of just $29,000 from 2011.
Mark Abbott, the league's president and deputy commissioner, said that math is misleading because the owners are spending elsewhere, devoting more than $30 million to youth academies and other player development programs.
"The league continues to make more investments in all aspects of our business, including players, every year," he said. "And the new CBA will invest more money in players than we have under the previous CBA.
"This isn't a question about the league looking to cut back. In fact, it's the opposite."
On free agency, the union says MLS is the only major professional sports league in the country — and the only top-flight soccer league in the world — that denies players the right to choose where they will play.
"This is something that's kind of been hanging over the league for a long time. We feel like it's time to change that," said Dunivant, who has an economics degree from Stanford. "We want to reward guys that deserve it. That's what it comes down to. Guys who have earned their keep in this league and earned their stripes deserve to be rewarded for that."
Abbott counters by saying players already have free agency — once their contracts expire, they are free to play in dozens of other leagues around the globe. But if they decide to stay in MLS, their ability to move between teams must remain limited.
That's because the league has a single-entity business structure, in which contracts are between the player and the league, not the club to which a player is assigned. That model leaves no room for free agency as practiced in other U.S. professional sports, because the league would essentially be bidding against itself for a player who is already part of MLS.
And the owners are unlikely to give up that single-entity structure, Abbott said, because they say it strengthens the league's position in the international market.
"The structure that we have has served as the foundation for the tremendous growth that we've seen in the last 20 years," Abbott said. "And it is that very structure … [that] leads to a greater investment in players every year.
"Our owners firmly believe that when we established this structure, that was critical as the foundation for the growth that we've seen and the growth that we expect to see in the next 20 years."
Labor strife nearly crippled MLS five years ago, when agreement on a new CBA just days before the opening weekend averted a strike. And though many on the owners' side say they believe renewed talk of a strike is primarily a negotiating tool of the union, Hall insists the threat is real and promised the players would walk away from the game before they'd walk away from the negotiating table with a CBA that didn't include free agency.
"It is something that is hugely important to us," said Hall, a six-year MLS veteran. "We're very passionate about it. We've never been more unified as a group, we've never had a more clear kind of mission.
"So unrestricted free agency being in the deal is one. And the other is fair compensation for all players. The league is growing, and in no way do we feel like we're being greedy."
Twitter: @kbaxter11
---
All about the beautiful game
Go inside the L.A. pro soccer scene and beyond in Kevin Baxter's weekly newsletter.
You may occasionally receive promotional content from the Los Angeles Times.