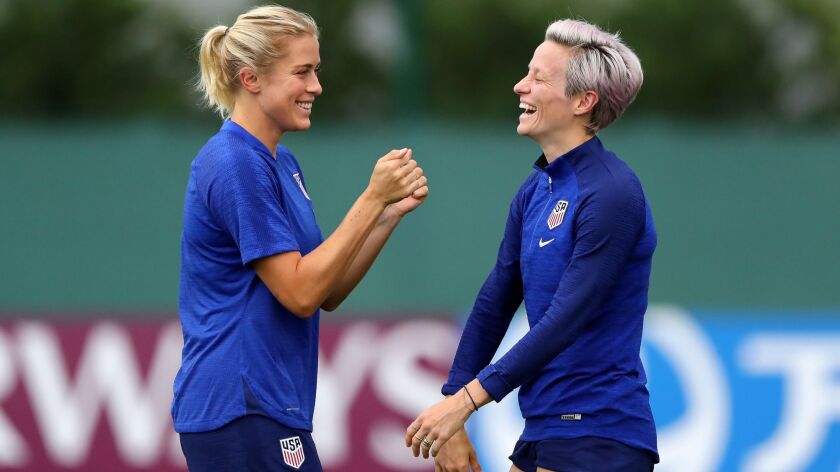 Reporting from Lyon, France —
Hello and welcome to the latest edition of the L.A. Times soccer newsletter. I'm Kevin Baxter, the Times' soccer writer. Today we're in sunny Lyon, France, a city of more than 2.3 million people about 300 miles south of Paris where the Rhine and Saone rivers meet.
Some of Lyon's architecture dates to the Middle Ages and the Renaissance and it is the city where, in 1890, Auguste and Louis Lumiere invented the cinematograph, or motion picture camera. It once played a major role in the production of silk and is today a center for banking and the chemical, pharmaceutical and biotech industries.

But we're here for soccer.
The city is home to the absolute best women's club team in history, Olympique Lyonnais, which has won a record 13 straight first-division titles in France and four consecutive Champions League crowns. On Tuesday it was also home to the two best women's national teams in the world in England and the U.S., which were meeting there in a Women's World Cup semifinal.
The Netherlands, the reigning European champions, will meet Sweden in the other semifinal Wednesday.
Unless you jump right on this newsletter the second it hits your mailbox — which is the correct way to read it — the U.S.-England game is likely to have started by the time you're reading this; kickoff was scheduled for noon on the West Coast.
So turn on the TV and here are a few things to watch for:
England's right back Lucy Bronze — whose middle name, appropriately, is Tough — is widely considered to be the best player in the world. If she starts on the back line (she can also play in the midfield), one of her duties will be to mark American forward Megan Rapinoe, widely considered to be the best player in the knockout stage of this Women's World Cup.
Rapinoe scored all four U.S. goals in 2-1 wins over Spain and France and is tied for the tournament lead — alongside teammate Alex Morgan and England's Ellen White — with five. White is the only English player to have scored more than once in this tournament.
Look for Bronze, who plays her club soccer in Lyon, to be active attacking up the wing as well and her ability to link with forward Nikita Parris will be key for the English offense. But they'll be attacking against speedy U.S. defender Crystal Dunn, who has had a strong tournament, especially in one-on-one marking.
The U.S. leads the tournament with 22 goals and England has allowed the fewest, one. England is second in scoring with 11 and the U.S. has allowed the second-fewest, two. The U.S. has never trailed, scoring in the first 12 minutes of all five games. If the Americans score early again, they've shown the ability to change on the fly into a five-player back line and bunker in.
The best way for England to attack the U.S. would be to go directly behind White up the middle, but coach Phil Neville loves his short-passing, possession-based, pressing style. The U.S. can defend that, and if England pushes the ball out on the wings, as France often did, it will be playing into the Americans' hands.
England will focus on Rapinoe and probably Morgan, but coach Jill Ellis has so many other weapons. Look for Tobin Heath, who has had a quiet tournament, to be more involved today. I wouldn't be surprised to see Carli Lloyd come off the bench late and play an important role as well.
If you're reading this after the game and none of what I just described happened … well, here's some other stuff about soccer:
Island escape for the U.S. men
A couple of hours after the U.S. escaped its CONCACAF Gold Cup quarterfinal with Curacao, I got an email form U.S. Soccer about the 1-0 win over the 79th-ranked team in the world. My first thought was, "You know what? You guys really ought to keep this to yourselves."
Because if the U.S. won the war on Weston McKennie's 25th-minute goal, tiny Curacao, a country with fewer people than Garden Grove, won all the significant battles.
(Watch the goal here: https://twitter.com/USMNT/status/1145500501917732865)
Curacao outshot the U.S. 15-10, put more shots on goal, won more corners, made more passes and led in time of possession. Only a stellar performance by goalkeeper Zack Steffen — especially his acrobatic one-handed stop in the 84th minute — saved the U.S. from embarrassment and won it a spot in Wednesday's semifinal against Jamaica in Nashville.
The shutout was the fourth in a row for the U.S., which hasn't given up a goal in the tournament.
By all accounts, Curacao, a constituent country of the Kingdom of the Netherlands in the Caribbean, 40 miles off the northern coast of Venezuela, has a good team. Although the island is primarily known for producing baseball players such as Dodgers closer Kenley Jansen and former all-star outfielder Andruw Jones, its soccer team benefits from the country's close relationship with the Netherlands, where 12 of its members play professionally.
But until this summer, Curacao had not won a game in the Gold Cup in 50 years. If the U.S. wants to be a player on the international stage and return to the World Cup, it can't be celebrating one-goal wins over Curacao.
That said, the win was the ninth straight for the U.S. in Gold Cup play, dating back to its unbeaten run to the title in 2017 under Bruce Arena. And the team has a 405-minute scoreless streak dating to the second half of last month's game with Venezuela.
"You guys wanted us to go out here and beat them 5-0," U.S. coach Gregg Berhalter told reporters — accurately — afterward. "But we knew it was going to be a difficult game. You look at all the quarterfinals so far in this tournament and in Copa America, they're all tough games. They know there's no tomorrow if they lose."
But Berhalter would also admit the U.S. has much larger aspirations and a 1-0 win over Curacao after losses to Jamaica and Venezuela last month show that the coach's complicated makeover has a long way to go.
Mexico also advanced to the Gold Cup semifinals and also had a tough time doing it, needing a huge save by goalkeeper Guillermo Ochoa to beat Costa Rica in a penalty-kick shootout before a crowd of 70,788 at NRG Stadium in Houston.
However unlike Curacao, Costa Rica has played in four of the last five World Cups, reaching the quarterfinals in 2014, and was expected to give Mexico a stern test.
The game ended 1-1 with Raul Jimenez scoring late in the first half for Mexico and Bryan Ruiz equaling things on a penalty kick early in the second half for the Ticos. But the match should never had gone to overtime, with Mexico putting 16 shots on goal and completing more than 90% of its 575 passes.
Only Jimenez, who scored despite being surrounded by five defenders, could find the back of the net. That left it to Ochoa to save the day, diving to his right to make a one-handed stop on Keysher Fuller's attempt in the fifth round of the shootout. It was Mexico's seventh consecutive victory in a Gold Cup quarterfinal dating to 2007.
"The penalties definitely rewarded the one who should have won the match,'' said Gerardo Martino, who is unbeaten in eight games since taking over as Mexico's coach earlier this year. ''I said it would be a final ahead of time. Costa Rica is an excellent team, but the reality is we should have won the game.''
(Watch Mexico's highlights here: https://www.youtube.com/watch?v=--rdXH0SaYA)
Mexico will play Haiti in its semifinal Tuesday in Glendale, Ariz. Haiti trailed Canada 2-0 just 28 minutes into its quarterfinal but came back with three scores after the intermission to reach the Gold Cup semifinals for the first time.
Defender Andrew Jean-Baptiste said he tried to rally his teammates at the intermission.
"All it takes is one goal and we can create history after that,'' he said he told them. ''Miraculously, that's exactly what happened."
Lost weekend for LAFC, Galaxy
It was a tough weekend for LAFC and the Galaxy, the top two teams in the MLS Western Conference standings, with both losing in the same week for the first time this year.
And not only did both teams lose, neither team scored.
LAFC (11-2-4), coming off a monthlong MLS break in which it played just two U.S. Open Cup games, dominated the Colorado Rapids everywhere but on the scoreboard in a rainy 1-0 loss that was stopped for nearly an hour by lightning. The delay came just two minutes after Jack Price headed in a corner for the game's only score in the 49th minute.
In the first minute after play resumed, Diego Rossi forced Colorado keeper Tim Howard into a diving save to preserve the Rapids' lead. LAFC outshot the Rapids 12-7, put more shots on goal, had the ball for 60 of the 90 minutes, made twice as many passes and completed 86% of them.
But despite all that, they couldn't get the ball in the net, losing for the first time in 11 matches in all competition and getting shut out for the third time this season. Carlos Vela, who leads the league in goals (16) and is tied for second in assists (10) saw his scoring streak end at seven games.
"We weren't sharp," coach Bob Bradley said. "Our tempo was way too slow. We did put more into it after the weather break. But when we needed to make a play, we came up short.
"It's frustrating to start the [second] half and six minutes later go back inside. I'm not sure why they started the half. But that's not a factor."
That's a poor way to start a stretch that will see the team play six games, including a U.S. Open Cup quarterfinal, in 21 days. LAFC was missing three starters to international duty in the Gold Cup and chose to rest two more in midfielder Eduard Atuesta and forward Christian Ramirez.
"We knew going in this is a tough part of the season," Bradley continued. "We're a little bit low on numbers. It's on us to still try to make more football. We just didn't do enough and the responsibility in that game to make the football is on us. That's the most disappointing part."
The most encouraging part may have been Rodolfo Zelaya's MLS debut. The former Salvadoran international came off the bench midway through the second half and played 23 minutes, taking two shots, including one of the three LAFC put on goal.
Zelaya made his first appearance for LAFC in the team's first Open Cup game last month, playing the final two minutes of a 3-0 win at Real Salt Lake.
LAFC plays two more times this week, on Wednesday in Kansas City and then at home against Vancouver — the only other team to beat LAFC this season — on Saturday.
Colorado (5-9-4) is unbeaten in its last seven in MLS play, a streak that started with a win over the Galaxy in mid-May.
Speaking of the Galaxy, they played Saturday before their biggest crowd of the year — 50,850 at Stanford Stadium — but were handed a disappointing result in a 3-0 loss to the San Jose Earthquakes that not everyone thought was representative of the game.
"We battled hard," defender Dave Romney said. "The last 25 minutes of the first half and the first 25 minutes of the second half, we controlled the game and we had a lot of chances and they just capitalized when they had control of the game and we didn't."
Two of the San Jose goals came in the final eight minutes of regulation. The Galaxy's Zlatan Ibrahimovic, the league's second-leading scorer with 11 goals, was kept off the scoresheet for the second game in a row. He has two goals and an assist in his last six games, the least-productive stretch in his MLS career.
The first goal, by Vako in the 11th minute, came from distance following a free kick. The second, by a wide-open Shea Salinas, bounced in off the post in the 82nd minute and came against the run of play after Ibrahimovic was stripped of the ball in the San Jose end. And the third, credited to Tommy Thompson, actually deflected in off the chest of the Galaxy's Perry Kitchen.
San Jose (7-6-4) is suddenly in the thick of the playoff race after a six-match unbeaten streak.
"It was an equal game, but obviously, if you look at the 3-0 result, it looks like they [massacred] us," Ibrahimovic said. "Mistakes make a difference. We made more mistakes than them and we got punished for it."
"Today's result would say normally we are not good enough, but the opponent is not better than us," Ibrahimovic continued. "It's tricky because when you play against opponents, you feel when they're better and you feel when they're less better.
"I think the whole MLS is equal. It's like 50/50 every game and everything can happen, just like today."
(We take a much deeper dive on Ibrahimovic a little later in this newsletter.)
The Galaxy were without four starters — midfielders Jonathan dos Santos and Uriel Antuna and defenders Giancarlo Gonzalez and Rolf Feltscher — who are all off on international duty. They then lost another midfielder, Sebastian Lletget, at halftime with a pelvis issue.
Lletget, who missed most of the 2017 season after foot surgery, sat out this year's opener with an injury and has come out of two of his last three starts before the start of the second half.
"We need to talk with him and with the doctor because we need him in the field 100%, not like today, when I think he [felt something] from the beginning and he couldn't play like the Lletget we know," coach Guillermo Barros Schelotto said.
The loss was the second in five games and the sixth in nine tries dating to May 4 for the Galaxy (10-7-1), who return home Thursday to face Toronto.
Here are the MLS standings
Eastern Conference
W L T GF GA GD Pts.
Philadelphia 9 5 5 34 25 9 32
DC United 8 4 7 25 19 6 31
Montreal 9 8 3 24 31 -7 30
Atlanta 9 6 2 23 15 8 29
NY Red Bulls 8 6 3 30 20 10 27
New York City 6 1 8 27 19 8 26
Toronto 6 7 5 30 31 -1 23
__________________________________________________
Orlando City 6 8 3 24 22 2 21
New England 5 8 5 20 35 -15 20
Chicago 4 7 7 26 27 -1 19
Columbus 5 11 2 16 27 -11 17
FC Cincinnati 3 13 2 15 42 -27 11
Western Conference
W L T GF GA GD Pts.
LAFC 11 2 4 39 14 25 37
Galaxy 10 7 1 24 22 2 31
Seattle 8 4 5 27 21 6 29
Dallas 7 7 5 27 25 2 26
San Jose 7 6 4 28 27 1 25
Minnesota 7 7 3 30 26 4 24
Houston 7 6 3 22 22 0 24
__________________________________________________________
Salt Lake 7 8 2 24 28 -4 23
Portland 6 8 2 25 28 -3 20
Vancouver 4 7 8 21 25 -4 20
Colorado 5 9 4 28 36 -8 19
Kansas City 4 6 7 27 29 -2 19
A crowded all-star team
Southern California's two franchises are well represented on the MLS all-star team.
Chosen from the Galaxy were Ibrahimovic and Dos Santos while LAFC will send forwards Vela and Rossi, midfielder Mark-Anthony Kaye and defender Walker Zimmerman. Yet there were at least two deserving players left home.
Atuesta and goalkeeper Miller probably should have been chosen too. While Vela is the clear favorite for the league's MVP award, Atuesta may be LAFC's most valuable player. He's as responsible as Kaye for making the team's midfield go, feeding Rossi and Vela up front.
I'd take him over either Portland's Diego Chara (no goals, two assists in 13 games) or Atlanta's Ezequiel Barco, who has just six starts this season.
Miller, who is playing with the U.S. national team, leads MLS in wins and has the best goals-against average (0.81) of any keeper with more than six appearances. He's also tied for third in the league with six shutouts in 16 games.
He should go over Real Salt Lake's Nick Rimando, who has given up 22 goals and made just 35 saves in 13 games.
The MLS all-stars will play Spanish club Atletico Madrid on July 31 in Orlando.
Damage control
Speaking of Ibrahimovic, there's apparently a reason he's changed clubs nine times in 17 years despite averaging nearly 21 goals a season. Ibrahimovic has never been shy about showing his emotions — which seem to be getting more and more frayed on the field, with the team captain frequently gesticulating angrily when teammates fail to get him the ball.
In the Galaxy's 2-0 win in Cincinnati, he actually lay down on the field in frustration when a pass didn't make it through to him.
And when those emotions really boil over, he goes after opponents, as he did when he trash-talked Real Salt Lake defender Nedum Onuoha, even following him into his team's locker room. He later grabbed New York City keeper Sean Johnson by the neck in the final minutes of a loss, drawing a two-game suspension.
Now Ibrahimovic is apparently taking his frustrations out on inanimate objects, reportedly trashing the visiting dressing room at Cincinnati's Nippert Stadium late last month.
Keep in mind Ibrahimovic's team won the game. But Ibra didn't score, so, in his words, he "broke a lot of stuff after the game. The whole locker room I broke."
The Galaxy denied that account, saying Ibrahimovic was joking. And FC Cincinnati said it was unaware of any problems with the locker room at the stadium, which is managed by the University of Cincinnati.
But players who were in the room confirmed Ibrahimovic had a meltdown.
There's a fine line between firing yourself up and embarrassing yourself and your teammates. Ibrahimovic appears to be pushing up against that line, if not crossing it entirely.
"He's an emotional guy. And he seems to show it a bit too much at times," Lletget said.
Ibrahimovic agreed, taking a shot at MLS in the process.
"I have to have more patience. I come from a different game," he said. "When you play 25 years on a level that is very intense, very high, it becomes natural and automatic. Then when you try to do it here, it doesn't come as direct and intense as it normally did.
"I just have to adjust and be patient. This is something … I'm still learning and adjusting. It's difficult to bring MLS to a level I came from. It takes time."
But he also admitted the behavior isn't anything new for him.
"That's my game. I did it everywhere … [Manchester] United, Juventus, Barcelona, [AC] Milan. That's the environment I came from," he said. "I come here because I want a lot. I don't come here to relax. That's who I am, and so far I won 33 trophies. That's probably more than MLS altogether. I know what I'm doing."
That Ibrahimovic is one of the greatest players to ever lace up a pair of boots is obvious. And while Dos Santos may be the Galaxy's best player this season, Ibrahimovic remains the league's most dominant, with the ability to take over a game at any time.
But he's also maddeningly enigmatic, especially for a guy who wears the captain's armband. And his veiled attacks on the level of play and the structure of MLS have become more and more frequent. After the San Jose loss, Ibrahimovic, who has struggled to get his arms around the idea of playoffs, appeared to surrender to the concept that first place isn't necessarily the main goal in the regular season.
"I learned that [the] regular season is not important, the playoff is important. We have to switch onto playoff mode when the playoff comes," he said. "Regular season, not important. [The] playoffs are very important."
Told that those words didn't sound like him, he agreed.
"You're totally right," he said. "I came to learn, and I came to play the [MLS] game, so I'm learning from you guys. Today was a loss, not good. But we're in the playoffs, so we don't argue. As long as we're still in the playoffs, I'm cool, I'm calm, and we have a new game Thursday.
"Hopefully we take the points that keep us in the playoffs."
To be continued ....
Quotebook
"C'est magnifique ce soir"
U.S. midfielder Megan Rapinoe, who played two seasons in France, describing her night as beautiful after scoring twice in a 2-1 win over France in a Women's World Cup quarterfinal.
---