U.S. women's soccer team's trip to Europe is no vacation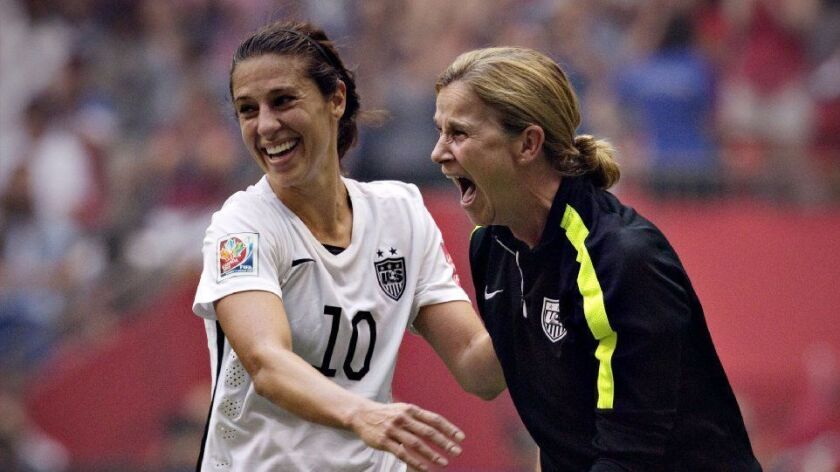 Jill Ellis is convinced the world is shrinking when it comes to women's soccer. And to prove it she has taken her national team to Europe, where it will begin ramping up preparations for this summer's Women's World Cup.
"Overall it's so different than it was even two World Cups ago in terms of just the depth and the talent and the level of players out there and the level of teams," Ellis, whose U.S. squad is the reigning champion and ranked No. 1 in the world, said of the global landscape in women's soccer. "Someone asked me is this going to be the hardest World Cup to win? Yeah. Every World Cup should be better than the one before."
The 26 players Ellis called into the first training camp of 2019 began arriving in Portugal over the weekend – forward Alex Morgan needed three flights to get there -- and will begin practicing Monday. The team will then play friendlies with No. 3 France, the World Cup host, Jan. 19 in Le Havre and 12th-ranked Spain in Alicante on Jan. 22.
By holding her January camp in Europe for the first time and including exhibitions against two World Cup qualifiers, Ellis is hoping to challenge a team that hasn't lost since July 2017, going 18-0-2 last year.
"Finding ways to be successful against European teams in Europe is something every team in the World Cup will have to do to advance deep into the tournament. So this is an essential trip in our prep for the summer," Ellis said.
The teams the U.S. will play on its 17-day trip are among those that have improved the most since the last World Cup. France has reached at least the quarterfinals of the last seven major tournaments in which it has played. Spain, meanwhile, played in a World Cup for the first time four years ago and didn't win a game but made it to the quarterfinals of the 2017 Euros. And Spain's U-17 team won its World Cup last month.
"They're a team that's really come on. That's why we tried to get them on our schedule in January," Ellis said of Spain.
The U.S. will also play eight games in the U.S. before the World Cup, half against teams ranked in the top 10. Included on that tour is an April 7 game with Belgium at Banc of California Stadium in Exposition Park.
"We recognize that we have formally entered a World Cup year," said Ellis, who must trim her team to 23 players by June. And with a deep, veteran roster that is fully healthy again, it's unlikely more than five positions are truly up for grabs.
Many of the players Ellis called up last week have been here before: Eleven were on the team that won the title four years ago in Canada and six of those women have played in at least two World Cups. Among the larger group is Morgan -- U.S. Soccer's player of the year for 2018 after scoring 18 goals in 19 games -- and Carli Lloyd, a two-time world player of the year.
Another, forward Megan Rapinoe, said she agrees with her coach that the women's game is improving.
"The quality of every team, top to bottom, continues to get better," she said. "But I think we are too."
For Lloyd, 36, the European camp marks the start of her final World Cup year. She made her debut in the tournament in China 12 years ago and if she plays all seven games in France, she will tie Abby Wambach for second on the all-time U.S. list with 25 World Cup caps.
"It is crazy to believe that this is my fourth World Cup," said Lloyd, who scored a hat trick in the first 16 minutes of the World Cup final four years ago. "I can remember 2007, heading to China. I was as nervous as could be. I didn't know what to expect.
"But I want to savor every minute of it because this will be my last World Cup. I want to enjoy it. I want to embrace it. These are the moments where I like to turn it up a few notches and get it going."
kevin.baxter@latimes.com | Twitter: @kbaxter11
---
All about the beautiful game
Go inside the L.A. pro soccer scene and beyond in Kevin Baxter's weekly newsletter.
You may occasionally receive promotional content from the Los Angeles Times.