Women's soccer team goes from competitors to companions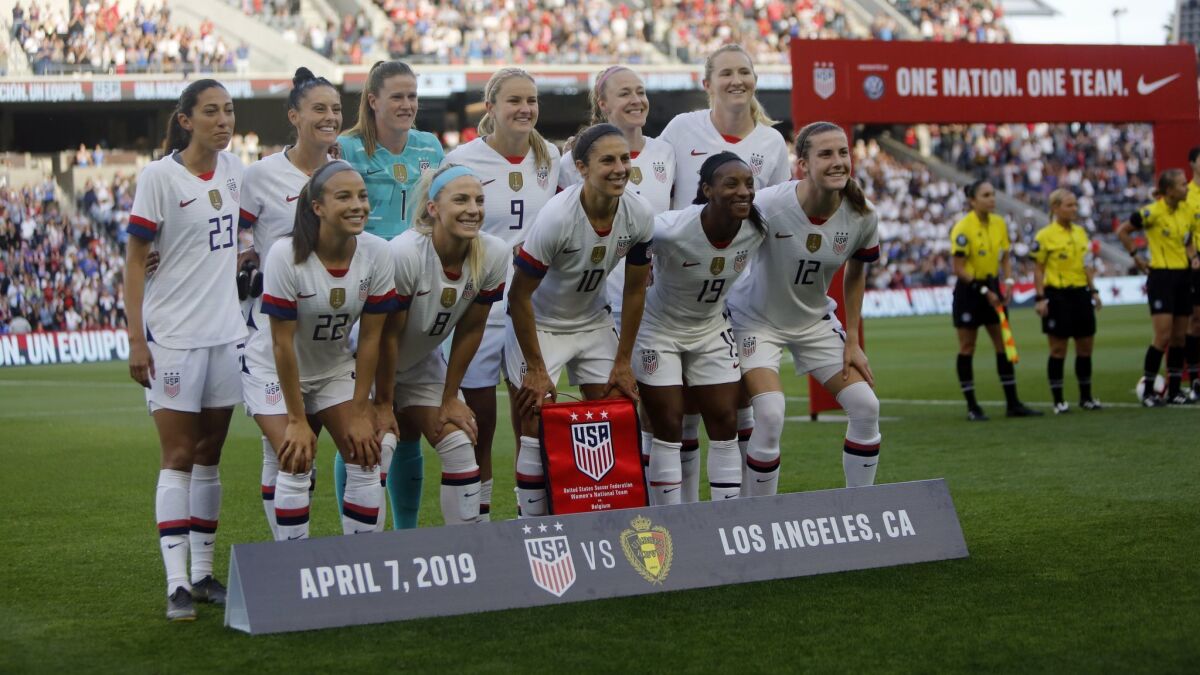 Reporting from SANTA CLARA —
The U.S. national team's final push to this summer's Women's World Cup didn't begin in a game or a training session. It didn't even start on a field.
It began instead at Atelier Crenn, a pricey three-star restaurant in San Francisco's Marina District where the food, like the World Cup, is French.
That's where the 23 players met Monday, on the third night of training camp, to break bread and, more importantly, break whatever tension remained from the long, sometimes bitter competition to make the team.
"People think it's all rainbows and butterflies all the time with this team. But it's not always that way because you're fighting for a roster spot," said defender Kelley O'Hara, who was selected to her third World Cup team. "But as soon as that roster's named for any big tournament, that's when the team really comes together and jells and creates that chemistry that you need to win."
Another step in that process comes Sunday when the U.S. faces South Africa at Levi's Stadium in the first of three World Cup tuneups the team will play this month. Before the women can play as a team, though, they have to become a team, something Jill Ellis learned the hard way during her second assignment coaching a U.S. national team.
The large player pool Ellis had brought together in 2005 to compete for spots on the U-21 team wasn't coming together the way she had hoped. There was no camaraderie, no unity, no team spirit. So she asked one of the players why.
"You haven't picked the roster yet," the player responded.
"I always remember that moment," Ellis said Saturday. "It is a rite of passage almost. This was a close group, they get along. But now there's that single purpose. That is sometimes the X factor.
"Teams that win don't always have to be best friends. But they have to have a purpose and mutual respect and an understanding that it's going to take all of us to be successful. That's where this team is now."
It didn't start that way.
The roster Ellis picked for France is a wide mix of talents, personalities and experience, from the fiery Carli Lloyd, 36, a two-time world player of the year who is heading to her fourth World Cup, to 20-year-old Tierna Davidson, the youngest defender ever to make a U.S. Women's World Cup team.
Aside from soccer, there appears to be little to unite them.
And while Lloyd, Alex Morgan, Megan Rapinoe and a handful of others simply had to simply avoid injury to make the team, players like Davidson and former UCLA midfielder Sam Mewis, another World Cup first-timer, fought pitched battles to earn the call from Ellis informing them they had made the team.
It can be difficult to put that angst and anxiety aside in the space of one short phone conversation. So the team came up with the idea of a players-only dinner, busing from its boutique hotel in San Jose to a restaurant on the edge of the San Francisco Bay, where each player was greeted with an original poem and a sponsor agreed to pick up the hefty check.
"I definitely feel there was a shift," Mewis said. "To make the roster, it's competitive. I do have this feeling it's really different now and that anything I'm doing is for the greater good of the team. I'm sure that everybody else feels that way too.
"It's been important for us to realize that we're equals now and that we're in this together and that's kind of us against the world."
That feeling was evident during training last week, with the players joking and teasing one another, pulling on ponytails and trading high-fives.
"The culture and sentiment around the team really does change when the roster is set," forward Christen Press said. "In how we train and what we do, the focus is slightly different. There is not this focus on making sure that you're individually making your spot. That is concluded. It's just about putting the team first."
Sign up for our weekly soccer newsletter »
If Monday's dinner marked the passage from competitors to companions it also marked the start of the hard work of trying to win a second straight World Cup. Press is one of 12 players on the team who have been to the tournament before; 11 others are going for the first time. And Press remembers how sharp her learning curve was in Canada four years ago.
"The big thing that's very special is you kind of get in this bubble and you're a little bit separate from the rest of the world and the fans and the perception of the games," she said. "It's kind of a weird thing to experience for your first time. And it's one of our responsibilities as veteran players to bring the younger group along and help them deal with that.
"Our expectations are always clear and they actually don't need to be said: We are going to the World Cup to win it and anything else would be a failure for us. That's the DNA of this team."
A team that came together over Geoduck, Kir Breton and French onion soup.
kevin.baxter@latimes.com | Twitter: @kbaxter11