Browns executive says he decided against drafting Josh Rosen after a random conversation at an airport
Cleveland Browns vice president of player personnel Alonzo Highsmith discussed his team's decision to draft Oklahoma quarterback Baker Mayfield at No. 1 overall at the Hall of Fame Luncheon Club in Canton, Ohio, on Monday.
In the process, Highsmith managed to trash a couple of the other top prospects at the position.
According to the Canton Repository, Highsmith told this rather bizarre story involving former UCLA quarterback Josh Rosen, who ended up being drafted by the Arizona Cardinals at No. 10 overall:
"I was at an airport. UCLA's volleyball team was in front of me. You heard so much about Rosen. He's this or that. We all know how people talk.
"So I asked one of the volleyball coaches, 'What's Rosen like?' He said, 'Aaaaa, you should probably ask his girlfriend. She's one of the players. She's over there.'
"I'm like, 'All right, Coach. That's good enough.'
"I don't know what all this means, but there was something about him that bothered me."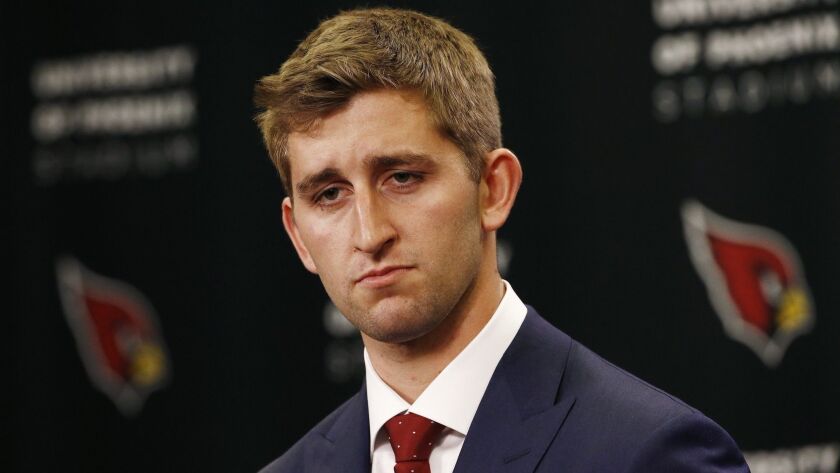 In speaking about Josh Allen, who was drafted by the Buffalo Bills at No. 7, Highsmith brought up the former Wyoming quarterback's drop in production between 2016 and 2017, which some have blamed on the lack of a strong supporting cast in the latter year.
"Baker Mayfield lost two receivers and he was the same quarterback," Highsmith said. "Josh Allen ... big arm ... he could throw the ball from here to the moon. When they have to make excuses ... why are they not completing passes? That's a problem."
Highsmith did have high praise for former USC quarterback Sam Darnold, who was drafted by the New York Jets at No. 3 overall. But Mayfield simply impressed him more late in the evaluation process.
"Here's the honest to God's truth," he said. "From the start of this college football season to the end of the season, I had Darnold No. 1 and Baker No. 2, Rosen No. 3, [former Louisville quarterback Lamar] Jackson No. 4 and Allen after that.
"On our way through everything, you couldn't tell me Darnold wasn't the best. I did all my evaluations of the season.
"Then comes the part where you meet them off the field. You watch their workouts. You watch everything. And Baker blew me away. Highly, highly intelligent. Highly competitive.
"And he had a trait that some of the good ones have. I call it efficacy. That includes the power to affect other people. I thought that of all the quarterbacks I watched, he stood out far and above the other guys. When he walked into a room, you knew he was there."
Twitter: @chewkiii
---
Get our high school sports newsletter
Prep Rally is devoted to the SoCal high school sports experience, bringing you scores, stories and a behind-the-scenes look at what makes prep sports so popular.
You may occasionally receive promotional content from the Los Angeles Times.