FBI executed warrants to seize $2.7 million in college admissions scandal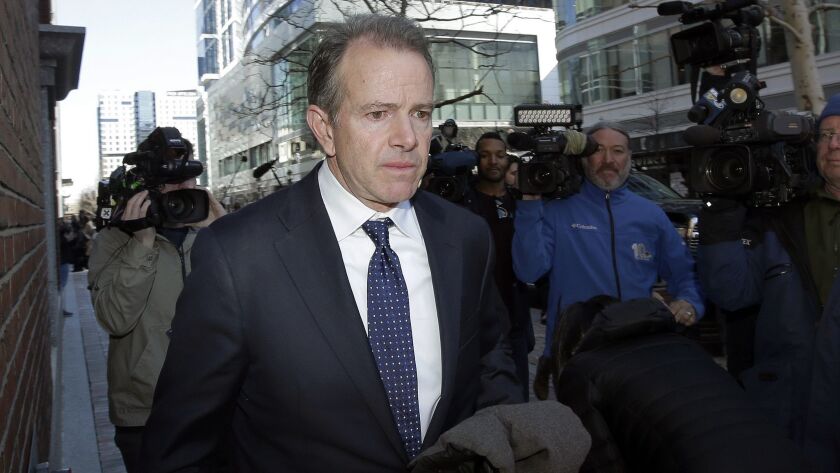 FBI agents executed warrants last month to seize up to $2.7 million from bank accounts controlled by six people charged in the college admissions scandal, including former USC and UCLA employees, according to documents unsealed in U.S. District Court in Massachusetts.
"Based on evidence gathered during the investigation, there is probable cause to believe that Defendants have commingled bribe money with untainted funds in order to facilitate money laundering … ," FBI Special Agent Laura Smith wrote in a 13-page affidavit in support of the seizure warrants.
The warrants were issued under seal March 11, the day before the scandal became public when prosecutors announced charges against 50 people.
The bulk of the money referenced in the seizure warrants came from four accounts controlled by former Georgetown and Rhode Island tennis coach Gordon Ernst. He has pleaded not guilty to racketeering conspiracy. Prosecutors alleged Ernst and the others charged were part of a nationwide scheme to bribe college administrators and coaches to admit prospective students as fake athletes.
In a motion filed earlier this month, Ernst's attorneys asked a judge to unfreeze the $1.1 million seized by the FBI in order for their client to pay for living expenses and his legal defense. A hearing is scheduled for May 30.
The FBI also secured warrants to seize up to $140,000 from former USC senior associate athletic director Donna Heinel, $100,000 from former UCLA men's soccer coach Jorge Salcedo and $25,000 from former USC women's soccer coach Ali Khosroshahin.
All three have pleaded not guilty to racketeering conspiracy.
The FBI affidavit said Heinel deposited a $20,000 check from the Key Worldwide Foundation into her bank account on July 13, 2018.
Newport Beach resident William "Rick" Singer, the college consultant at the heart of the scandal, operated the foundation. Singer pleaded guilty last month to fraud, racketeering, money laundering and obstruction of justice. Prosecutors allege the charity was a front to funnel bribes to college administrators and coaches.
Heinel deposited an additional $120,000 in checks from the foundation into the same bank account between August 2018 and January 2019, according to the affidavit.
Sign up for our daily sports newsletter »
"Thus, I have probable cause to believe at least $140,000 … is property constituting or derived from proceeds obtained directly or indirectly as a result of racketing activity," the affidavit said.
Additionally, according to the affidavit, Salcedo deposited a $100,000 check from the foundation on Oct. 31, 2018, and Khosroshahin made a similar deposit for $25,000 on Oct. 29, 2018.
The affidavit and accompanying documents, which note the seizure warrants were executed last month, don't specify how much FBI agents took from each defendant.
The FBI was also authorized to seize almost $400,000 from Martin Fox, president of a tennis academy in Houston, and $50,000 from Wake Forest volleyball coach Bill Ferguson.
Twitter: @nathanfenno
---
Get our high school sports newsletter
Prep Rally is devoted to the SoCal high school sports experience, bringing you scores, stories and a behind-the-scenes look at what makes prep sports so popular.
You may occasionally receive promotional content from the Los Angeles Times.