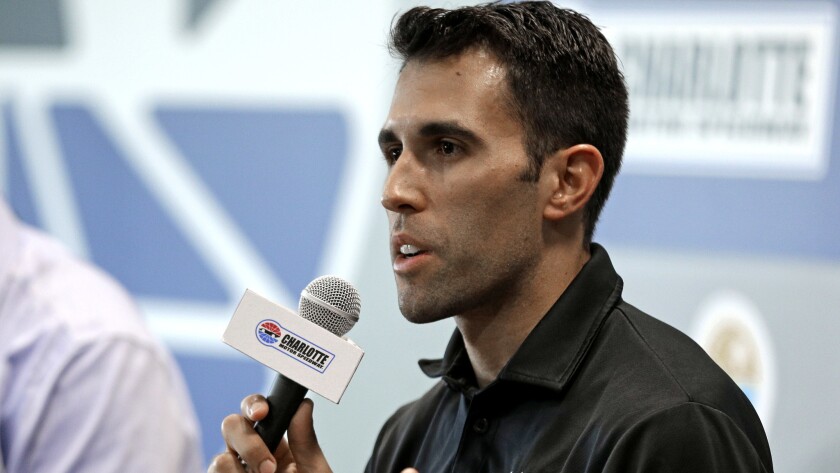 Aric Almirola celebrated a victory with his family one weekend, then found himself on a backboard in a helicopter on the way to the hospital just seven days later.
Almirola fractured a vertebra in a crash Saturday night at Kansas Speedway and could miss up to three months of the NASCAR season. The 33-year-old Almirola will heed doctor warnings and not rush back to racing because he has been warned further injury could lead to paralysis.
"Everybody is telling me that with this type of fracture it is eight to 12 weeks, so I'm not happy about that," Almirola said. "Getting back in a race car two weeks too soon is just going to add two more starts to my start column and the stat book. But if I were to get in another similar accident and not be properly healed, you're talking about potentially being paralyzed from the belly button down.
"I'm not going to risk that," he said. "I've got a lot of baseball to play with my son and I'd like to dance with my daughter one day at her wedding. Whenever the doctors clear me, I'll be ready to get back in a race car."
It was a wild turn of events for Almirola, who reveled in celebrating an Xfinity Series win at Talladega with his family on May 6. A week later, he was hospitalized overnight in Kansas before flying home to North Carolina to receive another diagnosis.
Almirola suffered a compression fracture of his T5 vertebra, just above the middle of his back. Denny Hamlin missed four races — and started but didn't complete a fifth — after suffering a compression fracture of the L1 vertebra in his lower back in 2013.
Tony Stewart last year missed the first eight races of the season with a fracture of his L1 vertebra, though the injury happened about three weeks before the season opened.
"This fracture is at a higher level than the injuries that Denny sustained or that Tony sustained," said Dr. William Heisel of OrthoCarolina Motorsports.
Regan Smith is substituting this weekend for Almirola in the No. 43 Ford at Charlotte Motor Speedway in the qualifying event for the All-Star race. Brian Moffitt, CEO of Richard Petty Motorsports, said the team is still working through the driver replacement process.
Crashes mar Indy practice
Rookie Zach Veach crashed hard on the final day of practice before qualifying this weekend for the Indianapolis 500.
Veach's car wiggled coming through the first turn before slamming hard into the outside wall. The car slid through the second turn and then hit the wall again before skidding to a stop. He stayed in the car momentarily before climbing out under his own power. The 22-year-old American was later checked, cleared and released to drive.
Spencer Pigot also crashed Friday, less than 30 minutes after practice resumed following an afternoon rain delay. The 23-year-old American hit the outside wall coming out of the second turn before the car rolled to a stop on the back straightaway. Pigot quickly climbed out of the cockpit and was taken to the infield medical center where he was checked and cleared to drive. He drives for Juncos Racing after finishing 25th as a rookie last year.
Sebastien Bourdais posted the fastest lap of the week during the practice session and kept the top spot even after the rain delay. The French driver finished with a top speed of 233.116 mph.
Andretti Autosport teammates Ryan Hunter-Reay, the 2014 Indy winner, and Takuma Sato were second and third. Hunter-Reay went 232.132 mph while Sato posted a speed of 231.969.
Two-time Formula One champion Fernando Alonso, also on the Andretti team, was fourth at 231.827 mph. He was clocked at over 236 mph, a career best, at one point on the track. Juan Pablo Montoya had the fastest Chevrolet in practice. He was fifth, topping at 231.682 mph.
Qualifying will continue Sunday with the nine-car pole shootout, and the race is scheduled for May 28.
Hight sets speed record
Robert Hight shattered the Funny Car speed record at 337.66 mph Friday in the lone round of qualifying in the rain-delayed NHRA Heartland Nationals in Topeka, Kan.
Hight topped the previous record of 335.57 that Matt Hagan set last year at Heartland Park Topeka and matched this season in the season-opening event in Pomona, Calif.
Hight's time of 3.826 seconds in his Chevy Camaro SS is the fourth-quickest in Funny Car history.
Steve Torrence led in Top Fuel, and Bo Butner topped the Pro Stock lineup. Torrence had a 3.682 at 328.54, and Butner a 6.613 at 207.78 in a Camaro.
---