Angels' Jered Weaver throws jab, but no haymakers, at Kyle Seager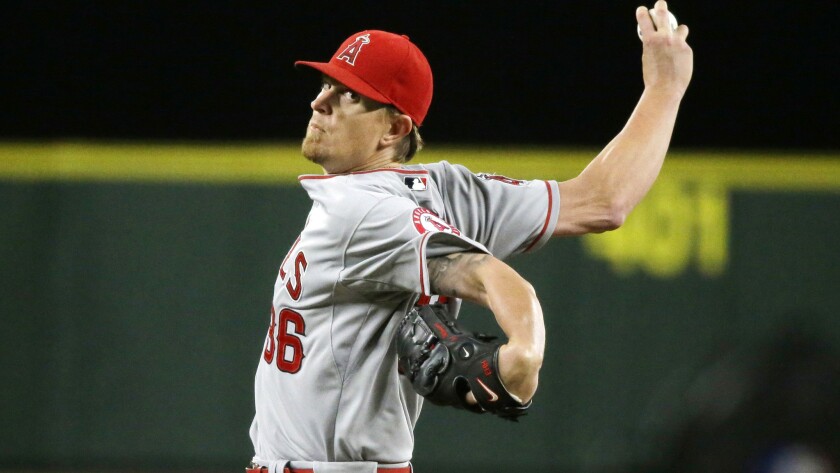 Reporting from Minneapolis —
Jered Weaver was a man of few words in response to harsh comments by Seattle Mariners third baseman Kyle Seager, who said the Angels pitcher "quit on his team" by getting ejected from Wednesday night's game for hitting Seager with a pitch after a heated fifth-inning exchange between the two.
But the 10-year veteran and three-time All-Star still landed a jab. After responding "nope" when asked if he had any thoughts on Seager's quotes and if he had seen them, Weaver was asked if he took offense to the comments.
"I don't even know who this kid is," he said.
Weaver and Seager, a four-year veteran and one-time All-Star, jawed at each other after Weaver believed that Seager disrupted his rhythm by asking for time out while Weaver started his motion.
Weaver's next pitch, an 83-mph fastball, hit Seager in the arm, and umpire Brian O'Nora, believing that the pitch was intentional, ejected Weaver. Though Major League Baseball is investigating the incident, Weaver is not expected to be suspended.
He is in line to pitch against the Mariners in Anaheim on Sept. 25-27. Will there be bad blood?
"I don't know," Weaver said.
Did he have any regrets about what happened? "Nope."
Then he opened up a bit.
"I tried to throw a fastball in, what are you gonna do?" Weaver said. "I was just out there pitching."
Told he has excellent control, Weaver objected.
"If you guys have been watching all season, my two-seamers in to left-handers have been atrocious, so obviously I don't have control in there," he said. "I've hit more guys this year than I have in my entire career. So my control has not been as good as it has been. Hence, the 5.00 earned-run average."
Weaver has hit 11 batters, four more than his previous career high of seven in 2013. Manager Mike Scioscia insisted that the last one wasn't intentional, and that Weaver did not quit on his team.
"I know Weav was trying to get a ball in for the purpose of trying to get him out," Scioscia said. "There is nobody that gives more out there on the mound than Weav."
Relief in sight
Reliever Mike Morin has quietly rebounded from a shaky sophomore slump in which he had a 7.43 ERA in 28 appearances before getting demoted to triple-A Salt Lake on July 29.
Morin, a fastball-changeup specialist who went 4-4 with a 2.90 ERA in 60 games as a rookie last season, replaced struggling starter Hector Santiago on Thursday night and struck out Eduardo Escobar to end the five-run first inning.
The right-hander then struck out two of four batters in a scoreless second. In eight scoreless appearances since being recalled Sept. 1, Morin has struck out 11 of 17 batters.
"Sometimes the second year for a player is more difficult than the first," Scioscia said. "But he made some adjustments at triple-A, and there is no doubt he's controlling counts much better than he did early in the season."
mike.digiovanna@latimes.com
---
Get our high school sports newsletter
Prep Rally is devoted to the SoCal high school sports experience, bringing you scores, stories and a behind-the-scenes look at what makes prep sports so popular.
You may occasionally receive promotional content from the Los Angeles Times.