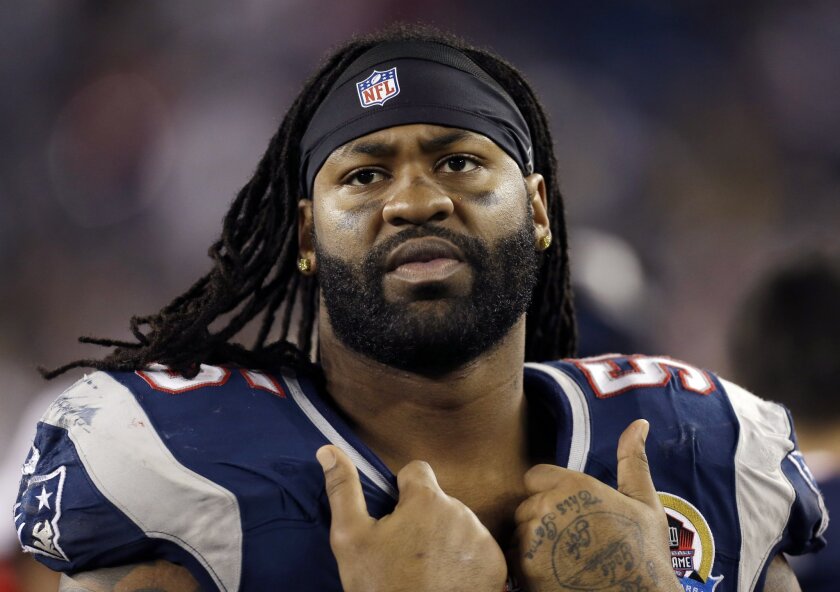 Brandon Spikes has been cited by Massachusetts state police, who say he crashed into another vehicle, then left the scene of the accident.
The NFL linebacker was cut by the New England Patriots on Monday, after police announced he was being investigated in connection with a possible hit-and-run accident.
Early Sunday morning, police found Spikes' abandoned 2011 Mercedes-Maybach with front-end damage in the median of an interstate, near the area where another car had been rear-ended by an unseen vehicle.
Three people from the other car -- including a 12-year-old boy -- were taken to a hospital and treated for minor injuries.
On Friday morning, Spikes was cited by police in connection with leaving the scene of an accident causing injury, speeding, driving negligently and failing to stay within marked lanes. He will receive a summons to Wrentham District Court at a yet-to-be-determined date.
"The charges against Spikes are the result of a comprehensive investigation that determined that Spikes' Maybach was the car that struck the Murano and that Spikes was driving the car at the time of the crash," state police spokesman David Procopio said in a statement.
Spikes and his agent have yet to comment on the incident.
The Patriots picked Spikes in the second round of the 2010 draft. After four years in New England -- during which time he reportedly appeared in a sex tape and was suspended four games for violating the league's policy on performance-enhancing substances -- Spikes went to Buffalo last season. He rejoined the Patriots in May.
---