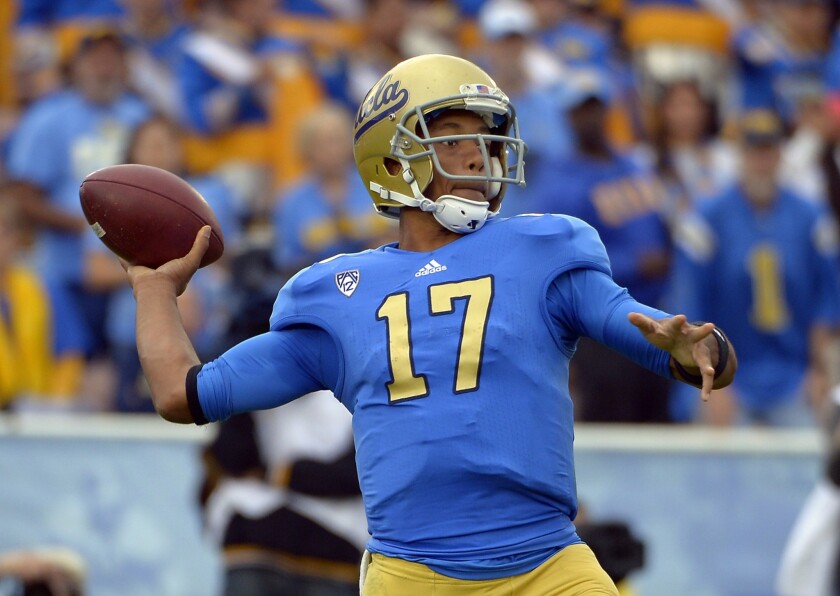 The 52 sacks UCLA allowed last season were a talking point post-practice Monday.
Coach Jim Mora said it took a village to allow the second-most sacks in the nation -- Washington State gave up 57. But Mora said that quarterback Brett Hundley had to do his part.
"He'll get rid of the ball quicker and decide to run with it quicker," Mora said. "Also, the offensive line is much better than last year, especially early in the year. If we could cut the sacks in half, I'll be happy with that, especially with how much we throw the ball."
Mora said the sacks "hurt momentum. You throw the ball away, it's second and 10. You take a sack and it's second and 17. It changes your play-calling."
Hundley said that he is more aware of when to run or ditch the ball.
"I think there is a lot more trust between me and the offensive line," Hundley said.
ALSO:
Former NBA scoring champ Tracy McGrady announces retirement
U.S. Open: Venus Williams upsets Clijsters' protege Kirsten Flipkens
Watch Rockies' Rene Lachemann give life lessons to young Phillies fan
---