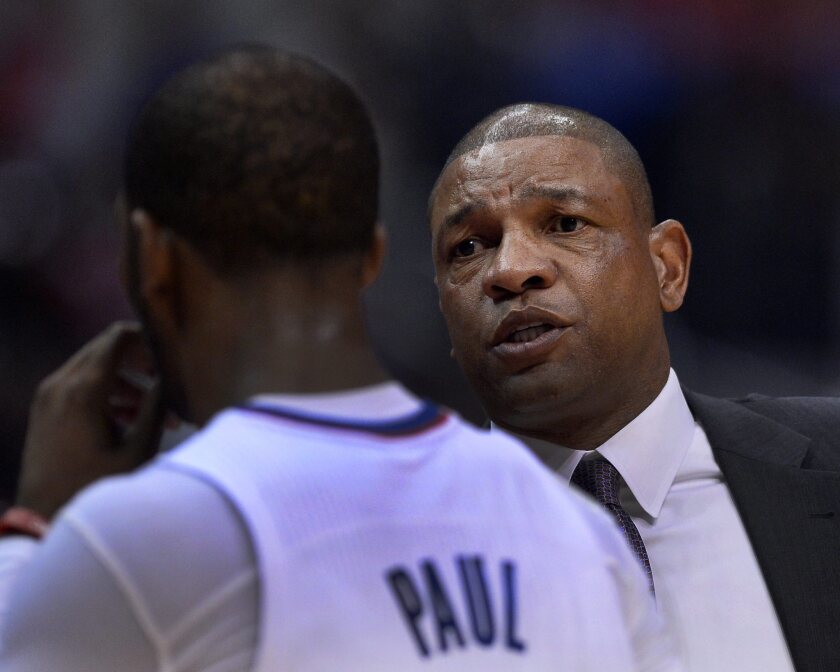 The Clippers overcame a 22-point deficit Sunday for a 101-99 victory, tying their second-round series against the Oklahoma City Thunder at 2-2.
"They just competed," said Coach Doc Rivers in a conference call Monday. "They were playing completely to win the game. They stopped worrying if they were playing well or not. They competed. I thought that was the most important thing I took out of the game."
Can the Clippers carry over that momentum to Oklahoma City on Tuesday for Game 5?
"It can carry over, but I don't know if it does or doesn't," said Rivers. "I think Oklahoma will be ready."
The Clippers pulled away for a late victory, relying on a smaller lineup with Chris Paul, Darren Collison, Jamal Crawford, Danny Granger and Blake Griffin.
Paul took the unlikely assignment of guarding a player nearly a foot taller, Thunder All-Star Kevin Durant.
It caught the Thunder by surprise but Rivers isn't sure it'll work again this series.
"It's not something you can bank on," he said. "It's not something you're going to do full time or anything like that."
"It's really going to be a game time and game situational thing for us," Rivers continued. "Having those three guards on the floor makes it very difficult to guard us. We know that. But it also puts us in a bind defensively."
Griffin was playing with five fouls down the stretch of the game, part of why he wasn't guarding Durant. He finished with a team-high 25 points.
"Instead of being passive and worrying about fouling out, he just went out and played," said Rivers. "That's what we told him in the huddle. If you foul out, foul out, but foul out being Blake."
Durant scored 40 in 45 minutes but also had eight turnovers.
The Clippers closed Game 4 with a 38-24 fourth-quarter run.
Email Eric Pincus at eric.pincus@gmail.com and follow him on Twitter @EricPincus.
---