George Genovese, 'greatest scout of all time,' dies at 93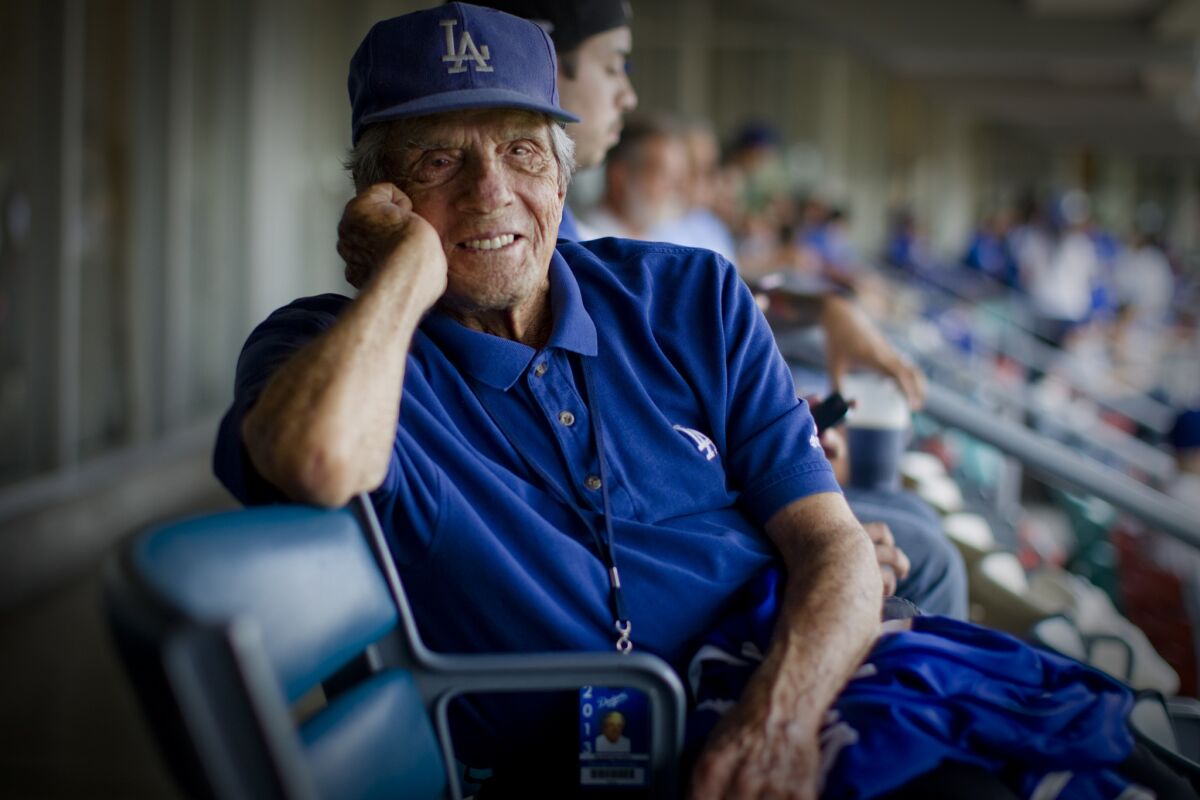 George Genovese, the legendary baseball scout who signed generations of San Francisco Giants stars from the playgrounds and schools of Southern California, died Sunday. He was 93.
Genovese died at Providence St. Joseph's Medical Center in Burbank, not long after a visit from former major league catcher Mike Lieberthal, said Dan Taylor, coauthor of Genovese's autobiography, "A Scout's Report: My 70 Years in Baseball." The cause was sepsis, Taylor said.
"I feel I've dedicated my life to baseball, and I'm glad I did," Genovese told the Los Angeles Times in 1980, in a profile that displayed several of the major league players he signed with the headline "Genovese's Gallery of Superstars."
Genovese was renowned for his ability to identify the raw skills that an unheralded high school or college player might develop. George Foster was a poor hitter at El Camino College in Torrance and Jack Clark a pitcher at Gladstone High School in Covina, but Genovese signed both players. Each finished his career ranking among the top 100 home-run hitters in major league history.
As one local coach told The Times in 1980: "You could take a basketball player, some kid off the street, and put a glove on one hand and a ball in the other and have Genovese talk to him — and 40 other scouts would come over and ask, 'What does Genovese see in him?' "
George Michael Genovese was born Feb. 22, 1922, in the New York borough of Staten Island. He was a light-hitting shortstop who played 12 seasons in the minor leagues, his career interrupted by military service during World War II. He got one at-bat in the major leagues, with the 1950 Washington Senators.
He had managed in the minor leagues for a decade when the San Francisco Giants assigned him to scout. The heart of his territory was Southern California in an era when the diamonds of Los Angeles turned out the finest baseball players in the country.
In three decades with the Giants, Genovese signed some 40 players who made the major leagues, including such Southern California standouts as Foster, Clark, Bobby Bonds, Chili Davis, Gary Matthews, Matt Williams and Royce Clayton.
In his autobiography, published this year, Genovese wrote that the Giants played two games in 1973 in which he had signed seven of the nine players on the field for San Francisco.
The Giants dismissed him in 1994. The Dodgers promptly hired Genovese, a longtime North Hollywood resident, as a scouting consultant.
"For me, he's the greatest scout of all time," former Dodgers General Manager Dan Evans told The Times in 2009.
In 2003, the Professional Baseball Scouts Foundation introduced a lifetime achievement award for scouts and named it after Genovese.
The foundation's founder, Dennis Gilbert, an executive with the Chicago White Sox and formerly one of baseball's most powerful agents, said he was one of scores of Southern California prospects who had played on youth teams run by Genovese in the 1960s and '70s.
"Baseball wasn't just a sport or business to this guy," Gilbert said Monday. "It was his way of life."
Genovese's wife, June, died in 2000. He is survived by a daughter, Kathleen Haworth, and two granddaughters.
Twitter: @BillShaikin
---
Get our high school sports newsletter
Prep Rally is devoted to the SoCal high school sports experience, bringing you scores, stories and a behind-the-scenes look at what makes prep sports so popular.
You may occasionally receive promotional content from the Los Angeles Times.