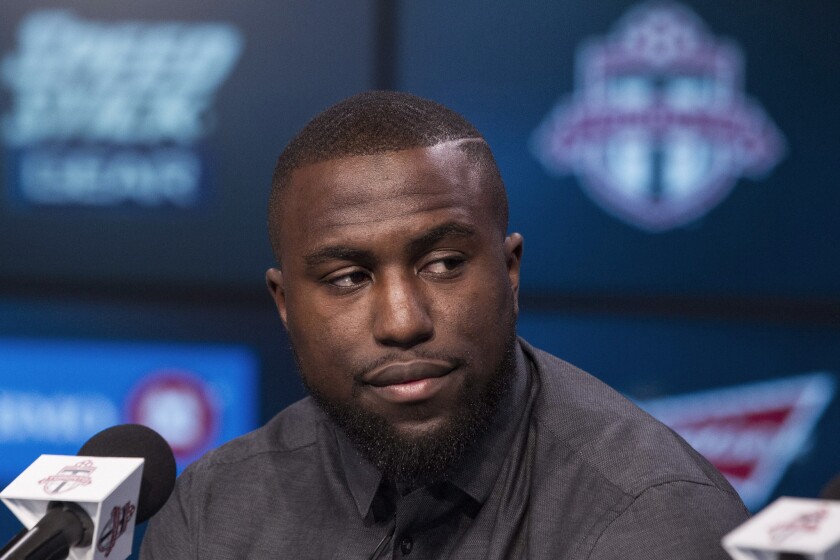 Jozy Altidore is coming home, reaching agreement on a deal that will return him to Major League Soccer with Toronto FC.
And U.S. national team Coach Juergen Klinsmann isn't sure how he feels about that.
Altidore, the fifth-leading scorer in U.S. Soccer history, struggled mightily in two mostly forgettable seasons with Sunderland of the English Premier League, scoring just once in 39 EPL games. He had started just two of 21 league matches this season.
Klinsmann immediately reached out to Altidore, inviting him Friday to join the national team in its winter training camp at the StubHub Center. But the coach has flip-flopped over whether Altidore's return from Europe is a good thing or a bad thing, alternately urging the forward to stay with Sunderland and then saying he should return to MLS to get some regular playing time.
"He's very unlikely to play for Sunderland. And he has a playing guarantee in MLS. So that's a good thing; he gets games," Klinsmann said.
"But at the same time he needs to be pressured to perform. So in a certain way, if he comes here, it's difficult to put pressure on him because he's going to be a designated player and he's going to be making a lot of money."
Klinsmann, who won a World Cup with Germany as a player then coached his homeland into the semifinals of another World Cup, has made no secret of his preference for players on the U.S. national team to join European teams. The competition there is much fiercer, he says, and the soccer environment more intense, which makes players hungrier.
"You have no other choice," Klinsmann said. "Otherwise, you don't play."
But in recent years few U.S. players have heeded their coach's advice, with Altidore joining national team players such as Clint Dempsey, Michael Bradley, Brek Shea, Jermaine Jones and Mix Diskerud in returning from Europe to play in MLS.
Altidore's long-rumored return was finalized Thursday when Toronto agreed to allow unhappy designated player Jermain Defoe to remain in England, where he has been training with Tottenham. Defoe will now join Sunderland, clearing the way for Altidore to join the Canadian MLS team.
The 25-year-old Altidore played just 22 minutes in last summer's World Cup before sustaining a severe hamstring strain. He hasn't played regularly since. Still, Klinsmann admits he remains ambivalent over what he perceives will be a soft landing for Altidore in MLS.
"He's not being pressured by the next player in line that wants to steal his spot. Meanwhile if he fights his way through in Europe -- which he is totally capable to do -- he will kind of continue to live in a peer-pressure environment day in and day out," Klinsmann said.
"You want him to play, first and foremost, which is going to happen, which is good. But you also want players to fear for their positions in order to stay on their toes, in order to be always focused on what they're doing. So there is a tradeoff."
Follow Kevin Baxter on Twitter @kbaxter11
---