Tim Tebow violates NCAA recruiting rule with eight-second phone chat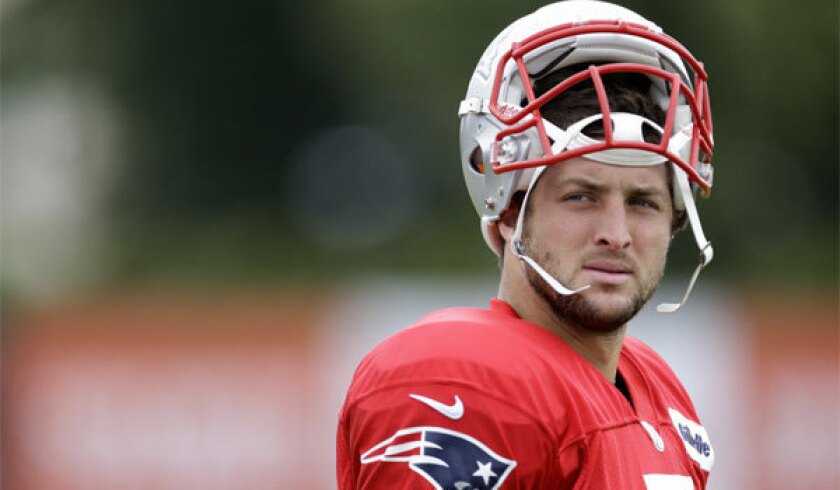 Tim Tebow is a troublemaker.
We've really known it all along, haven't we? It was just a matter of time that some fantastic scandal put an end to that squeaky-clean image.
And now it's happened.
Ohio State has reported itself to the NCAA for a recruiting violation, and Mr. Goody Two-Shoes is at the center of it.
It seems Urban Meyer -- who coached Tebow at Florida and now heads the Buckeyes -- was having lunch one day last March when he received a call from high school recruit Clifton Garrett, a linebacker from Illinois.
Here's the rest of the juicy details from Ohio State's self-report, via Cleveland.com:
"Upon receiving the call, Coach Meyer informed Garrett that he was on vacation and having lunch with friends and family, including Tim Tebow. Garrett asked Coach Meyer if he could wish Tebow good luck on the upcoming season. Coach Meyer handed the phone to Tebow and Garrett conversed with Tebow for approximately eight seconds. Coach Meyer stated that no recruiting conversation occurred, there was no intent to have Tebow recruit on behalf of Ohio State and he, in fact, did not recruit on behalf of Ohio State.
"Çoach Meyer reported that Garrett was not instructed to call by anyone from the Ohio State football staff and that neither he nor Tebow had any other communication with any other prospects during the lunch. Coach Meyer further indicated that Tebow has never spoken with any other prospective Ohio State student-athletes. Coach Meyer understands that the communication between Garrett and Tebow was an error on his part. However, he was adamant that it was a reflexive, courteous action rather than an intentional attempt to involve Tim Tebow in the recruiting process."
Wait, so that's it? An eight-second phone call?
There's an NCAA rule against former players not employed by a university being involved in recruiting in any way, and apparently that counts saying hello on a coach's cellphone. It was one of 42 NCAA secondary violations involving all sports reported by Ohio State during 2013.
So that's not really much of a scandal, is it? If anything, Tebow comes out looking like a super nice guy for making a young player's day.
Such a goody two-shoes!
---
Get our high school sports newsletter
Prep Rally is devoted to the SoCal high school sports experience, bringing you scores, stories and a behind-the-scenes look at what makes prep sports so popular.
You may occasionally receive promotional content from the Los Angeles Times.