UCLA rallies in emotional 41-21 win over Nebraska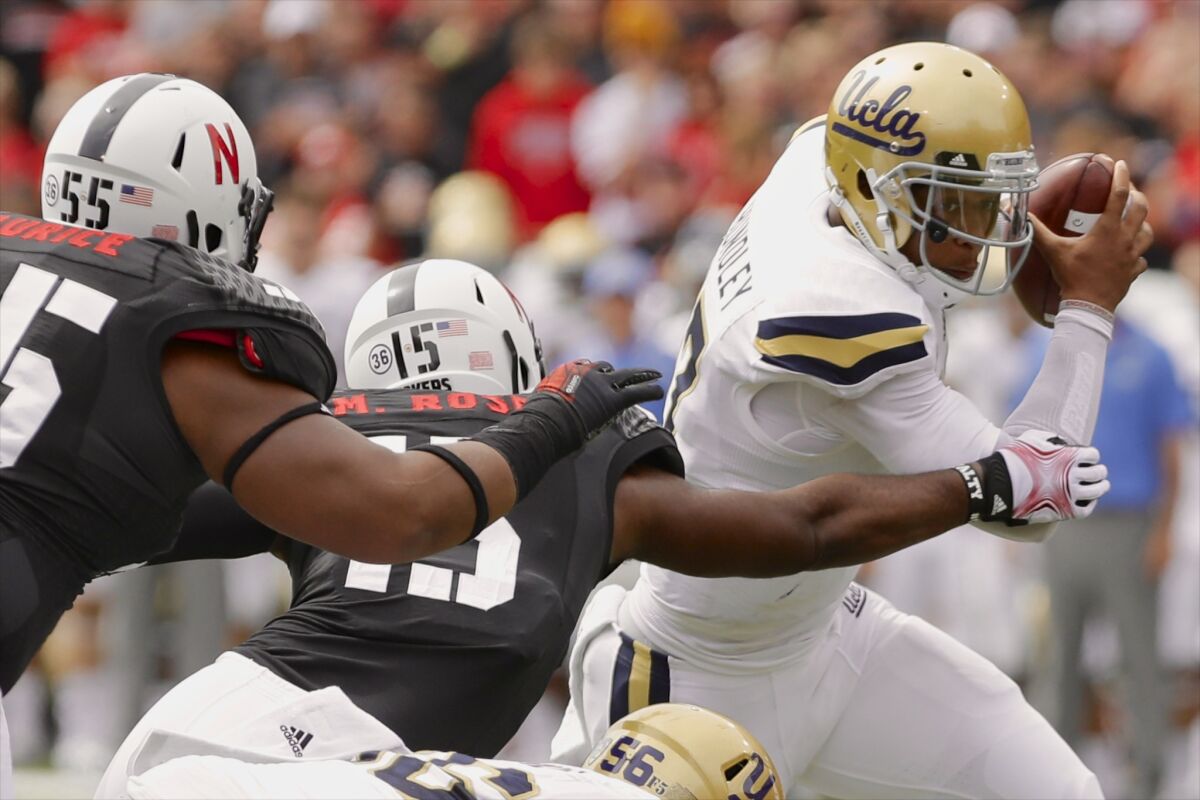 UCLA had an emotional week leading up to its big nonconference showdown against No. 23 Nebraska Saturday in Lincoln.
UCLA made two costly mistakes, leading to big deficit midway through the second quarter.
UCLA quarterback Brett Hundley looked indecisive and out of sync against the Cornhuskers, who were seeking their 15th consecutive nonconference win at home, where they were playing before another sellout crowd.
None of which mattered once Hundley found his rhythm and the 16th-ranked Bruins hit high gear.
UCLA ran and passed all over Nebraska in the second half in a 41-21 win.
Down 21-3 in the second quarter, the Bruins (2-0) scored 38 unanswered points and looked every bit a team on the rise.
UCLA players wore #36 patches on the left chest side of their uniforms in honor of popular walk-on player Nick Pasquale, who died last Sunday after being struck by a vehicle in his hometown of San Clemente.
In a classy gesture, Nebraska players wore #36 decals on their helmets and the Cornhuskers honored Pasquale with a moment of silence and other gestures before the game.
A Hundley pass that was intercepted and a snap that was muffed by punter Sean Covington led to a pair of Nebraska first-half touchdowns, and Cornhuskers quarterback Taylor Martinez threw three touchdown passes.
But late in the first half, UCLA's offense seem to find itself.
And it was all UCLA after that.
UCLA scored 28 in the third quarter – the most points ever by a visiting team in one quarter at Memorial Stadium, a history that spans back to 1923.
Hundley completed 16 of 24 passes for 294 yards and ran for 61. His passes found nine different receivers.
Jordon James rushed for 105 yards and a touchdown in 22 carries. Shaquelle Evans, Phillip Ruhl and Nate Iese caught scoring passes.
In a television interview afterward, Coach Jim Mora was clear about UCLA's main focus in the game.
"Our goal today was to honor Nick," he said. "Our goal today was to come out here and have our players reflect everything that he meant to us and everything that was great about him so that his family sitting at home, Mel, Lori and AJ ... we did it for your son. We did it for your son."
Asked if the emotions slowed UCLA in the early going, Mora said, "I don't like excuses. I think we were a little tight and that's a really good football team over there. I just told the guys at halftime, 'It's good to see you finally.' We finally showed up in the second quarter and started to play with a little bit of confidence."
Said Hundley: "There was a lot of emotions for this game… The second half we calmed down and played our game."
He said of Pasquale: "This was a game for him."
Nebraska fell to 2-1.
---
UCLA 41, Nebraska 21, 1:53 left in the fourth quarter
UCLA chewed up a lot of clocked and has tacked on a 24-yard field goal by Ka'imi Fairbairn.
UCLA has scored 38 unanswered points.
---
After a slow start, UCLA has 502 yards in offense against Nebraska.
In the second half, the Bruins have 296 yards. And there's still a little more than three minutes to play.
---
Nebraska, having been outscored 35-0, was showing signs of life, until ...
A turnover.
Ameer Abdullah coughed up the ball after a big hit by UCLA's Anthony Barr. It was recovered by Anthony Jefferson at the UCLA 6.
UCLA moves the ball some but now has to punt. Still leading, 38-21, with 9:19 left to play in the fourth quarter.
---
UCLA 38, Nebraska 21, 0:26 left in third quarter
This one only took 45 seconds.
After the Bruins stopped the Cornhuskers short on a fake punt, Brett Hundley and Shaquelle Evans hooked up on a 36-yard reception.
Hundley threw a three-yard touchdown pass to Nate Iese, his first career catch.
---
UCLA 31, Nebraska 21, 3:39 left in third quarter
The Bruins are going wild.
UCLA goes 53 yards in 1 minute 43 seconds, with Brett Hundley throwing a 12-yard touchdown pass to Phillip Ruhl.
The Bruins were helped by a roughing the passer call on Nebraska's Corey Cooper on a third-and-five play.
That's 28 straight points by UCLA since the Cornhuskers scored with 7:12 left in the second quarter.
---
UCLA 24, Nebraska 21, 6:02 left in third quarter
A Memorial Stadium record crowd of 91,471 is stunned.
Well, except for a handful of UCLA fans.
Quarterback Brett Hundley takes the Bruins 57 yards in 1 minute 1 second. He throws for 40 yards and rushes for 12 on the drive.
Hundley's perfectly thrown pass was grabbed by Shaquelle Evans for a 28-yard touchdown.
UCLA's defense has tightened up, getting the offense the ball back twice in the third quarter.
---
Nebraska 21, UCLA 17, 8:31 left in third quarter
The Bruins have a little giddy-up in their offense to start the second half.
The 89-yard drive opened with a 38-yard run by Jordon James. Brett Hundley completed a 20-yard pass to Paul Perkins for a first down at the Nebraska 20-yard line. On a third-and-15 play, Hundley zipped a pass to Devin Fuller for an 18-yard gain.
James then picked his way through the defense on a three-yard run for the touchdown.
---
Nebraska leads UCLA at the half, 21-10.
Taylor Martinez gave UCLA's young and inexperienced secondary a lesson.
Martinez threw touchdowns passes of 11, 14 and 18 yards, building a 21-3 lead. He completed 11 of 16 passes for 116 yards.
The Bruins helped out.
Stanley Jean-Baptiste intercepted a Brett Hundley pass and returned to the UCLA 28 in the first quarter. The short drive ended with a 11-yard touchdown pass from Martinez to Quincy Enunwa.
UCLA's Myles Jack was called for pass interference on a third-down play, extending the Cornhuskers next drive. Martinez connected with Enunwa again, this time on a 14-yard touchdown where Enunwa hurdled safety Randall Goforth to get into the end zone.
UCLA punter Sean Covington mishandled a snap in the second quarter. Two plays later, Martinez and Kenny Bell hooked up on a 18-yard scoring play, with Bell out-leaping cornerback Fabien Moreau in the end zone.
UCLA out-gained Nebraska, 206-196, but 104 of the Bruins' yards came on three pass plays.
Hundley completed a 39-yard pass to Grayson Mazzone to set up a 44-yard field goal by Ka'imi Fairbairn in the first quarter. Hundley completed a 32-yard pass to Devin Fuller late in the half. Paul Perkins scored two plays later on a 10-yard run.
Hundley completed eight of 16 passes for 153 yards.
---
Nebraska 21, UCLA 10, 57 seconds left in second quarter
The Bruins salvaged something from the first half.
A 13-yard third-down scramble by quarterback Brett Hundley, where he escaped two tackles, was followed by a 32-yard pass from Hundley to Devin Fuller.
Paul Perkins burst through the middle for a 10-yard touchdown run two plays later, allowing the Bruins to save a little face after a half of costly mistakes.
---
UCLA had three more points. For a couple of minutes.
Officials on the field credited Ka'imi Fairbairn with a 46-yard field goal.
But television viewers might have been wondering why Nebraska fans behind the goal posts were cheering.
The reason: the kick was wide right -- as a review of video showed.
So the points were taken off the board.
Nebraska still leading, 21-3.
---
Nebraska 21, UCLA 3, 7:12 left in second quarter
Another UCLA mistake, another Nebraska touchdown pass.
UCLA punter Sean Covington mishandled a snap, giving Nebraska the ball at the Bruins' 26-yard line.
Taylor Martinez made short work of the situation. On second down from the 22, he lofted a pass to Kenny Bell who out-leaped cornerback Fabien Moreau for the touchdown.
The Bruins have two turnovers. Both led to Nebraska touchdowns.
---
Nebraska 14, UCLA 3, 0:31 left in first quarter
An efficient 92-yard drive ends in a 14-yard touchdown pass from Taylor Martinez to Quincy Enunwa, their second scoring hook-up of the game.
Nebraska had 41 yards passing and 46 yards rushing on the drive. UCLA contributed a pass interference penalty on a third-and-six play.
Martinez hit Enunwa over the middle just inside the 10. Enunwa then hurdled safety Randall Goforth to get into the end zone.
---
Nebraska 7, UCLA 3, 7:13 left in first quarter
Brett Hundley comes back after Nebraska's interception and touchdown.
He completes a 39-yard pass to Grayson Mazzone, setting the Bruins up at the Nebraska 25. The drive stalls and UCLA settles for a 44-yard field goal by Ka'imi Fairbairn.
Fairbairn is four for nine in field-goal attempts of 40 or more yards in his career.
---
Nebraska 7, UCLA 0, 9:45 left first quarter
A UCLA mistake leads to a Nebraska score.
A woeful pass from quarterback Brett Hundley was intercepted by Nebraska's Stanley Jean-Baptiste, who returned to the UCLA 28 yard line.
Four plays later, Taylor Martinez tossed an 11-yard touchdown pass to Quincy Enunwa.
---
Eric Kendricks started at linebacker for UCLA.
Kendricks, the Bruins leading tackler against Nevada, had not worked out with the first-team defense at the end of pre-game warm-ups. He has a sore right ankle.
UCLA picked up a first down on its first series.
Nebraska ran three plays and punted.
---
Isaako Savaiinaea, a first-year freshman linebacker, is working with the first-team defense during warm-ups -- in the place of Eric Kendricks.
Kendricks, the Pac-12 Conference leader in tackles last season, had his right ankle iced after practice Tuesday. He had surgery on the ankle during the summer.
Kendricks is in uniform.
Linebacker Myles Jack, another first-year freshman, was also working with the first team during warm-ups, in place of Aaron Wallace.
---
UCLA's mood as it prepared to play Nebraska Saturday in Lincoln?
Parents of players said that Bruins were rocking team bus back and forth at the team's hotel before coming to Memorial Stadium.
Meanwhile, Nebraska students are ready to welcome the Bruins and honor UCLA receiver Nick Pasquale.
Students have a tradition of releasing red balloons after the first Nebraska score. Students also had blue and gold balloons ready to go, likely for after the moment of silence for Pasquale, who died last Sunday after being struck by a car in his hometown of San Clemente.
---
After crushing Nevada in its season opener, UCLA, ranked No. 18 by The Times, heads into Saturday's game knowing the Cornhuskers will be eager to avenge last year's loss to the Bruins.
Still, something more important than football has been on the minds of everyone involved in the UCLA program this week.
On Sunday, 20-year-old UCLA receiver Nick Pasquale died after being struck by a vehicle in San Clemente. UCLA Coach Jim Mora says Pasquale's death has been a gut-wrenching ordeal for the team, which will wear Pasquale No. 36 on their jerseys Saturday in memory of their fallen teammate. the Cornhuskers also will honor Pasquale with a No. 36 decal on their helmets.
Despite the emotional toll levied on the team, a win for the Bruins could be essential in maintaining their high-level bowl aspirations. Quarterback Brett Hundley had a breakout performance in last year's 36-30 win over the Cornhuskers, and he'll face a defense which has looked vulnerable at times this season.
Foster reported from Lincoln, Neb., Hiserman from Los Angeles.
---
Get our high school sports newsletter
Prep Rally is devoted to the SoCal high school sports experience, bringing you scores, stories and a behind-the-scenes look at what makes prep sports so popular.
You may occasionally receive promotional content from the Los Angeles Times.