Newsletter: The Sports Report: Is Anthony Davis going to be a Laker or not?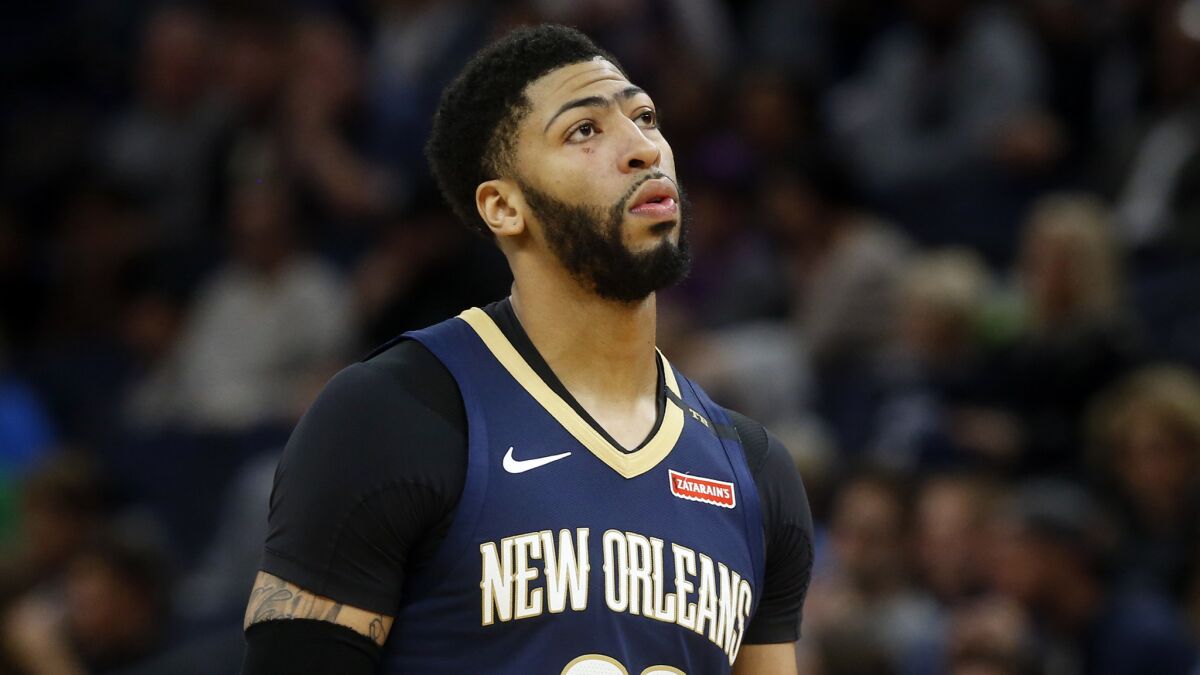 Howdy everyone, and welcome to the Tuesday edition of the Los Angeles Times daily sports newsletter. My name is Houston Mitchell and I'm your host for the festivities.
Let's get to it.
Anthony Davis, future Laker?
While the current Lakers are waiting for their current superstar to return from injury, an anxious NBA world waits to see whether another superstar will be joining him one day.
As Dan Woike writes, Anthony Davis, a top-five player in the NBA, can become a free agent as early as the summer of 2020, and there have been longstanding rumblings that New Orleans could be forced to trade him.
And, despite no other indications than joining Rich Paul's Klutch Sports agency — the same that reps LeBron James — he's been linked to the Lakers for most of the year.
Davis was in Los Angeles on Monday as his Pelicans took on the Clippers, and Pelicans coach Alvin Gentry didn't have to say his team wasn't trading Davis — something he did in December when New Orleans visited Los Angeles to face the Lakers.
No, the vibe around the Pelicans, at least for now, is that, with Davis leading the way, they'll try and climb back into the Western Conference playoff race.
The big problem is New Orleans is sort of in limbo right now, not quite out of the playoff race but not quite in it either. So what will they do?
By the way, the Clippers lost to the Pelicans, 121-117. You can read all about it here.
NFL
Some of the things you will learn by reading Sam Farmer's column previewing this weekend's playoff matchups:
1. For the first time, these title games feature the top four scoring teams from the regular season: Kansas City (35.3 points), the Rams (32.9), New Orleans (31.5) and New England (27.2).
2. Each quarterback matchup features a first-ballot Hall of Famer and a new-age star, with Drew Brees versus Jared Goff in the NFC, and Tom Brady versus Patrick Mahomes in the AFC.
3. Two of the four coaches have Super Bowl rings (New England's Bill Belichick and New Orleans' Sean Payton); Kansas City's Andy Reid has gotten there; and at 32, the Rams' Sean McVay is the youngest head coach to win a playoff game.
4. The value of an off week is on full display. Any team that didn't get a bye is gone. This is Nos. 1 vs. 2 in each conference. Nine of the last 10 Super Bowl participants were No. 1 seeds, with the only exception being Atlanta, which was a No. 2.
So what are you waiting for? Go read it.
Vote in our poll!
So, it will be Rams-Saints for the NFC title and Patriots-Chiefs for the AFC title. Who do you think will win those games? Vote in our polls and the results will be revealed at the end of the week. A random voter will win a free subscription to the newsletter!
For the Rams-Saints poll, click here.
For the Patriots-Chiefs poll, click here.
High school sports
Sports represent only a portion of the collateral damage in a strike that has Los Angeles Unified School District teachers walking off the job to demand smaller class sizes, more support staff and better pay.
But with 863 campuses spread across the county, and even with some of them operating as independent charter schools outside the teachers union, tens of thousands of City Section athletes have been affected.
All winter sports — including basketball, soccer, water polo and wrestling — have come to an abrupt halt. So have offseason practices for many varsity, junior varsity and frosh/soph players.
David Wharton covers the sports angle in an excellent story you can read here.
Coaches are concerned about their athletes, they told Wharton. "Kids are going to be on their own, which is not good," said Rick Hayashida, who coaches football and track at Chatsworth High. "I don't know if they are going to open the weight room. The kids in athletics put in extra time and it's not fair to them."
Narbonne High football coach Manuel Douglas said his players were "shocked" at being told they couldn't continue with winter training in the weight room. Even if coaches wanted to work with teams off-site, such activity has been prohibited.
Setting aside for a moment all the issues that caused a strike, it's unfortunate that the students, and the student-athletes, get caught up in the middle, causing them to miss out on some of the best times of high school life.
Lakers
Rajon Rondo has been hurt so often this season that I'm pretty sure he was the inspiration for Samuel L. Jackson's character in "Unbreakable" and "Glass."
But it's driving him crazy too.
According to Tania Ganguli's story, after one practice at home, his teammates were getting ready for their usual post-practice shooting competition and he wanted in. Luke Walton had to step in and talk Rondo out of it.
"I explained to him that it's probably not a great idea for him to be doing shooting competitions," Walton said. "But he's going a little stir-crazy over there. He loves playing the game and being hurt this much I think has really been tough on him."
Rondo is into his third week of recovering from a torn ligament in his right ring finger. He has played in only 14 games for the Lakers.
Boxing
Manny Pacquiao is 40, but he hasn't slowed down a bit while preparing to fight Adrien Broner in Las Vegas. At least that's how Lance Pugmire tells it in his story.
Pacquiao's trainer, Freddie Roach, says "That's just the way Manny is. I've tried to [incorporate rest] since day one…. But most times, you lose the argument because he's hard to argue with, especially when he says, 'My opponent might be running … .' So I find myself thinking, 'You've got a point … I can't overlook that.' "
Kings
There have been some bright spots in this miserable Kings season. Let's see, there's — um, give me a minute — uh, I'll get back to you.
While I'm thinking, take a look at this story by Curtis Zupke that focuses on defenseman Derek Forbort. He has been the perfect complement to Drew Doughty.
"We definitely have a little thing where we don't even really need to talk sometimes," Forbort said. "You just kind of know where the person's going because we've done those plays so many times. It definitely makes it easier when you have that continuity with your partner."
Tony Gwynn
The Poway home of San Diego Padres great Tony Gwynn, who died five years ago, has an unexpected visitor.
The Gwynn family lost the home to foreclosure last summer and it has remained vacant. In December, neighbors noticed people at the house, including one man who seemed to spend a lot of time there.
Turns out an unidentified squatter is living there, officials with the property management firm responsible for the bank-owned property told the San Diego Union-Tribune. Efforts to evict him have been complicated by California's complex "squatters rights" laws, but civil proceedings have been started to evict the man.
"We want to address the neighbors' concerns, but we can't just knock down the doors," Poway Sheriff's Lt. Christopher Collier said. "There are laws that we have to abide by and facts that have to be checked out."
The sad part in all of this is the fact that Gwynn's house is in foreclosure. A street named after him runs nearby, and there's a statue of him nearby too. The home is valued at $2.3 million and while there are no reports I can find as to where his family is living now, let's hope they landed on their feet somewhere.
Ask a Times sportswriter
A new feature of this newsletter will be you, the loyal subscriber, being able to ask any Times sports reporter a question. Just click here to send me an email. Include in the email who you want to ask a question of and what your question is. I'll pass it on and it will be answered in a future newsletter. Ever wanted to ask Bill Plaschke a question? Want to ask Tania Ganguli a question about the Lakers? Have a question for Sam Farmer about the NFL? Click here and ask away. But make sure you let me know which sportswriter you want answering the question.
And finally
That concludes the newsletter for today. If you have any feedback, ideas for improvement or things you'd like to see, please email me here. If you want to subscribe, click here.
---
Get our high school sports newsletter
Prep Rally is devoted to the SoCal high school sports experience, bringing you scores, stories and a behind-the-scenes look at what makes prep sports so popular.
You may occasionally receive promotional content from the Los Angeles Times.