Teachers' strike prompts City Section schools to shut down athletic programs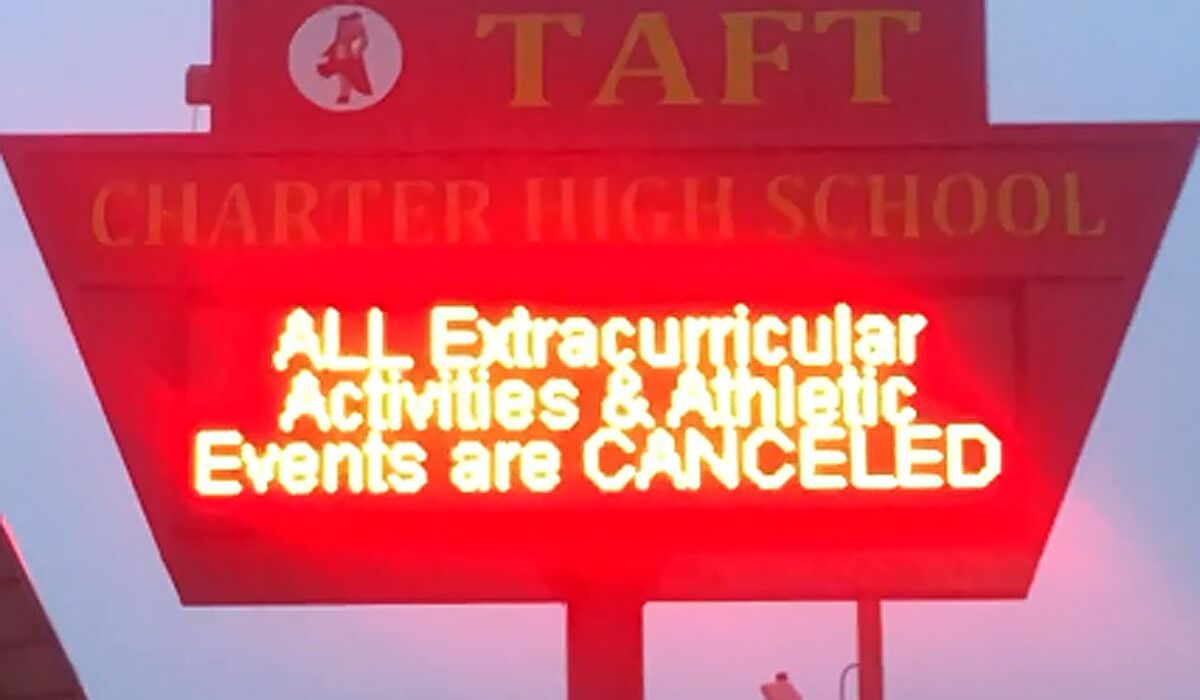 With a full slate of afternoon and evening games on the schedule, Monday should have been busy for Mark Drucker.
The Taft High athletic director should have been arranging buses for his girls' basketball and water polo teams, checking on his soccer field in the rain and making sure the gym stayed dry for a boys' basketball game at the Woodland Hills campus.
Drucker instead joined a picket line on the sidewalk, braving the wet weather as commuters drove past, many honking their horns in support. An electronic message board near the corner flashed: "ALL Extracurricular Activities & Athletic Events are CANCELED."
"You know, we have to stand up for what we first feel is our profession," Drucker said. "That is teaching."
Sports represent only a portion of the collateral damage in a strike that has Los Angeles Unified School District teachers walking off the job to demand smaller class sizes, more support staff and better pay.
But with 863 campuses spread across the county, and even with some of them operating as independent charter schools outside the teachers' union, tens of thousands of City Section athletes have been affected.
All winter sports, including basketball, soccer, water polo and wrestling, have come to an abrupt halt. So have offseason practices for many varsity, junior varsity and frosh/soph players.
"Kids are going to be on their own, which is not good," said Rick Hayashida, who coaches football and track at Chatsworth High. "I don't know if they are going to open the weight room. The kids in athletics put in extra time and it's not fair to them."
Narbonne High football coach Manuel Douglas said his players were "shocked" at being told they couldn't continue with winter training in the weight room. Even if coaches wanted to work with teams offsite, such activity has been prohibited.
Sign up for our daily sports newsletter »
As senior basketball guards at Westchester High, Jeremiah Turley and Jordan Brinson spent last week preparing for the worst. Coach Ed Azzam put them in charge of practice so they would be ready to gather the team for informal sessions at a Compton park.
"We figured the strike was going to happen and he watched us and gave us the nod to do it," Turley said.
Having experienced a teachers' strike in 1989, Azzam said: "I haven't told them they have to. I haven't told them they can't. If they want to practice on their own, they'll figure it out. We have a good group of returning guys and good core leadership, so I'm hoping that they'll do something to stay in shape, depending on how long the strike is."
It isn't just the big sports that have been hurt. The girls' water polo season is on hold, as is the fencing team at Cortines School of Visual and Performing Arts, where coach Greg Schiller sent athletes home from a Sunday league tournament with weapons, masks and uniforms they will need to practice on their own.
In the meantime, the NCAA evaluation period has resumed and colleges scouring Southern California had to skip planned visits. An assistant coach at Narbonne said recruiters from Oklahoma and Ohio State were turned away from the campus on Monday and the same thing could happen with a Colorado coach Tuesday.
That concerns sophomore quarterback Jake Garcia, who said: "Yeah, it's kind of throwing things off a little bit."
Those same college coaches weren't able to watch young athletes perform.
"We have games we want to see," said Terry Davila, the soccer coach at Cal State Northridge who has children attending City Section schools. "But it's for a cause that is hopefully good for both sides."
If the strike drags on, the headaches will grow.
An anticipated matchup between Westchester (18-1) and Fairfax (17-1), considered the City Section game of the season, could fall by the wayside. An upcoming tournament at Orange Lutheran High might have to replace Taft and, with the regular season in its final weeks, officials who oversee more than a dozen City Section leagues worry about the playoffs.
Those leagues might issue seedings based on partial standings, but that becomes complex because some independent charter schools planned to proceed with scheduled games against each other.
If there is a lengthy strike it could run into the playoffs, which begin Feb. 5 and ends with championship games on Feb. 20-23. If the postseason is delayed to make room for rescheduling, it could overlap with state playoffs, leaving the possibility that a few championship teams from City Section divisions could be out of the running.
"It depends on the amount of time that's left," said Drucker, who doubles as a school administrator and commissioner of the West Valley League. "We'll have to poll our coaches."
The 1989 strike lasted nine days, so a relatively small number of games were ultimately affected. Drucker would prefer to avoid anything that puts young athletes out of action.
"We all feel for the kids," he said. "There's no doubt about it."
Staff writer Blake Richardson contributed to this report.
Follow @LAtimesWharton on Twitter
---
Get our high school sports newsletter
Prep Rally is devoted to the SoCal high school sports experience, bringing you scores, stories and a behind-the-scenes look at what makes prep sports so popular.
You may occasionally receive promotional content from the Los Angeles Times.