The Sports Report: Everyone, even Bill Belichick, is impressed by Aaron Donald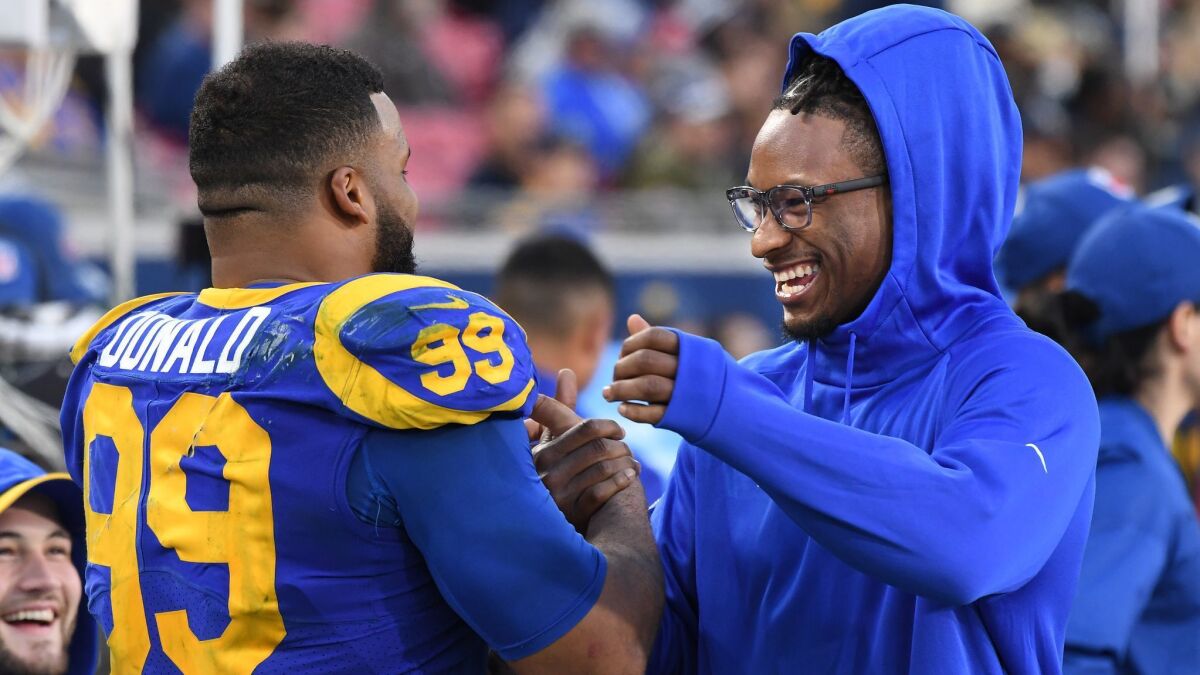 Howdy everyone, and welcome to the Saturday edition of the Los Angeles Times daily sports newsletter. My name is Houston Mitchell and I'm your host for the festivities. Subscribe to this newsletter by clicking here.
Let's get to it.
Rams
Aaron Donald, who will probably be named the NFL Defensive Player of the Year for the second year in a row, is easy to overlook in the playoffs.
Donald had two tackles, one for a loss, against the Cowboys. He had two tackles for losses and three quarterback hits against the Saints. Not the kind of numbers that make headlines.
Those of late have been devoted to Ndamukong Suh and Dante Fowler, but their numbers wouldn't be possible if the opponents weren't double teaming Donald.
Asked what stood out about Donald, Patriots coach Bill Belichick said, "Everything. He's pretty much unblockable."
To read more about the key man on defense for L.A., read this story by Gary Klein.
Meanwhile, Bill Plaschke worries about the soundness of Todd Gurley's knee, writing,
"Is he hurt, or not? Is he sold on this rotation with C.J. Anderson, or not? Will he show up in the biggest game of his life, or not?
"Those are the $60 million questions being asked in Thousand Oaks this week as the Rams prepare for Super Bowl LIII next Sunday against the New England Patriots.
"I don't care what anybody is talking about, you can call me hurt, you can call me whatever, but we're going to the Super Bowl, what do you all not understand?'' Gurley implored during a passionate news conference at the club's practice facility. "It's not about me, this sport has never been about me … this whole game is bigger than me.''
When is the Super Bowl?
It will be on Sunday, Feb. 3 at 3:30 p.m. on CBS.
Who will win?
The last polls we did were successful, so let's do it again. Who will win the Super Bowl? Click here to vote. We'll announce the results on game day.
Clippers
Lou Williams had 31 points, 10 assists and 10 rebounds for his first career NBA triple-double to lead the Clippers to a 106-101 victory over the Chicago Bulls on Friday.
With that victory, let's take a look at how the Western Conference playoff standings look after Friday's games. The top eight teams make the playoffs:
1. Golden State, 34-14
2. Denver, 32-15, 1 ½ GB
3. Oklahoma City, 30-18, 4 GB
4. Portland, 30-20, 5 GB
5. Houston, 28-20, 6 GB
6. Utah, 28-22, 7 GB
7. San Antonio, 27-22, 7 ½ GB
7. Clippers, 27-22, 7 ½ GB
9. Lakers, 25-24, 9 ½ GB
9. Sacramento, 25-24, 9 ½ GB
11. Minnesota, 24-25, 10 ½ GB
12. Dallas, 22-26, 12 GB
13. New Orleans, 22-27, 12 ½ GB
14. Memphis, 19-30, 15 ½ GB
15. Phoenix, 11-40, 24 ½ GB
Boxing
Canelo Alvarez wants to get into the ring with Gennady Golovkin for a third time.
"Daniel Jacobs — tough fight — and then Golovkin," Alvarez's trainer, Eddy Reynoso, said Thursday.
Alvarez is fighting Jacobs on May 4.
Alvarez (51-1-2, 35 knockouts) fought long-reigning middleweight champion Golovkin (38-1-1, 34 KOs) to a draw in September 2017, then closed Golovkin's title dominance in September by majority decision.
Read all about it here.
Golf
For the third straight year, Justin Rose enters the Farmers Open weekend with a shot at winning after he followed an opening 63 on the North Course with a 6-under 66 on the South Course to take a three-shot lead.
Hideki Matsuyama is alone in second at 12 under and first-round leader Jon Rahm, who shot a 62 on the North in the first round, shot a 72 on the South to finish tied for third at 10 under with Ryan Palmer and Billy Horschel.
This date in sports history
1913: Jim Thorpe is forced to give up his 1912 Olympic medals for being a professional player.
1951: Mel Ott and Jimmie Foxx are elected to the Baseball Hall of Fame.
1956: Hank Greenberg and Joe Cronin are elected to the Baseball Hall of Fame.
1960: Pete Rozelle is elected NFL commissioner on the 23rd ballot.
1986: The Chicago Bears defeat the New England Patriots, 46-10, in Super Bowl XX.
1992: The Washington Redskins defeat the Buffalo Bills, 37-24, in Super Bowl XXVI.
1997: Pete Sampras defeats Carlos Moya in straight sets to win the Australian Open.
1997: The Green Bay Packers defeat the New England Patriots, 35-21, in Super Bowl XXXI.
2003: The Tampa Bay Buccaneers defeat the Oakland Raiders, 48-21, in Super Bowl XXXVII.
Notable births on this date
1925: Race car driver Paul Newman. He also apparently acted some too, and made great salad dressing.
1935: Baseball player and broadcaster Bob Uecker. Also apparently acted some too.
1961: Wayne Gretzky. He appeared to be a hockey player of some note. Not much known about him.
Notable deaths on this date
1932: Chicago Cubs owner William Wrigley.
1983: College football coach Paul "Bear" Bryant.
1996: Olympic gold-medal winning wrestler David Schultz, shot and killed by John Du Pont.
And finally
That concludes the newsletter for today. If you have any feedback, ideas for improvement or things you'd like to see, please email me here. If you want to subscribe, click here.
---
Get our high school sports newsletter
Prep Rally is devoted to the SoCal high school sports experience, bringing you scores, stories and a behind-the-scenes look at what makes prep sports so popular.
You may occasionally receive promotional content from the Los Angeles Times.