LeBron James, Anthony Davis and Kawhi Leonard are All-Star game starters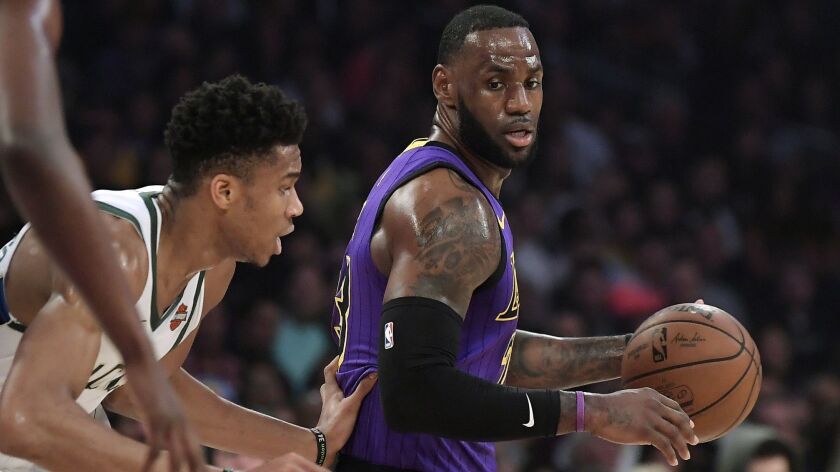 LeBron James probably knew it would happen. Anthony Davis and Kawhi Leonard too. They would be spending a weekend in Chicago in mid-February. But Frank Vogel?
"I've got some reservations to cancel," he said.
Los Angeles, the unofficial NBA capital this season, will be prominently featured during the 2020 All-Star game in Chicago, with James, Davis and Leonard elected as starters Thursday and with Vogel and his coaching staff clinching the All-Star sideline gig after a 128-113 victory over Brooklyn.
The game will be played at the United Center on Feb. 16.
For the Lakers, it will be the first time since 2013 with multiple All-Stars The Lakers' duo will be joined by Leonard, Dallas second-year phenom Luka Doncic and Houston guard James Harden representing the Western Conference.
Jared Dudley doesn't have to be a star on the Lakers to be a leader. But when he comes through in big moments, like he did against the Nets, he can still shine.
"Being there with my brother A.D., being with a local kid, from Chicago. … I know how, I can only imagine having an All-Star game in my backyard where I grew up," James said. "So I think this is going to be an unbelievable moment for A.D. and his family. So I'm looking forward to being there with him, seeing him being in his hometown and being part of the Lakers. I think that's pretty amazing."
Still, there's no guarantee they'll be playing together in the game.
Just like last season, James and Giannis Antetokounmpo will draft their teams as captains because they led their respective conferences in fan voting.
Along with Antetokounmpo, Toronto forward Pascal Siakam, Philadelphia center Joel Embiid, Boston guard Kemba Walker and Atlanta guard Trae Young were named as East starters.
Next week, All-Star reserves will be named and on Feb. 6, James and Antetokounmpo will pick their teams — with James joking that his draft board might not have Davis at the top.
"I don't have to pick him," James deadpanned. "I don't even like him."
The Lakers beat the Brooklyn Nets 128-113 to sweep a New York City back-to-back and improve to 36-9.
It'll be James' 16th All-Star start — breaking a tie with Kobe Bryant for the most in NBA history. It's also three more All-Star berths than the East starters combined.
Young, Siakam and Doncic will all make their All-Star debuts as starters.
Starters are selected by combining fan, media and player voting. Coaches choose the seven reserves from each conference.
The Western Conference choices were straightforward, especially with Leonard's recent scoring tear. The East, though, was a little more controversial with Miami's Jimmy Butler left out despite being the media's choice for the third frontcourt starter.
Davis' homecoming, though, will be a special moment.
"It's going to mean a lot," Davis said. "I mean I only go there once a season, so to go back there for a second time for All-Star and visit with my friends and family, it'll be great."
And while Vogel deflected credit for the honor — the second time he'll be coaching in the game after doing it in 2014 — James and Davis praised their coach.
"That's dope. I think that's amazing. I know Coach probably doesn't want to talk about it, but he's put us in position every night to be successful out on the floor and we've just tried to go out there and execute," James said. "And when you have something like this, the byproduct, we should all be proud of it.
"Laker faithful should be proud to have two All-Stars in the game, another guy [Dwight Howard] in the dunk contest on Saturday and the coaching staff coaching the game on Sunday. So it's pretty, pretty, pretty cool.
"I know I'll probably play a lot now."
Vogel, known for his strong defensive schemes and his detailed approach, will have to cancel all of that with his old All-Star break travel plans.
"I coached the All-Star game a few years ago and that was the worst [defensive game I've ever coached]," Vogel said. "Hopefully, this won't be worse than that. But I'm sure it will."
Sign up for Full-Court Text with NBA reporter Dan Woike
Receive SMS texts about the Lakers, Clippers and the rest of the NBA and text back with your questions.
NBA 2020 ALL-STAR GAME STARTERS
---
Get our high school sports newsletter
Prep Rally is devoted to the SoCal high school sports experience, bringing you scores, stories and a behind-the-scenes look at what makes prep sports so popular.
You may occasionally receive promotional content from the Los Angeles Times.