Commissioner Roger Goodell says NFL needs to address lack of minority hires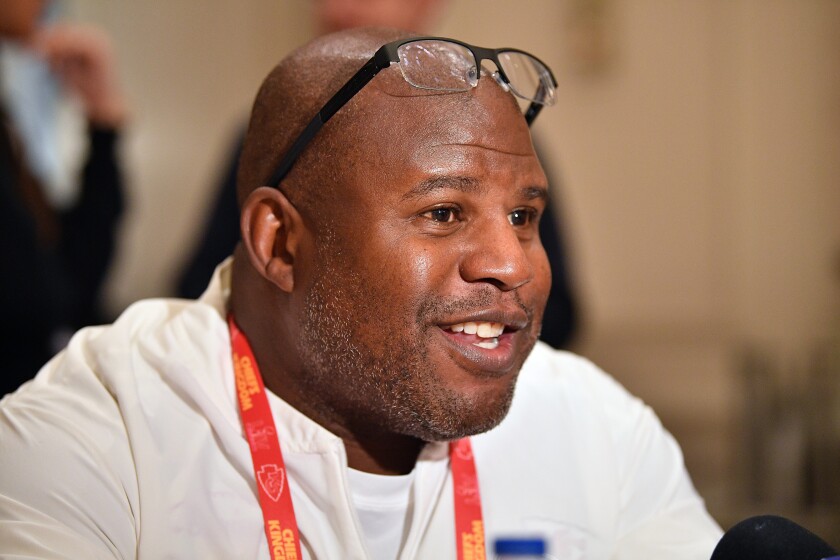 MIAMI —
NFL Commissioner Roger Goodell said Wednesday that the league needs to reevaluate how it provides opportunities for minority coaching candidates.
Five teams have changed coaches since the end of the regular season, and only one hired a minority candidate, with Ron Rivera going to the Washington Redskins. Of the eight coaching changes last year, only one job went to a minority candidate, with Brian Flores winding up with the Miami Dolphins.
Goodell said it's time to examine the Rooney Rule, which requires teams to interview at least one minority candidate before making a hire.
"It's clear we are not where we want to be on this level," Goodell said. "We have a lot of work that's gone into not only the Rooney Rule, but our policies overall. It's clear we need to change and do something different. There's no reason to expect that we're going to have a different outcome next year without those kinds of changes."
Goodell didn't specify how the rule might be changed or more effectively enforced, only that a series of meetings are scheduled over the next month to "try to determine what are the solutions so we can have those better outcomes."
The issue is particularly relevant this week, when the two most prominent units in Super Bowl LIV — Kansas City's offense and San Francisco's defense — are led by minority candidates in coordinators Eric Bieniemy of the Chiefs and Robert Saleh of the 49ers, who were passed over for head-coaching positions around the league.
Super Bowl LIV is also Embree Bowl I. Father Jon and son Taylor coach for the 49ers. Son/brother Connor coaches for the Chiefs.
Chiefs coach Andy Reid said Wednesday that Bieniemy was "a great offensive mind" and ready to become a head coach.
"He just needs an opportunity," Reid said.
Asked whether more needed to be done to get minority coaches into head coach roles, Bieniemy spoke of his experience.
"I can't speak for everyone else's process," he said. "I know I've enjoyed my process and gained a lot of knowledge. My interview process, to my knowledge, is going outstanding.
"So I can only talk about what I've been a part of. I think everybody else can take care of that, and when it's all said and done, I'm just going to remain focused and continue doing what I need to do to place myself in that position."
San Francisco cornerback Richard Sherman, a vocal proponent of creating more opportunities for minority candidates, said team owners should be taken to task by the media, rather than reporters questioning players about it.
"You're asking people who have no say in it," Sherman said. "We literally have no say in who gets hired, who gets fired. We have no say in whether we get hired or fired. But the people who have say, we don't pressure. The owners, we don't call, we don't push to get them. ...
Dustin Colquitt's father and brother have Super Bowl rings. In fact, his father has two. The Chiefs punter is hoping he can earn one.
"Everybody feels comfortable asking a player a hard question about 'Man, why aren't these black coaches getting jobs?' Ask the dudes who hire. Ask the dudes who have all the power in the world to hire and fire these men. Then you'll get the answers.
"Or maybe we're not looking for the answers from those dudes because we kind of know what they are."
Almost there
Kyle Shanahan, coach of the 49ers, will have a chance to finally stop the questions about his previous Super Bowl appearance, three years ago as the Atlanta Falcons offensive coordinator.
The Falcons blew a 28-3 third-quarter lead and lost 34-28 in overtime to the New England Patriots.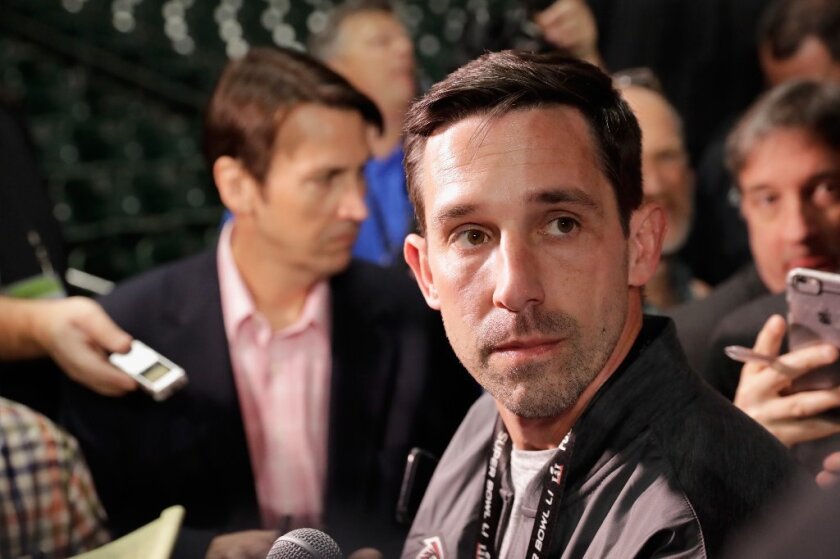 The aftermath brought tremendous criticism on Shanahan for his play-calling as the Falcons' offense stalled in the epic collapse. He has been asked repeatedly about that game in the last three days, each time explaining that he has no regrets, with the possible exception of an ill-fated pass call in the closing minutes.
Katie Sowers, 49ers offensive assistant coach, is the Super Bowl's first female and openly gay coach.
On Wednesday, Shanahan was asked why he has been so willing to revisit that loss and not "run from it."
"Because I have nothing to run from," he said. "I think it was harder on the people who love me, my wife and family members because they're very defensive [about] it. I was involved in the game. I know exactly what happened on every single play, and I know I can live with that."
Etc.
Goodell said the NFL would acknowledge Kobe Bryant and Hall of Fame defensive lineman Chris Doleman, both of whom died this week, during the Super Bowl. Goodell did not rule out the possibility that SoFi Stadium could play host to the Thursday night Kickoff Opener, or the first Sunday night game of the season. The schedule isn't released until mid-April. ... Former UCLA and Chargers linebacker Donnie Edwards' extended commitment working with American military veterans was recognized when he was presented with the "Salute to Service Award."
---
Get our high school sports newsletter
Prep Rally is devoted to the SoCal high school sports experience, bringing you scores, stories and a behind-the-scenes look at what makes prep sports so popular.
You may occasionally receive promotional content from the Los Angeles Times.