NBA playoffs: 76ers beat Hawks for 2-1 series lead; Suns go up 3-0 on Nuggets
Joel Embiid kept taking falls. He also kept rising to his feet.
Nothing was going to take Philadelphia's big center off the court with the playoff series lead on the line.
Embiid scored 27 points, and the 76ers rode a dominant third quarter to a 127-111 victory over the host Atlanta Hawks on Friday night and a 2-1 lead in the Eastern Conference semifinal series.
Embiid, playing with a cartilage tear in his right knee, added nine rebounds, eight assists and three blocked shots. He played 34 minutes despite turning his ankle on one fall and landing hard on his back on another.
"I'm OK," Embiid said. "I'm standing up. I'm walking. I finished the game. So I'm gonna keep getting back up. I'm going to keep fighting. That's been me since I've been playing basketball. Whatever happens, get back up and keep it going."
Clippers center Serge Ibaka will miss the rest of the postseason after undergoing season-ending back surgery on Thursday.
Tobias Harris had 22 points and Ben Simmons added 18 to help the 76ers end Atlanta's streak of 13 home wins. The 76ers have taken the series lead with back-to-back victories.
Simmons has had primary defensive responsibility against Trae Young, who led Atlanta with 28 points, in each of the 76ers' two wins in the series. On Friday night, he was challenged to take a bigger offensive role, especially with Embiid facing constant double teams.
"I was just trying to push the pace and get in the lane, stay aggressive and get to the rim, get into a rhythm," Simmons said. "I think I did a good job of that in the second half."
The 76ers played up to their No. 1 seed, taking a lead of 22 points and keeping the advantage in double figures most of the second half. The Hawks played from behind after their last lead at 11-10.
Young led Atlanta with 28 points. John Collins had 23 and Bogdan Bogdanovic 19.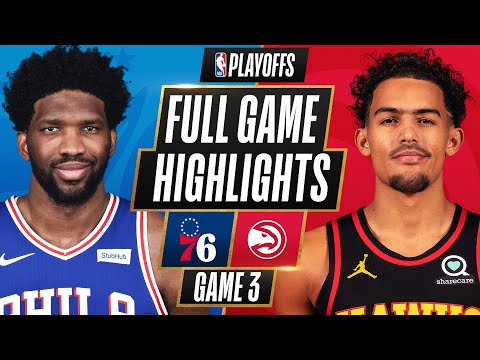 Highlights from the Philadelphia 76ers' 127-111 road victory over the Atlanta Hawks in Game 3 on Friday night.
Game 4 is Monday night in Atlanta.
The Hawks have difficulty matching up with Embiid (7 feet, 280 pounds) but also have size disadvantages at other spots, including with the 6-foot-9 Simmons guarding the 6-1 Young.
"It's not anything we can't adjust to," Young said.
But when asked what the Hawks can do, Young added, "Obviously, if I had the answers, we wouldn't be talking about it right now."
The 76ers outscored the Hawks 66-58 in the paint and 15-6 on fast breaks.
"I think their size has had an impact on this series," Hawks coach Nate McMillan said. "They just pretty much pounded us in the paint tonight."
The Clippers again have trouble slowing down Donovan Mitchell and the Utah Jazz fend off a late L.A. rally for a 2-0 lead in series that moves to L.A.
After leading 65-60 early in the third period, Philadelphia took command with an 11-0 run. The 76ers outscored the Hawks 34-19 in the third period.
Simmons had two baskets during the run, including a jam for a 76-60 lead.
Atlanta couldn't regain the momentum as the 76ers stretched the lead to 20 points, 93-73, late in the period.
Embiid made 12 of 16 free throws. He had a scare in the third quarter when he limped and appeared to be in pain after grabbing a rebound. Embiid appeared to step awkwardly on Clint Capela's foot, turning his ankle.
"He's playing hard," said 76ers coach Doc Rivers. "He's giving us everything. He is going through a lot, I'll tell you that."
Suns 116, Nuggets 102
Devin Booker and Phoenix spoiled Nikola Jokic's MVP celebration with a victory at Denver in Game 3 that put "The Joker" and the rest of the reeling Nuggets on the brink of a quick second-round exit.
Booker scored 28 points and teamed with Chris Paul to lead a steady offensive onslaught that countered Jokic's triple-double of 32 points, 20 rebounds and 10 assists.
"I'm frustrated with myself because I missed shots," said Jokic, who shot just 13 for 29. "I didn't play on top of my game, especially shooting wise. It would be much easier for us if I started making shots. Of course, they're making it tough for me to make shots."
With their sixth straight victory, the second-seeded Suns took a 3-0 lead in the best-of-seven series. Game 4 is Sunday at Ball Arena.
Paul had 27 points, eight assists and three steals for the Suns, who pulled away after halftime for the third straight time. All five Phoenix starters scored in double figures.
The Suns are a one win away from their first trip to the Western Conference finals since 2009-10 — which was the last time Phoenix made the playoffs.
Monte Morris scored 21 off the bench for Denver.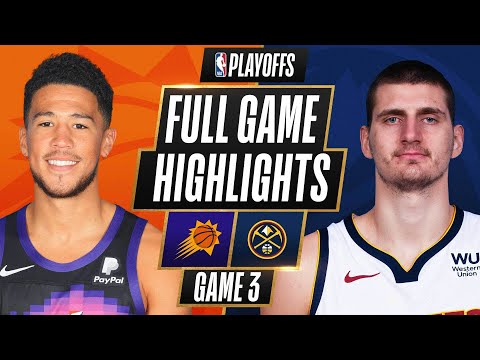 Highlights from the Phoenix Suns' 116-102 road win over the Denver Nuggets in Game 3.
The third-seeded Nuggets, who reached the conference finals last year, are on the brink of getting swept in a playoff series for the first time since the Lakers bounced them out of the first round in 2008.
Jokic dedicated his MVP award to his teammates during a raucous pregame ceremony that coach Michael Malone had hoped would energize his team that has lost by 17, 25 and now 14 points.
"I just feel bad that we weren't able to pull out a win for them because they made this atmosphere electric," Malone said of the crowd of 18,277.
Suns coach Monty Williams said his team was ready for the energy boost the big crowd supplied by serenading Jokic.
"We expected it," Williams said. "We respect what Jokic has done this season. We knew he was going to get the trophy. We were fighting a lot of things, but because we have veteran guys who have been in a ton of situations — Chris (Paul) and Jae (Crowder) — those guys were galvanizing the guys before jump ball, like, 'Let's go, we're here for business.' "
The Nuggets' first MVP was mostly MIA early on as the Suns shot a sizzling 74.46% in jumping out to a 37-27 lead after one quarter. Jokic scored seven points in that quarter but none until the 4:45 mark. He also missed two of three free throws.
Malone, who accused his team of quitting after a blowout loss in Game 2, said before tipoff that he liked his team's resiliency.
"I don't know if I've ever been around a better team that can get up off the mat, find a way to get back in the fight and win the fight," Malone said of his team that overcame two 3-1 deficits in the bubble last year.
He said all Phoenix did by sweeping the first two games in the desert was hold serve. "So, now we have to return the favor," Malone said, "and make this a series."
They couldn't, and now the Suns can sweep them right out of the postseason.
Get our high school sports newsletter
Prep Rally is devoted to the SoCal high school sports experience, bringing you scores, stories and a behind-the-scenes look at what makes prep sports so popular.
You may occasionally receive promotional content from the Los Angeles Times.