TikTokker, podcaster Theo Ash is part of the next generation of sports analysts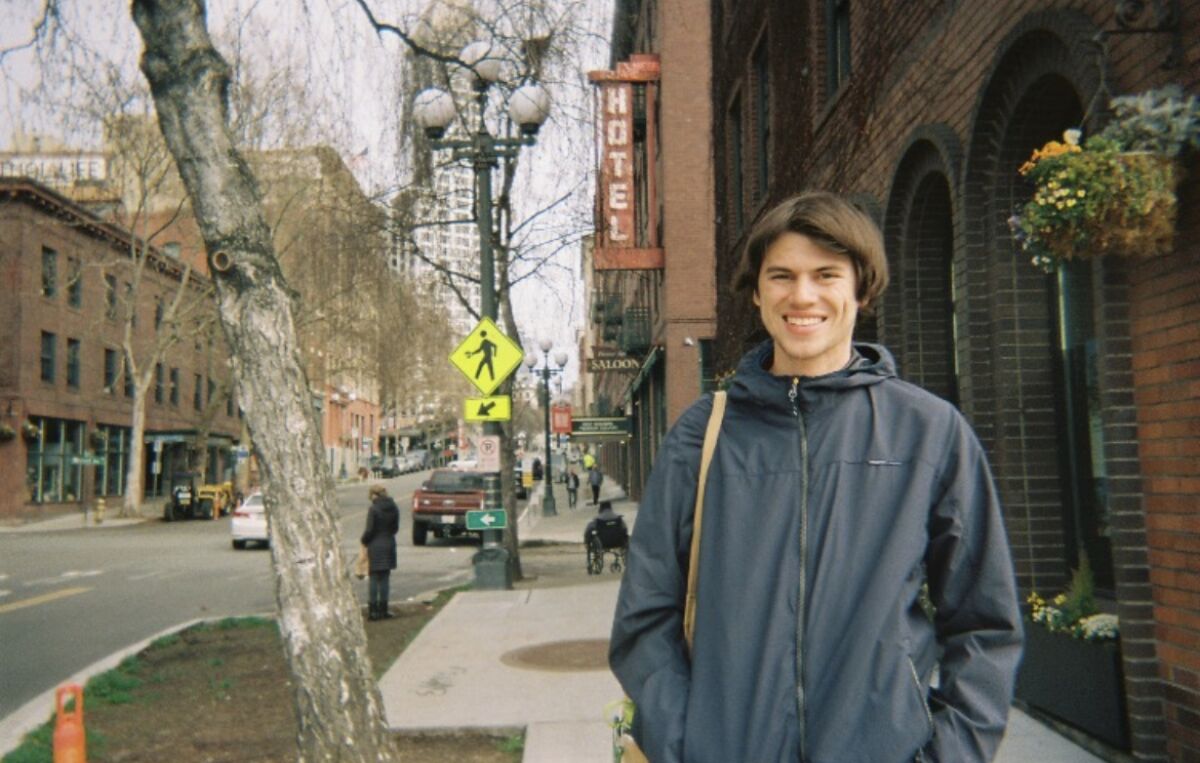 Theo Ash was an aspiring sports journalist at Arizona State who thought he was above TikTok.
"I put off joining it for a long time because I figured it was just an app for little kids," Ash said. "My sisters were always on it since it was Musical.ly and I thought they looked dumb doing lip syncs to dances. I was like, 'This is not for me.' "
Ash only reconsidered when sportswriter Jeff Pearlman was a guest speaker for one of his classes and told the students that they needed to display their work across every platform in order to achieve the broadest reach.
Taking Pearlman's advice to heart and going against his own instincts, Ash joined TikTok in fall 2020 and found instant success that launched him into a career as an NFL analyst and podcaster. His TikTok account, with 215,000 TikTok followers, features videos that are a mix of instant reactions to high-profile games, in-depth analysis using advanced analytics and film breakdown of players' strengths and weaknesses.
Due in part to his success on the social media app — the videos cumulatively have garnered 26 million views — the 22-year-old was signed by Blue Wire, a sports and entertainment podcast network, to co-host "Stay Hot: A Sports Podcast," along with two other TikTok-famous sports analysts Blaiden Kirk and Matt Sponhour in 2021.
Brad Johnson, who 20 years ago guided the Tampa Bay Buccaneers to their first Super Bowl win, posts trick shot videos on TikTok as 'BigBadBrad14.'
As another NFL season culminates with the Super Bowl in Glendale, Ariz., later this month, the audience for the NFL remains substantial. According to Hollywood Reporter, the Jan. 29 conference games averaged 50 million TV viewers, and a viewership of more than 100 million is expected for the Super Bowl game between the Eagles and Chiefs on Sunday.
It only means a windfall for someone like Ash as he was able to fill a need on a different platform.
"I think my content was just very different than what anyone else was putting on there at the time," he said. "And it was just a platform that grows so fast. It's easy to get a million eyes on it if it's decent content, so it was pretty quick."
Though his success came quickly, Ash's love for football was inherited from his parents, who both grew up in Appleton, Wis., and are die-hard Packers fans. Though he grew up in Northfield, Minn., about 43 miles from the Twin Cities, he carried on the legacy of Green Bay fandom.
"Growing up a Packer fan surrounded by Viking fans definitely increased my fandom a bit," he said. "It was always back and forth, always arguments with my friends ... I always had to defend my points — there was no group think for me."
While a student at ASU, Ash aligned himself closely with the analytics side of NFL Twitter, where he accumulated knowledge about the numbers behind the sport from voices like the Atheltic's Ben Baldwin. But he felt too self-conscious about posting many takes on Twitter because there were a lot of big-time football content creators on the platform whose knowledge he felt far surpassed his own.
That quickly changed once Ash embraced TikTok. One of his first breakout videos was one in which he used analytics and game tape to disprove a popular stat going around the internet that claimed Larry Fitzgerald had more career tackles than drops.
From there Ash expanded his videos beyond advanced stats and into reviewing individual players' game tape. He started by reviewing offensive players' performances, explaining throwing mechanics and route-running techniques, but then tried to highlight more defensive players and that's where he hit a bit of a roadblock.
"I kind of learned how much I didn't know about football," Ash noted. "It's like 'Oh, I'm going to review a linebacker. What is his role? What is he doing here? What are run fits? What even is cover one or Tampa two?' I barely even know any of that, just from Madden basically. ... I was kind of learning on the fly and I wanted to give good breakdowns before serious people joined the app to prove me wrong."
YouTube announced Tuesday morning a suite of programs aimed at courting and keeping content creators. The elephant in the room: upstart competitor TikTok.
As he continued learning and growing his audience on TikTok, Ash became more invested in how to build his career. The opportunity to advance his ambitions came thanks to an assignment he had for a class about the economics of sports. For his project he decided to interview Sponhour about how he'd made use of the social media platform.
The two formed a connection, and when Sponhour was approached by Blue Wire podcasting network in 2021 to launch a show, he asked whether he could get co-hosts. Blue Wire agreed and so Ash and TikToker Blaiden Kirk, 22, joined Sponhour to create "Stay Hot: A Sports Podcast." Together the group is carving a lane for younger sports fans to have their voices and perspectives injected into the mainstream.
"I had known Theo before [podcasting] because he had actually made a video in counterargument to a video that I had made," Kirk said of his co-host. "So that was kind of our first interaction. I was like, 'This guy, he knows what he's talking about.' Theo is one of the smartest people I know in sports ... I feel like I can always throw to him for a question."
In the spring semester of his junior year in 2022 with a success TikTok profile and a full-time job in his ideal line of work, Ash left ASU — a decision he does not regret.
"I've got all these important high-profile followers on [social media] who know my work and know me," he said. "With more time if I dropped out and just did this full time, I can make more content. I could get more connections. I could have a better resume. Why put all that on hold?"
Since dropping out, Ash has had no problem keeping himself busy. When he left school, he signed a two-year deal and a received pay raise from Blue Wire and now puts out two "Stay Hot" podcasts a week about the latest sports topics — also participating in a more informal weekly YouTube live stream alongside his podcast co-hosts.
Kirk, who is currently a software engineering student at Miami University in Ohio, said having a co-host like Ash helps him elevate his own level of expertise.
"It keeps me accountable that's for sure. It's hard when [Ash and Sponhour] both dropped out of school because they're really doing what they wanted to do from the jump," Kirk said. "Me still being in school ... it's hard to always be on top of my game and everything. So they do a really good job of holding me to that."
Additionally, Ash posts a weekly YouTube video breaking down all-22 video, runs a weekly stream on Amazon's Amp app and operates "Draft Time," a Substack focused on the NFL draft.
Thanks to Blue Wire, Ash has also covered the NFL Draft, the NBA Summer League twice and this week he got the opportunity to cross off another journalism must-do for him — cover the Super Bowl.
Influencers are training to participate in amateur boxing matches in a bid to gain more attention and fans.
"This is the first time I've actually been able to kind of do what I went to school for which was to actually do some journalism stuff," he said. "I'm out at press conferences and I'm in the media scrum yelling questions. What I prepared to do in college was stuff like this, be in press conferences and ask questions and take notes and all that."
Covering the Super Bowl in Arizona, so close to where he once went to school, has brought a sense of surrealism to Ash's career journey.
"Two years ago, I was building up my TikTok at this apartment complex in downtown Phoenix, and two years later ... the Super Bowl is literally two or three blocks away," he said. "I got to Phoenix as just a student and then four years later, here I am."
Get our high school sports newsletter
Prep Rally is devoted to the SoCal high school sports experience, bringing you scores, stories and a behind-the-scenes look at what makes prep sports so popular.
You may occasionally receive promotional content from the Los Angeles Times.