The back story on UCLA's long, strange search for a basketball coach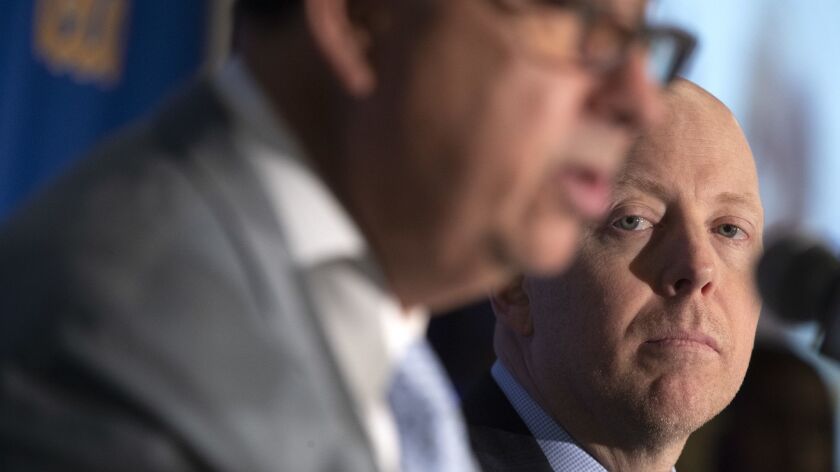 The nameplate was on the door, the press release ready, the news conference tentatively scheduled.
Jamie Dixon was going to be UCLA's basketball coach.
A search that was nearing 100 days, thinning the patience of casual fans and major donors alike, appeared headed for a welcome end on that early April afternoon.
The Bruins had struck out with a lengthy list of A-list candidates and even some fallback options but were getting a solid choice in Dixon, the Texas Christian coach and onetime Southern California prep star who was on the verge of coming home.
He was a charismatic native son, the preferred pick over Cincinnati's Mick Cronin. Like Cronin, he was a second-tier option with upside, though there were some reservations among members of a search committee seeking to wow fans with the basketball equivalent of Chip Kelly, the school's shiny new football coach.
UCLA couldn't afford to botch this pick. The school was coming off a season in which it had lost to featherweights Belmont and Liberty at home before sparse crowds, triggering the end of the Steve Alford era months before it missed the NCAA tournament for the second time in four years.
The Bruins didn't want another Alford. It was widely known within the UCLA athletic community that the school had bungled the Alford hiring after having pivoted from more attractive options.
That led to five-plus seasons of wildly uneven results under a coach who was, at best, an uneasy fit as the leader of the program synonymous with John Wooden.
UCLA's meandering hunt for Alford's successor had a familiar feel to those paying attention. Major donors had been told in 2013 that hotshot coach Brad Stevens was going to get the job, only for Stevens to wind up as the Boston Celtics' hotshot.
The next thing anybody knew, Alford was being trotted out. His introduction was a messy one in which he eventually apologized for once having defended a former player who went on to be dismissed from one of his teams over sexual assault charges.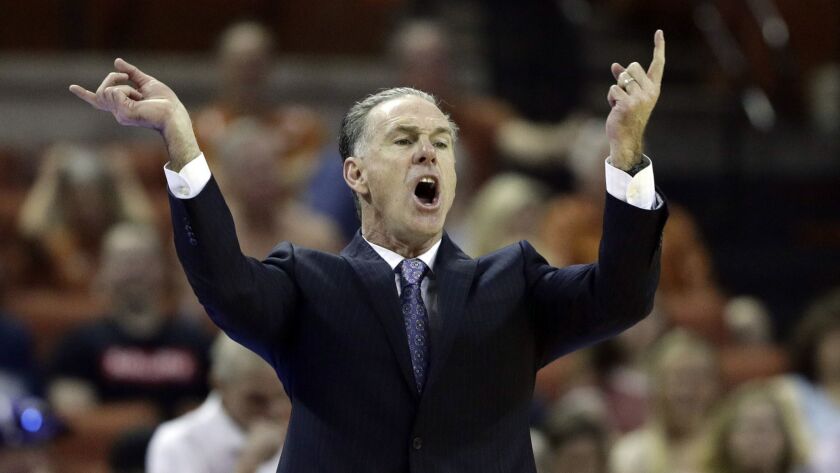 Dixon was well known to Bruins fans lusting for their next great coach. Long before he took over at TCU, he had succeeded Ben Howland at Pittsburgh when Howland came to UCLA in 2003, continuing the Panthers' upward trajectory even while operating somewhat under the radar. Pittsburgh made 11 NCAA tournament appearances during Dixon's 13 seasons, advancing to one regional final and two other regional semifinals.
Now Dixon was ready to come home, no matter the outsized expectations that came with the job.
But there was a snag, one that seemed alternately workable and insurmountable. It was hardly the first detour that would lead UCLA to turn elsewhere.
::
In the weeks before UCLA made Dixon its top target, it had a bigger candidate in its crosshairs. His name was John Calipari.
Josh Rebholz, UCLA's senior associate athletic director and the point man in its search, was upbeat in his correspondence with donors, optimistic that he could land the school's next coaching legend.
Calipari was a polarizing figure among basketball cognoscenti. He had won a national championship at Kentucky but vacated Final Four appearances during previous stops at Massachusetts and Memphis because of NCAA violations involving his players. He had also called a reporter "a Mexican idiot" while coaching the New Jersey Nets.
But his allure was undeniable for a school that needed to restore long-lost buzz to its flagship program. Multiple meetings between UCLA and Calipari ensued, and the Bruins eventually agreed to satisfy all of the coach's demands, according to two people familiar with the search but not authorized to speak about it publicly.
Among them were a contract that would pay Calipari $45 million over six seasons, a $1.7-million pool for assistant coaches, eight new staff positions, private planes for the use of the team and its coaches, and a monthly catered meal for Calipari's staff and players. Negotiations progressed to the point that Rebholz reached out to donors, seeking money to help cover all the new expenditures that Calipari's hiring would entail, according to people familiar with Calipari's requests.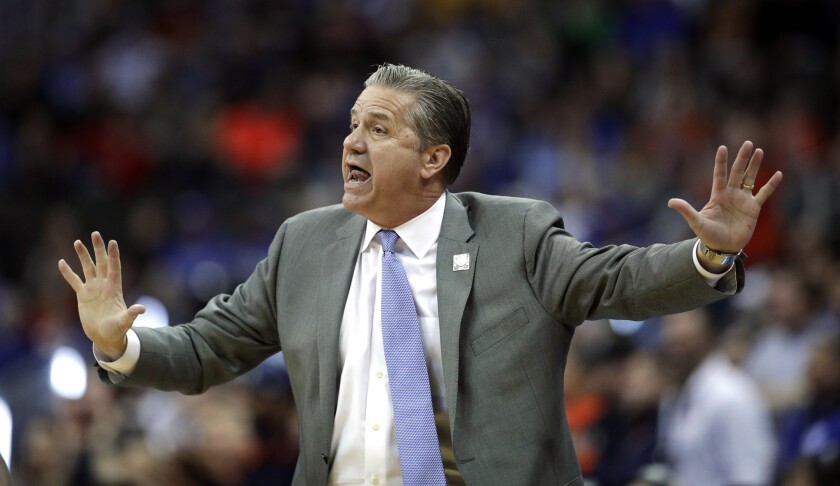 Calipari wavered in his discussions with UCLA. He tweeted during the NCAA tournament that "my plan and my desire is to retire at Kentucky." Calipari ultimately did stay, signing what amounted to a lifetime contract the week before the Final Four to remain at the school where he was the nation's highest-paid college basketball coach, making $9.2 million a year.
Contrary to the widespread narrative that the Bruins had been played by a master tactician, the search committee felt that Calipari's interest had been genuine, said a person close to the committee.
But it didn't really matter. This chapter of the search was over. UCLA could cross the final big name off its list.
::
After his efforts to land Calipari failed, Rebholz sent major donors a lengthy text message updating them on the search. It sounded a lot like a concession speech.
Rebholz told the donors in the message viewed by The Times that the search committee started with a list of more than 60 candidates that included some of the biggest names in coaching: Calipari, Stevens, Tom Izzo, Jay Wright, Billy Donovan, Mark Few and Tony Bennett.
Enlisting Bob Myers, UCLA alumnus and Golden State Warriors general manager, to make calls on the school's behalf made no difference; only Calipari, Rebholz wrote, showed any interest among the home-run candidates and allowed UCLA officials, including athletic director Dan Guerrero, to meet with him.
Rebholz outlined UCLA's pursuit of Calipari, which he said was made possible by megadonor Casey Wasserman, a major new donor and money from the school's deal with Under Armour. Ultimately, nothing could sway the coach.
Sign up for our daily sports newsletter »
"It was disappointing," Rebholz wrote, "but we did what I thought was all we could. He didn't come due to the financial package but ultimately he couldn't leave where he was and the security and comfort."
Rebholz also described the school's vetting of other candidates through the NCAA and an unnamed firm based in Atlanta. He said those efforts resulted in a list of coaches considered "untouchable" because of major NCAA violations, "infidelity, very low character, etc."
Rebholz went on to name eight prominent coaches, "many of whom wanted our job, but we couldn't hire knowing what we know due to properly vetting them out."
Other candidates, Rebholz wrote, mentioning three names specifically, "came back blemished but acceptable … so we weren't overly conservative, but we ensured UCLA was getting a good human being that did it the right way." Rebholz did not specify what the blemishes might have entailed.
The Bruins' list of candidates was further winnowed, Rebholz wrote, when other coaches such as Washington's Mike Hopkins, Purdue's Matt Painter and Iowa State's Steve Prohm declined to be interviewed "regardless of our ability to pay more than we ever have, a commitment to charter as a team, and increase to assistant salary pool, etc. Very disheartening to not even have a chance with 'Tier II' guys."
Rebholz closed his text by mentioning that UCLA had interviewed nine candidates and was working on a 10th, putting it in position to make a good hire.
"We think we have 2-3 solid names that we can land," Rebholz wrote. "Tier II type names who want to be at UCLA, are good human beings, and have been successful and want to win national championships and have a vision to do so.
"We would have loved for Jay Wright to walk out on the floor, but even when we offered to double his salary, he still wasn't coming. Nothing we can do about that. But I am proud of our effort. We didn't assume anything, took our shots and I believe will end up with a solid coach who will embrace UCLA and build a program we all can be proud of and root for."
::
By now, the search committee was moving back-burner candidates to the front of the stove.
Chief among them was Dixon, whose Horned Frogs were playing in the National Invitation Tournament in the days before the Final Four. Cronin was also near the top of UCLA's list and harbored such strong interest in the job that he agreed to go on standby as the school pursued other coaches.
Dixon deeply wanted to coach the Bruins, according to multiple people familiar with his thinking, and didn't believe his roughly $9-million buyout at Texas Christian was going to be a hindrance. Why should it be? Pittsburgh had lowered a $10-million buyout to an undisclosed sum, allowing him to take the job at TCU, his alma mater.
Now Dixon was simply trying to go home after having grown up in North Hollywood and having starred at Sherman Oaks Notre Dame High.
Momentum toward a hire appeared to be building inside the UCLA athletic department on the afternoon of April 4, spurring the creation of media materials announcing Dixon as the new coach. There was hope a news conference could be scheduled for the following day.
But there were some significant stumbling blocks. Donors who were more than happy to pony up money for Calipari were reluctant to do so for Dixon because they considered him a far lesser candidate, a person with knowledge of the situation said. UCLA also didn't initially know the full terms of Dixon's buyout at TCU, a private school that wasn't obligated to publicly divulge that information.
The search committee received assurances from Dixon's representatives that his buyout could be negotiated to a much smaller sum, but as the days passed it became clear that TCU wasn't going to budge. The Horned Frogs had all the leverage and felt no need to surrender their highly coveted coach at a discount.
Negotiations reached a stalemate. While UCLA wasn't crossing Dixon off its list, it was also preparing to diverge once more.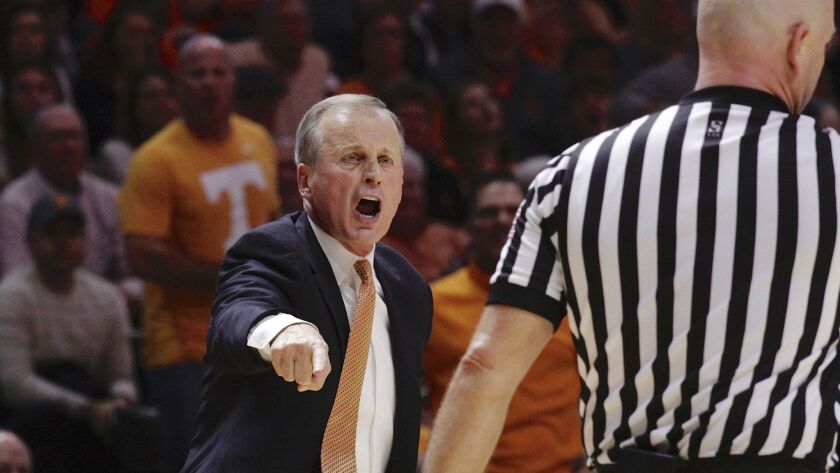 ::
As the nation turned its attention to the Final Four in Minneapolis, UCLA was looking farther east. The search committee engaged Tennessee's Rick Barnes in a series of intense negotiations to finally fill its coaching vacancy.
Barnes had been a popular pick all along among some Bruins donors, and the veteran coach could be touted as a hot commodity after having just been given the Naismith Coach of the Year award following a season in which his team won 31 games.
After a series of back-and-forth discussions, Barnes agreed to take the job for just short of $6 million per season, with the Bruins footing his $5-million buyout, according to two people familiar with the talks. But Barnes subsequently had a representative contact UCLA, asking for more money.
UCLA pulled out of the discussions at that point, even after Barnes said he would accept the previously agreed-upon terms in an attempt to salvage the deal.
Barnes told reporters in the following days that he momentarily thought he was going to become the Bruins' coach and that the holdup had been UCLA's unwillingness to pay his buyout.
There was one truth everybody could agree on: Barnes wasn't coming to Westwood.
::
The circuitous search was coming full circle. UCLA remained engaged with Dixon on April 8, the day of the national championship game, in hopes that his buyout situation could be resolved.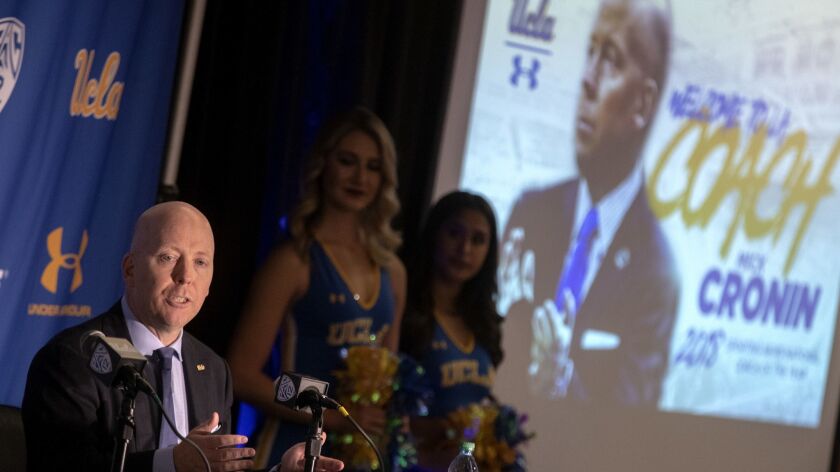 It was going to take some creative math. The search committee had found the money to pay Dixon's hefty buyout but there was a catch: Because of a California provision that taxes buyouts as a gift, Dixon was going to be on the hook for around $4 million in taxes even after UCLA restructured his contract to cover the buyout, two people close to the situation said.
Despite colossal efforts by both sides, hopes of a deal fell apart.
Cronin became the pick. The Bruins offered him the job, which he accepted later on April 8, not long after closing the door on Dixon.
The search was over. After all the swing and misses and foul tips, the Bruins had connected with someone who wanted them all along.
"This isn't a hard decision," Cronin said of coming to UCLA at his introductory news conference after signing a six-year, $24.5-million contract.
Elsewhere in the room, there was a palpable sense of relief. As he stood before a group of reporters inquiring about the search's back story, Myers acknowledged having withstood more plot twists than he ever imagined.
"Everything is a lot harder than you think," Myers said.
Did the Bruins make the right pick? Should they have waited longer to see if anyone else became available or pivoted back to them?
"No," Guerrero said. "We got our man."
---
Get the latest on L.A.'s teams in the daily Sports Report newsletter.
You may occasionally receive promotional content from the Los Angeles Times.