All dressed up and some place to go: See NYC's holiday window works of art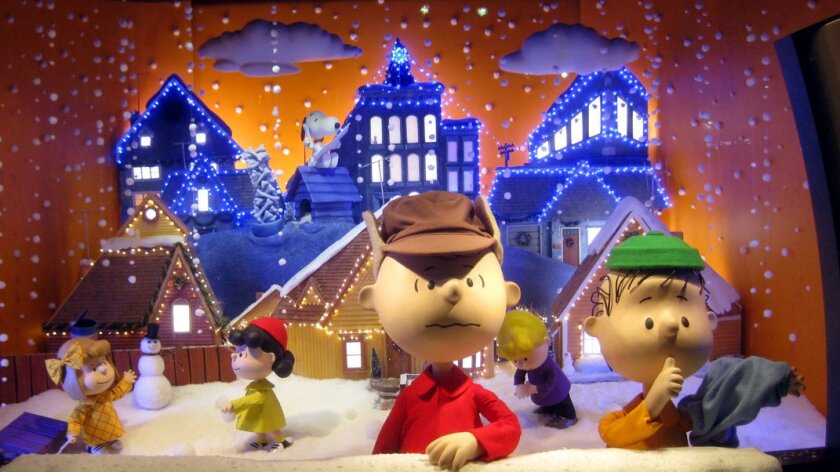 Here's one department store trip that won't cost you a dime.
In a tradition dating back more than a century, New York City's midtown Manhattan store windows are dressed for the holidays in shimmering red, green, white and blue.
The Big 6 stores have built their displays around various themes, including winter and the enduring Peanuts gang created by cartoonist Charles Schulz.
The windows may appear magical, but the work that goes into them makes the magic happen.
"It took over a year of planning -- even before Christmas 2014 -- for the creative team representing the Charles Schulz comic characters and the Macy's windows group to conceptualize and come up with the design for the six windows, two of which are prize works of technology and animation," said Roya Sullivan, national windows director of Macy's.
The theme of Saks' windows is "Winter Palace." Think of them as "Frozen" for grownups.
(John Lampl / For The Times)
At Saks, a mannequin is afloat on a cloud above India's Taj Mahal.
(John Lampl / For The Times)
Snoopy, that famous World War I flying ace, and Charlie Brown in a Macy's window.
(John Lampl / For The Times)
The window featuring the Peanuts gang at Macy's took more than a year of work.
(John Lampl / For The Times)
Lord & Taylor has constructed a pine-bough canopy with twinkling lights over the entire sidewalk on the west side of Fifth Avenue fronting the store windows.
(John Lampl / For The Times)
This confection of a window at Lord & Taylor represents the theme "These Are a Few of My Favorite Things."
(John Lampl / For The Times)
You have to smell it to believe it: The light-and-gold tree in the Bloomingdales store window emits a scent of fresh-cut pine.
(John Lampl / For The Times)
It's no bed of roses being one of Santa's reindeer -- or is it? This Jeff Leatham-designed window shows the antlers surrounded by crimson roses.
(John Lampl / For The Times)
Millions of Swarovski jewels are used in the five windows of Bergdorf Goodman, where the theme is "Brilliant Holiday."
(John Lampl / For The Times)
King Neptune is encrusted with pearls in the Treasure Chest window at Bergdorf Goodman.
(John Lampl / For The Times)
"Chillin' Out" is the theme at Barneys. Its windows show weather scenes, including one done in collaboration with glass artist Dale Chihuly.
(John Lampl / For The Times)
"Over 250 individuals, artists, electricians, lighting engineers, carpenters and sculptors worked tirelessly for months, first in our Brooklyn studios and then for six weeks installing the displays."
The creations took time, and you should take yours. An evening walkabout to take in these six stores might take two hours or more, although you can cut the walking time by cab, car or public transportation.
Keep in mind that Macy's and Lord & Taylor are close to each other; while Barneys, Bloomingdales and Bergdorf-Goodman are within five minutes' walk of one another. Saks Fifth Avenue is between Bergdorf's and Lord & Taylor.
Here's something you won't see: None of the windows show products from the respective stores.
No hard sell, and it won't cost you a dime to see these works of window art. Now that's pure magic.
ALSO:
7 new cruise ships ready to hit the water in 2016
Denver's restored Union Station is a destination unto itself
Follow us on Twitter at @latimestravel

---
Get inspired to get away.
Explore California, the West and beyond with the weekly Escapes newsletter.
You may occasionally receive promotional content from the Los Angeles Times.