Newsletter: Vegas Escapes: Life is a banquet, and so is this city, as its restaurant scene suggests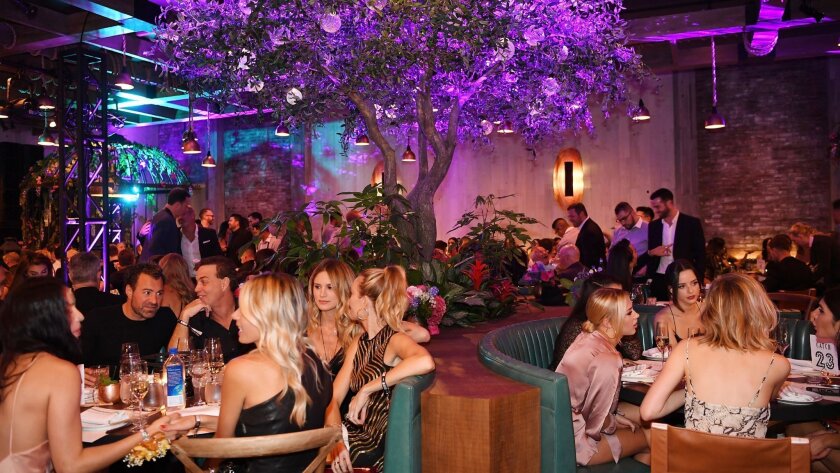 If you have time to read this, you're probably not cooking today. Or you're a much more organized cook than I. Or you're eating out.
Dining out is increasingly popular everywhere and all the time, not just on a holiday. Consumers are spending about $3,365 a year on food they eat away from home, according to 2017 numbers from the Bureau of Labor Statistics, a 6.7% increase from 2016. Of course, travelers have a reason to "eat away from home," because they are when they are visiting Vegas.
But as Auntie Mame famously said in the cleaned-up quote for a movie version of the Broadway musical, "Life is a banquet, and most poor suckers are starving to death."
Not in Vegas.
My name is Catharine Hamm. I'm the travel editor for the Los Angeles Times, and I'll be your server today. From this travel buffet, you can choose from news of several new dining spots in Vegas and the opening of an Italian food franchise that feels like a festival every day. Beyond that, we have stories about consumables of the cannabis kind in a pot superstore that also strives to entertain; an opportunity to see Vegas from on high, but we don't mean a substance-induced one; a chance to scare yourself silly; and a reunion of the best friends you've never met.
Here's hoping that you're dining today with friends you have met and family you love, even if they irritate the puddin' out of you. And meanwhile, here is the feast that is Vegas.
A fab five
Vegas is a world-class eating town that is attracting new practitioners of the culinary arts. Here are five new restaurants that call it home now: Catch (you know the name from New York and L.A. outposts) now at the Aria; Cipriani, classically Italian fare at Wynn Las Vegas; Jeannie's at Nordstrom at Fashion Show Mall; NoMad Restaurant, which is in the new NoMad Hotel that occupies the top four floors of the Park MGM (which is also new, having taken over the Monte Carlo space); and Vetri Cucina, chef Marc Vetri's first expansion outside his native Philadelphia
Eataly coming to town
L.A. has its own Eataly, the largest of the amazing Italian food marketplaces, but the one in Vegas, the city that never snoozes, will be open 24 hours a day, seven days a week. Thus if you have an emergency craving for Italian cuisine, Eataly is ready to help. Mark Dec. 27 on your calendar and find out what else this newest incarnation will offer.
This is entertaining
Here's another temptation in Vegas: The newest and biggest pot shop that also wants to keep you entertained, Planet 13 comes with light shows and fountains that create their own fog, just in case you aren't feeling foggy enough. You can't consume what you buy on the premises, but the store is hoping that opportunity will come soon. Until then, 2548 Desert Inn Road.
Another kind of high
This one is mind-blowing but not mind-altering: You can fly 1,000 feet above Vegas on the new Fly Linq, a zip line that will have you soaring over the pedestrian mall to the base near the High Roller observation wheel. Here's what's really cool: You can do it the traditional way or you can soar like Superman (or your favorite superhero), flat out, face to the wind. Either way, it will be one wild ride.
Yes! That's the spirit!
And you thought Halloween was over. It may be for the rest of the world, but in Las Vegas, if you need just a little bit of an extra thrill, there's a new escape room at Bally's. If you need a guide through some haunted rooms, meet Zoe, whose spirit is trapped there.
That's what 'Friends' is for
On the other end of the spectrum is a visit with some of your favorite friends — Rachel, Monica, Phoebe, Joey, Chandler and Ross. They're the stars of a new musical at the D hotel-casino in Vegas called "Friends! The Musical Parody."
Tuning in to some top picks
We reported in the last newsletter that Donny and Marie Osmond would be leaving their longtime Vegas gig in 2019, and we asked whom you would like to see in their place.
Here were suggestions from reader Jerry Tropp of Peoria, Ariz.
Billy Joel
Garth Brooks
Bette Midler
Bruce Springsteen
Emmylou Harris
Faith Hill and Tim McGraw
If you have suggestions on this or any other thing, please send them to travel@latimes.com.
Ta-ta, traffic. I'm leaving you in the dust, figuratively speaking
Now that the weather has cooled off in Vegas (temperatures are supposed to be in the 60s for Turkey Day), it may be time to resume some of those outdoor activities. Here's a great idea — and one that will help you burn off some of those potato-dressing-pumpkin pie indulgences: Vegas has more than 1,000 miles of bike lanes, paved paths and shared roadways. Find out where you can hit the road on two wheels.
End paper
I must turn my attention to the turkey, so I'm putting this newsletter aside for now. I'll pick it back up, though. Our next edition comes out Dec. 27 in that lull between Christmas and New Year's, which is a hot ticket in Las Vegas.
In the interim, if you have questions. complaints, compliments or concerns (not about life in general but about this newsletter), please write to travel@latimes.com. If you'd like to subscribe to this or any other newsletter, go to membership.latimes.com/newsletters.
Until then, we wish you all the fun you can handle and all the cash you need to have it.
---
Get inspired to get away.
Explore California, the West and beyond with the weekly Escapes newsletter.
You may occasionally receive promotional content from the Los Angeles Times.