Alexa Sonnenfeld and Gabriela Fernandez Join Audience Engagement Team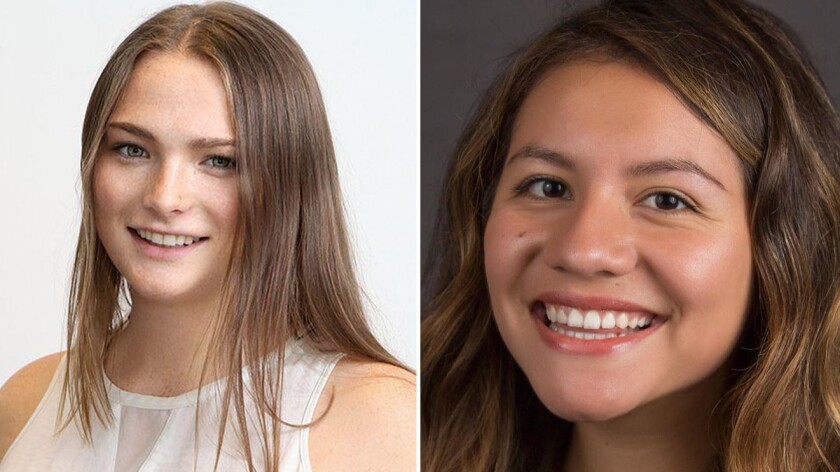 As part of the rebuilding of the Los Angeles Times, Executive Editor Norman Pearlstine and Deputy Managing Editor Sewell Chan made the following announcement.
We are happy to announce that two colleagues are joining our newsroom in the coming months, rounding out our rebuilt Audience Engagement team.
Alexa P. Sonnenfeld starts May 6 and will be embedded in Calendar, widening the reach of our arts and entertainment coverage. She is currently an operations associate at The Correspondent, a crowd-funded, ad-free news platform that began in the Netherlands in 2013 and will expand to English-language audiences in September. Alexa was previously a media fellow and then a research associate at Atlantic 57, the consulting and creative division of the Atlantic. She synthesized data from the Atlantic's print and digital readers, podcast listeners and live-event attendees to refine the magazine's understanding of its audience. She also helped Atlantic 57's product team to design an in-house chart-building application. A native of Golden, Colorado, Alexa graduated in 2017 from Dartmouth College, where she was a history major and a public policy minor. She is an avid skier, an aspiring yogi, and a music and art enthusiast.
Gabriela Fernandez will join our core social team on July 1 from the Atlantic, where she is completing a yearlong audience fellowship. She uses Facebook, Instagram, Twitter and LinkedIn to promote the magazine's coverage. She has also demonstrated proficiency with news aggregators like Apple News, Flipboard and Pocket. She completed internships at NBC Nightly News and the CBS investigative unit in Los Angeles, and at Money magazine in New York, before joining the Atlantic in Washington last year. Born and raised in the South Bay, Gabby graduated in 2018 from the University of Southern California with degrees in broadcast and digital journalism and narrative studies. A native Spanish speaker, she is passionate about stories that examine economic hardship in America and about journalism that connects with Latino audiences.
Under Samantha Melbourneweaver's leadership, the audience team is working across the newsroom to help our journalists better connect with readers. In the coming weeks, we will detail the team's operations — and ensure that every one of our journalists has a designated audience editor to turn to as a resource. Our newsroom-wide goal is to build a large, loyal and durable base of digital subscribers, who will support the investments we're making in our journalism.
---