21 aboard Grand Princess cruise ship test positive for coronavirus; passengers angry, concerned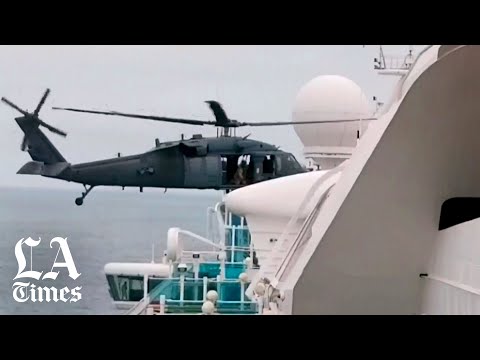 Twenty-one people on the Grand Princess off the San Francisco coast have tested positive for the novel coronavirus, Vice President Mike Pence said Friday, an announcement that angered and deflated many passengers on the cruise ship.
Pence said the federal government is working with the state of California to bring the cruise ship into a noncommercial port over the weekend and quarantine those aboard as necessary. Those testing positive included 19 crew and 2 passengers.
Get the latest coronavirus updates from our staff in California and around the world.
"All passengers will be tested," the vice president said several hours after testing kits were delivered to the ship. "Those that need to be quarantined will be quarantined."
A state source described conversations about moving passengers and crew members as fluid and said talks between the state and federal government will resume Saturday. A representative for Princess Cruises said that the ship would not dock Friday night, but was moving 20 nautical miles "for logistical purposes."
Pence said 24 people on the cruise ship had tested negative, and one test has been inconclusive.
There has been one California death reported, a man who disembarked from the Grand Princess last month in San Francisco after a cruise to Mexico. The ship was scheduled to return to San Francisco again Wednesday after a subsequent trip to Hawaii, but it has been held offshore while authorities evaluate crew members and passengers with symptoms of the virus.
For much of the day, passengers contacted on the ship had been in largely good spirits. But the announcement — and the way it was delivered by Pence with no advance warning for those on board — left some frustrated and bitter.
One of those was Debbi Loftus, on the ship with her elderly parents.
"This really sucks that the government decided that they should be the one to break the news," Loftus said minutes after word broke. "Right now I, and I know my parents, are extremely angry that we are hearing this from the vice president rather than our captain."
A source familiar with the process said government officials knew for several hours that there were multiple positives from the testing done aboard the cruise liner, which has 3,533 people onboard. These include 2,422 guests and 1,111 crew members. In total, they represent 54 nationalities.
Karen, a Canadian passenger who asked to be identified only by her first name, said she fears what could come next.
"I'm not afraid of this virus," she said moments later. "I'm terrified of a quarantine onboard."
"That changes things," said another person on the ship. "I'm not going home anytime soon."
At 3:30 p.m., the ship's captain apologized to passengers that they had to hear of the positive cases from the vice president's address, according to one person on board.
The captain told passengers that the ship was not given advance notice of the announcement. The captain also told passengers that the Centers for Disease Control and Prevention is discussing with the ship's medical personnel how to inform people of their individual results.
Yolo County announced its first case of coronavirus, becoming the 13th county in California with a patient who has tested positive for COVID-19.
In a statement, Princess Cruises said it also was unaware of the test results prior to Pence's statement.
Visiting the CDC on Friday, President Trump said he would ultimately let Pence, who leads the task force in charge of the response, decide whether to allow passengers stuck on the cruise ship to disembark. But he said several times that he would be inclined to leave them on board because bringing them ashore would increase the number of official cases on American soil.
"I like the numbers being where they are. I don't need to have the numbers being doubled because of one ship," Trump said.
"A lot of people think we should do it the other way," he said. "We have to take care of Americans."
Brian Ferguson, a spokesman for the Governor's Office of Emergency Services, said in a statement that federal and state government "have been working in close collaboration overnight and throughout the day to quickly stand up a solution that meets the health needs for those on board and protects public health."
He added that Trump and Gov. Gavin Newsom spoke Friday morning, with the governor also speaking with Pence throughout the day.
Friday's announcement was the result of a helicopter crew delivering kits to the Grand Princess to test about 100 passengers for COVID-19. The next day, Princess Cruises spokeswoman Negin Kamali confirmed that the CDC had "recommended that guests should remain in their staterooms for the remainder of the cruise."
Passengers on the Grand Princess were whipsawed by Vice President Mike Pence's announcement about infections on the cruise line, followed by President Trump's comments.
In a statement Friday night, California Senate President Pro Tem Toni Atkins called for a "safe, sane and science-based" resolution to the process.
"We have to be better than just leaving all these people out at sea," Atkins said. "There are Americans on board, families, seniors, and others all wanting nothing more than to be safe and to get treatment if they need it. With the proper precautions in place and following the protocols called for by science, we can protect the public health while preserving our basic humanity. Any attempt to use these passengers as pawns or scapegoats for political cover has to be rejected by anyone with a working moral compass."
Not all experts are supportive of quarantining passengers aboard the ship.
Don Milton, an expert on the spread of infectious disease at the University of Maryland, said such plans offer risks of their own.
"Cruise ships, college dorms and nursing homes, take your pick," Milton said. "There is a lot of recirculated air."
Milton said challenges including narrow hallways and the logistics of getting people to shore would make it hard to disembark passengers without spreading the virus further.
"How do you get people off the ship and into a better quarantine facility without exposing a lot of other people?" he asked.
On Thursday, the Sunnyvale Department of Public Safety said another man who had been on the cruise ship was found unresponsive at his home and officers performed CPR. He later died. On Friday, Santa Clara County officials said that the man tested negative for COVID-19.
On Wednesday, a 75-year-old Placer County man who had tested positive for COVID-19 died after returning from the cruise.
Placer health officials said the man had underlying health conditions. He was the county's second confirmed case of COVID-19. Officials said close contacts of the man were being quarantined and monitored for the illness.
"That's close to home," said one neighbor, who asked not to be identified as he stood on his lawn. "I'm in my 70s, so this is a big deal."
Passengers on the vessel — both current and those who may have been exposed earlier — told the Los Angeles Times that the response to the outbreak by the company and health officials had been filled with missteps.
In particular, passengers said that Princess Cruises was lax on health screening protocols prior to boarding and withheld information about the risks they faced, even as the ship's condition became international news.
Meanwhile, significant precautions over the spread of coronavirus in California were announced Friday night.
Stanford University said that it will move classes online for the final two weeks of the winter quarter. USC said it would conduct lectures and seminars online rather than in classrooms for three days next week to test the ability to operate remotely should the campus be forced to suspend in-person contact.
Times staff writers Noah Bierman and Taryn Luna contributed to this report.
Sign up for Essential California for news, features and recommendations from the L.A. Times and beyond in your inbox six days a week.
You may occasionally receive promotional content from the Los Angeles Times.