Watch: Protesters in Pershing Square demand justice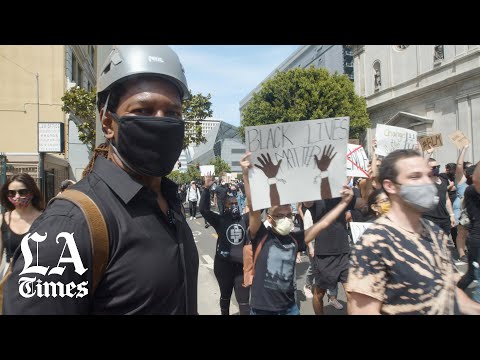 L.A. Times columnist LZ Granderson speaks with protesters in downtown Los Angeles and finds goodwill and solidarity.
Living downtown has many conveniences — close to Staples Center, close to Dodger Stadium, close to USC and the neighboring Banc of California Stadium. However, over the last week downtown has morphed from an entertainment hub to a pinched nerve, with the slightest of movements bringing pain.
Already gutted by a pandemic that has turned L.A. Live into L.A.'s ghost town, a once-bustling district is engaged in an awkward pas de deux with the National Guard, which has made the Convention Center a hub. An abundance of fish-out-of-water camouflage can be seen by day, the all-too-familiar ghetto bird hovering at night. Blocks are adorned with boarded-up storefronts and armored vehicles patrolling the streets, members of the military watching you closely as you make your way to the nearby Ralphs. Clearly, they are there to prevent the chaos of the nights before; however, it still feels as if we've been occupied. I might be allowed to walk to the grocery store, but I don't have the freedom to go anywhere I want.
Because of all of this, it's easy to lose track of how we got here — the Minneapolis police killed George Floyd and the horrifying moment was caught on tape. The looting and riots and fires make for great TV, but they should not be conflated with the message of the protesters, who took to these downtown streets because the circumstances surrounding Floyd's death are closer to America's norm than an anomaly. They are demanding change. They are demanding justice. They are demanding that America fulfill her promise.
The Chargers coach shares his thoughts on George Floyd's death, his relationship and experience with law enforcement and Colin Kaepernick.
Say his name
George Floyd
Say his name
George Floyd
Say her name
Breonna Taylor
Say her name
Breonna Taylor
Those were just some of the chants heard again Tuesday afternoon as hundreds weaved their way through and around relatively empty streets. They walked through the middle of Main Street during rush hour, with little traffic to interrupt their march. The vehicles that were present were largely fellow protestors passing out free bottles of water and squirts of hand sanitizer or honking their horns in support.
As 6 p.m.neared and the city-wide curfew approached, a group locked arms and declared "we will not be moved". And despite officers with bullhorns reminding the crowd they were subject to arrest for not leaving City Hall, when 6:30 came and went, neither side had budged.
This is what democracy looks like
This is what democracy looks like
Then later. . .
Take a knee.
Take a knee.
No member of the law enforcement did take a knee but there was no escalation. No rioting or looting. A faint hint of the burning sage perfumed the air, not tear gas. Cooler heads prevailed. Perhaps the justice these protestors are demanding will follow.

Sign up for Essential California for news, features and recommendations from the L.A. Times and beyond in your inbox six days a week.
You may occasionally receive promotional content from the Los Angeles Times.