Full coverage: What to know about the Huntington Beach oil spill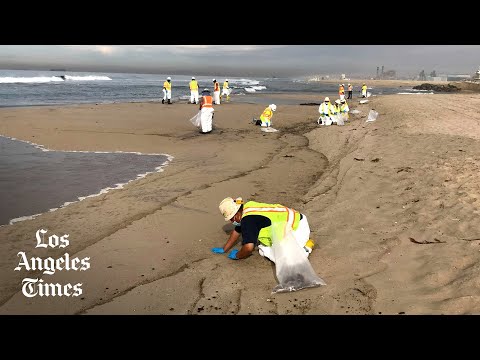 The spill reaches Dana Point, and  Baby Beach is closed. The greatest threat to the shore remains in the area between Huntington Beach and Laguna Beach.
The full scope of the oil spill in Orange County remains unclear. But the leak of at least 126,000 gallons of crude oil is one of the largest in recent years in California.
Follow our coverage here as we learn more about what happened.
1

A 45-mile stretch of coastline in Orange County was closed to fishing and other seafood procurement for nearly two months.

2

On Saturday, divers were preparing for a routine inspection of the damaged pipeline when they saw an oil sheen on the water off Huntington Beach.

3

Authorities are investigating a 70-by-30-foot oil sheen reported in the ocean in the same location as last month's spill off Orange County.

4

Authorities from the U.S. Coast Guard and National Transportation Safety Board think a ship's anchor hit an oil pipeline off Huntington Beach coast and eventually led to the Oct. 2 spill.

5

At an oversight hearing by the state Senate's Natural Resources and Water Committee, legislators acknowledged that ending offshore drilling would be an extremely difficult task

6

With lawsuits and cleanup costs mounting in the Orange County oil spill, some fear the pipeline's owner may not have the resources or desire to pay the costs.

7

Beta Offshore received a $20-million "end of life" royalty discount. It also received a $11-million discount because it planned to drill new wells.

8

This month's spill was over 10 times larger than regulators in the 1970s predicted in the event of an anchor strike on the pipeline. Their miscalculation may have missed an opportunity to enact safeguards, experts say.

9

Investigators say the ship was involved in an anchor-dragging incident in January, near the pipeline that was the source of this month's oil spill.

10

Officials raised concerns in the 1970s about plans for oil platforms off Orange County.

11

Thousands of miles of inactive oil pipelines have been abandoned on the seafloor. Aging platforms pose an additional risk.

12

As of Tuesday evening, wildlife officials had collected 28 oil-covered birds from the Orange County shoreline, all of which have undergone cleaning and rehabilitation. Some were released Wednesday.

13

Gridlock at L.A. ports hit record high as investigators looking into the oil spill gather data on every vessel traveling near the pipeline since last October.

14

"We really dodged a bullet," Huntington Beach's mayor said. "When you hear that thousands of gallons of oil has been released ... you can't help but think the worst."

15

Stretches of sand in Newport Beach and Huntington Beach reopened to swimmers and surfers as cleanup crews continued combing the shores for oil and tar Monday.

16

Huntington Beach and the oil industry have been intertwined for more than a century. Derricks used to line the beach.

17

More than 1,400 workers fanned out across the county's coastline and to area wetlands, wearing hazmat suits and carrying sifting nets as they combed the sand for black tar.

18

Oil spills are likely to increase as fossil fuel use tapers, and oil companies put off upgrades to aging infrastructure, experts say.

19

One week since the Orange County oil spill, several big questions remain: When and how was an oil pipeline damaged? How big was the spill?

20

Amplify Energy's CEO has offered information that conflicts with federal records and provided vague responses to questions at news conferences.

21

Researchers are now examining how oil spills affect the health of a minuscule and mysterious ecosystem called the microbiome.

22

The oil spill that fouled the coast threatens the snowy plover at a time when experts were hopeful that the species was making a comeback.

23

Damage to the pipeline could have occurred weeks or months before the spill, two sources familiar with the investigation tell The Times.

24

Officials determine that between 25,000 and 131,000 gallons of oil were released in O.C. spill. Previous estimates were as much as 144,000 gallons.

25

Shutting down an offshore platform is costly, and there's a big gap between the projected decommissioning costs, how much companies have posted in bonds and other financial assurances.

26

An understanding of the chain of events that led to the Orange County oil spill is playing out like a twist-filled thriller.

27

Below the surface, the politics of oil in California are viscous, especially when it comes to Democrats and their intra-party battles over the industry's environmental and economic impacts.

28

The Elly oil platform is a beloved dive site in Southern California. Will the oil spill ruin it forever?

29

A storm that meteorologists say could bring 20-mph winds to the region is moving in, bringing concerns that more oil could reach the Southern California shores.

30

Rotterdam Express, the ship probed in O.C. oil spill, no longer under investigation, company says.

31

A final determination for the cause of the spill may take months, but Coast Guard investigators have come up with no other explanation than anchor drag, federal sources said.

32

For workers cleaning up at Talbert Marsh and other wetlands, the visible damage from the Orange County oil spill is only the beginning.

33

Oil helped build Southern California's 20th-century economy. But in the 21st century, columnist George Skelton writes, offshore production is worth far less than its environmental cost.

34

The Coast Guard investigates a cargo vessel that was in the area before a pipeline break off the Orange County coast spilled 144,000 gallons of oil.

35

Federal lawmakers are demanding more information on the massive oil spill off the coast of California as a legislative battle looms over whether to include a ban on future offshore drilling in a scaled-down $3.5-trillion bill.

36

Crews in Huntington Beach and Newport Beach are trying to protect coastlines as much as possible ahead of an approaching storm.

37

For some fishermen, income from an entire season may be at risk.

38

The spill has left many residents questioning the oil industry off its shore and officials calling for a ban on drilling off the coast.

39

In the back of the plane with the cargo door open, two flight mechanics looked for oil sheens in the dark teal ocean while reporters on board watched.

40

Oil spills keep happening. There's only one way to stop them.

41

A final determination for the cause of the spill may take months, but Coast Guard investigators have come up with no other explanation than anchor drag, federal sources said.

42

Officials haven't approved any new oil exploration off California's coast in decades. Yet pumping and drilling continue there. Here's why.

43

Oil industry experts say the U.S. Bureau of Safety and Environmental Enforcement has long failed to adequately monitor offshore drilling operations.

44

The class-action lawsuit filed in Los Angeles Monday alleges lost wages and potential exposure to health hazards.

45

At a news conference focused on the oil spill, the California governor made a point about the need to shift away from oil industry-based jobs. "It's time once and for all to disabuse ourselves that this has to be part of our future," Newsom said of drilling. "This is part of our past."

46

Divers examining the 17.7-mile pipeline found it had been displaced by about 105 feet and had suffered a 13-inch split running parallel to the pipe.

47

The company that operates the pipeline received an alert of a possible failure at 2:30 a.m. Saturday, federal regulators said.

48

Environmentalists have concerns about aging oil platforms off the California coast, which has reinvigorated debate about new offshore drilling.

49

Officials first learned Friday night an oil slick was likely, but it wasn't until the following evening that the public was told how serious it was.

50

Oil industry and government officials will tout technology's potential to mitigate the damage on thousands of gallons of oil leaked into the ocean. They know better.

51

The offshore waters along the Orange and Los Angeles county coasts are teeming with cargo ships waiting to get into the ports of L.A. and Long Beach.

52

The first victims are seabirds, graceful creatures that alight upon the ocean's surface.

53

Even beyond climate change, there are many reasons to transition to solar and wind power — the Huntington Beach oil spill among them.

54

Aging oil drilling infrastructure and lax regulation made the Orange County spill inevitable.

55

The full scope of the weekend oil spill in Orange County remains unclear.

56

Officials are flying over the spill multiple times a day to map the oil's direction and compare it with tides, currents and winds to project the potential impact.

57

California officials received reports of oil in the waters off Huntington Beach on Friday evening, records show.

58

The massive oil spill from a 126,000-gallon leak off the Orange County coast is moving south, threatening marine protected areas as well as popular beaches.

59

A developing list of what Southern Californians can do to help with the O.C. oil spill.

60

The oil spill off the Huntington Beach coast has prompted closures and safety advisories.

61

The oil likely will continue to encroach on Orange County beaches for the next few days, officials said.

62

While the Orange County spill has leaked at least 126,000 gallons of crude into the ocean, its size is still far less than several other catastrophic spills in California and elsewhere.

63

A low-pressure system will bring a chance of lightning and showers over the Orange County oil spill area, officials said.

64

Amplify Energy Corp., the owner of the offshore oil operation, had recently emerged from bankruptcy, while a subsidiary amassed numerous federal noncompliance incidents.

65

Divers are completing an intricate inspection of the pipelines on the sea floor, about 80 to 100 feet below the ocean's surface.

66

A developing list of what Southern Californians can do to help with the O.C. oil spill.

67

California's distaste for offshore drilling dates back to the 1969 Santa Barbara oil spill. Here's a recap of how the state has led the charge against the practice ever since.

68

The pipeline failure caused roughly 130,000 gallons of oil to gush into the Catalina Channel, creating a slick that spanned about 8,320 acres — larger than the size of Santa Monica.

69

The time it took to determine the scope of the leak has sparked questions from residents and others about how the early hours of the crisis were handled.

70

An oil slick believed to have originated from a pipeline leak has hit Huntington Beach, closing a stretch of beach and raising grave wildlife and environmental concerns.

71

Throughout Sunday afternoon, people gathered at the mouth of the Santa Ana River between Newport and Huntington beaches after a major oil spill caused at least 126,000 gallons of crude to spill into Orange County coastal waters.

72

The oil spill had reached the Talbert Marsh and some environmentally sensitive wetlands areas by Sunday morning.

73

The oil had already killed or poisoned untold numbers of birds, fish and mammals, despoiling their habitat for perhaps years to come.

74

Orange County Supervisor Katrina Foley said a broken pipeline connected to an offshore oil platform called Elly caused the spill.

75

The oil spill had reached the Talbert Marsh and some environmentally sensitive wetlands areas by Sunday morning.

76

What it was like to be surfing the morning of the Orange County oil spill. In a word: surreal.

77

A massive oil spill off the Orange County coast has fouled beaches and killed birds and marine life

78

The Orange County coastline has become the latest casualty to the nation's unhealthy dependence on oil.