Political futures in jeopardy amid mounting calls for L.A. City Council members to resign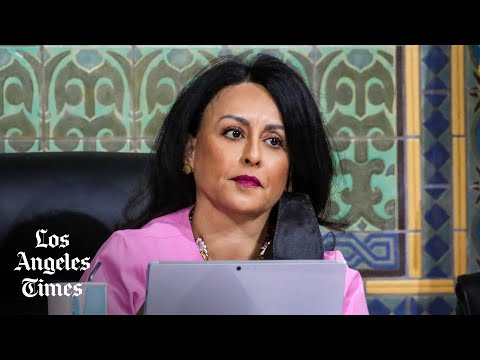 Nury Martinez resigned as L.A. City Council president after audio of her making racist statements and disparaging other politicians was leaked.
Calls for Los Angeles City Councilmembers Nury Martinez, Kevin de León and Gil Cedillo to resign continued to mount on Monday, as the fallout from an incendiary leaked conversation radiated through the city.
The political implosion, unparalleled in recent L.A. history, was set off by a leaked audio recording reported Sunday by The Times.
A leaked recording of L.A. City Council members and a labor official includes racist remarks. Council President Nury Martinez apologizes; Councilmember Kevin de León expresses regret.
The city's political and civic establishment — including major figures who'd issued more subdued statements a day prior — had taken the temperature of the city and found it white-hot amid a growing national scandal.
The list of political figures and organizations issuing those calls took in Mayor Eric Garcetti, former Mayor Antonio Villaraigosa, U.S. Sen. Alex Padilla (D-Calif.), the Los Angeles County Democratic Party, Reps. Adam B. Schiff (D-Burbank), Tony Cárdenas (D-Pacoima) and Jimmy Gomez (D-Los Angeles), an array of labor unions and two mayoral candidates — Rep. Karen Bass (D-Los Angeles) and developer Rick Caruso.
The leaked conversation, which took place roughly a year ago during a meeting over the city's redistricting process, involved the three Los Angeles councilmembers and a powerful labor leader. Martinez was heard making racist statements, and the group disparaged other politicians.
Los Angeles County Federation of Labor President Ron Herrera resigned from his post Monday night at a meeting with the federation's executive board, two sources close to the situation told The Times, requesting anonymity to describe sensitive internal matters. One source said the organization would make a formal statement Tuesday.
The political futures of Martinez, De León and Cedillo remained seriously in doubt. Following outrage over the racist comments she made about a colleague's then-toddler son, Martinez stepped down from her leadership position as president of the City Council on Monday morning.
The move instantly triggered behind-the-scenes jockeying at City Hall over who will replace her as leader, along with more questions about whether she and the others will remain on the council. Tensions will probably come to a head Tuesday morning on the council floor, during the body's first meeting since the leaked recording was released.
Audio of Councilmembers Nury Martinez, Kevin de León and Gil Cedillo speaking with labor leader Ron Herrera quickly became a new and incendiary issue in the Nov. 8 election.
Martinez reiterated her apologies in a Monday morning statement, saying she was "truly ashamed" and hoped her colleagues and residents of the city would give her "the opportunity to make amends."
"I ask for forgiveness from my colleagues and from the residents of this city that I love so much," she said.
The revelations have upended L.A. politics a month before a critical city election and brought the crucible of race relations back into the center of municipal debate. Martinez had endorsed a number of candidates, including a handful who called for her departure from the council.
Martinez said Councilmember Mike Bonin handled his young Black son as though he were an "accessory" and described the son as "Parece changuito," or "He's like a little monkey." And she referred to Oaxacans in Koreatown as "little short dark people."
Speaking about Los Angeles County Dist. Atty. George Gascón, Martinez said, "F— that guy.... He's with the Blacks."
De León, Cedillo and Herrera all also apologized Sunday for their role in the conversation. At one point in the leaked audio, De León appeared to compare Bonin's handling of his child to Martinez holding a Louis Vuitton handbag.
Councilmembers Nithya Raman, Paul Koretz, Marqueece Harris-Dawson, Mitch O'Farrell, Heather Hutt and Bonin have all called on Martinez to resign.
Harris-Dawson, Hutt and O'Farrell also called for De León and Cedillo to step down from the council.
Sign up for On The Record
In this pivotal election year, we'll break down the ballot and tell you why it matters in our L.A. on the Record newsletter.
Cedillo issued his own statement Sunday, saying: "While I did not engage in the conversation in question, I was present at times during this meeting last year. It is my instinct to hold others accountable when they use derogatory or racially divisive language."
"Clearly, I should have intervened," he said in a text to The Times. "I did not make a racist statement and I did not mock my colleagues."
Cedillo, who was defeated in the June election by community activist Eunisses Hernandez, steps down in December. But De León and Martinez had remained influential at City Hall — and had been seen as potential contenders for the mayoralty or other higher offices.
De León, who previously made history as the first Latino leader of the state Senate in more than a century, finished third in the 2022 mayoral primary.
A San Fernando Valley native, Martinez made history when she was sworn in as the first Latina president of the City Council in 2019.
At L.A. City Hall, Nury Martinez has been known as a blunt speaker. She is now in political free fall over words that she was caught saying on leaked audio.
Martinez led the council through the early months of the COVID-19 pandemic, using federal funds to provide rent relief and money to help families pay their utility bills. She spearheaded the passage of a vaccination requirement for city workers and worked to redirect money from the Police Department to other city purposes, including social services, after George Floyd's murder.
She steps down as president at a key moment for City Hall. As many as five councilmembers could depart by the end of the year, depending on the outcome of the Nov. 8 election.
Four councilmembers are leaving office while a fifth, O'Farrell, is in a tough reelection fight. As the City Council President Pro Tem, O'Farrell will serve as acting president at Tuesday's council meeting.
It's unclear what will transpire during Tuesday's meeting. The council does not have the power to suspend Martinez, De León and Cedillo.
The City Charter has a provision for councilmembers to suspend an elected officer only if they are awaiting trial in criminal proceedings, as was the case with former Councilmember Jose Huizar and suspended Councilmember Mark Ridley-Thomas.
It's possible that the council could introduce a motion to censure the three councilmembers, though such a move would be largely symbolic.
The council president is one of the most powerful positions at City Hall, deciding when issues are placed on council agendas and selecting who will sit on the council's most influential committees — ones dealing with the city budget, real estate development, energy and other issues. A council president who can secure 10 votes, enough to withstand a veto, can be at times more powerful than the mayor.
Councilmember-elect Hernandez said she wants the council to select "an intermediate caretaker" as president until the end of the year, when she and the other new councilmembers will be seated.
Hernandez said Councilmember Paul Krekorian would make a good caretaker in the coming months. "In January, when the new council is on board, we should do a new vote. And I would be interested in seeing Marqueece's leadership," said Hernandez, referring to Councilmember Marqueece Harris-Dawson.
Instead of taking responsibility for the underwhelming state of Latino political power, the councilmembers just whined about their predicament and blamed everyone else — in racist terms.
Krekorian said he is in fact interested in becoming council president, arguing that the city is about to go through huge political changes — the arrival of a new mayor, city attorney, city controller and at least four new councilmembers. The council, he said, will need someone experienced to lead the council through its "latest crisis."
Councilmember Curren Price said he too is seeking the presidency, arguing that his history and accomplishments show that he will provide "healing and reconciliation."
Price, who is Black, has been elected three times in a district that is four-fifths Latino, with residents not just from Mexico but also South America and the Caribbean. He said his colleagues want someone "who's not going be demeaning, someone who's not talking down, someone who will value diversity and give it the respect it deserves."
Protesters on the left and right sides of the political spectrum have targeted Martinez and other politicians in recent years. At some points, they gathered outside the officials' homes, prompting Martinez to propose a law barring protest from within 300 feet of a target's residence.
On Sunday night, a group gathered outside Martinez's Sun Valley home to protest her racist comments, according to a video posted on Twitter.
So much for solidarity. Leaked audio of L.A.'s Latino leaders plotting to dilute Black political power is sure to lead to new fears and new divisions.
The leaders of eight SEIU California unions with Los Angeles-area members also issued a statement Monday morning calling on Martinez, De León and Cedillo to step down from their council seats, as did the California Nurses Assn.
Times staff writers Matt Pearce and Salvador Hernandez contributed to this report.
Sign up for Essential California for news, features and recommendations from the L.A. Times and beyond in your inbox six days a week.
You may occasionally receive promotional content from the Los Angeles Times.