Monterey Park suspect is the oldest mass shooter in recent history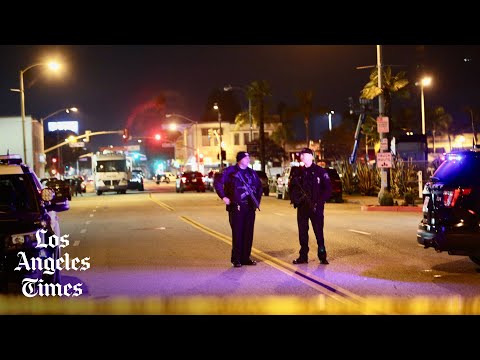 Investigators searching for a motive in one of the worst mass shootings in modern Los Angeles County history say a search of the suspected gunman's home discovered a rifle, hundreds of rounds of ammunition and evidence he was manufacturing gun silencers.
The gunman who opened fire in a Monterey Park ballroom Saturday and killed 11 people is the oldest person to carry out such an attack in the U.S., according to research.
The deadly shooting was as horrifying as it was rare.
"This is definitely unique," said James Densley, president and co-founder of the Violence Project, a nonprofit organization that tracks mass shootings, which the group defines as those involving four or more people killed in a public space.
By that definition, 72-year-old Hemet resident Huu Can Tran — the man identified by authorities as the shooter — would be the oldest person in recent history to carry out a mass shooting, and only the second in their 70s to carry out such an attack, according to the Violence Project. The organization's database dates back to 1966.
Search warrants at the home of Huu Can Tran uncovered weapons, ammunition and items that led officials to suspect he was manufacturing firearm suppressors.
Less unique is the possibility that the shooter was motivated by a personal vendetta, Densley said.
Tran is believed to have frequented Star Ballroom Dance Studio in Monterey Park, where he opened fire on at least 20 people, and the Lai Lai Ballroom in Alhambra, where he was later disarmed. Law enforcement sources told The Times that detectives were focusing on his prior interactions at both studios, and the possibility that jealousy and a prior relationship may have played a role in the shooting.
About one-third of mass shooters have a previous history of domestic violence, and there have been several cases of "domestic spillage," or instances where personal attacks result in the deaths of other people, Densley said.
"There have been times, for instance, where people have targeted places of worship or workplaces specifically to try and get a family member, but then other people end up getting shot as sort of collateral damage," he said.
In most cases of crime, the elderly are the victims, not the perpetrators, said Jaclyn Schildkraut, interim executive director of the Regional Gun Violence Research Consortium, which also collects data dating back to 1966 on mass shootings.
In Saturday's shooting, the perpetrator and most of the victims were older adults, with all 10 of the victims who died Saturday night in their 50s, 60s or 70s, according to the Los Angeles County coroner.
An 11th victim died Monday at LAC+USC Medical Center after succumbing to "extensive injuries," hospital officials said. That person's age was not immediately revealed.
The first 10 victims in the massacre in Monterey Park after a Lunar New Year festival were in their 50s, 60s or 70s, according to the L.A. County coroner. An identification has not been shared for the 11th.
According to mass shooting data compiled by both organizations, the average age of attackers is 33, making Tran more than twice as old of the vast majority of mass shooters.
The Regional Gun Violence Research Consortium uses a different definition for a mass shooting, which includes multiple victims who have been injured or killed during a shooting at a public location. Yet even under that definition, Tran would be among the oldest of perpetrators.
Of 402 incidents studied by the group between 1966 and 2020, only six of the perpetrators were older than 70 years old, Schildkraut said.
In 2009, an 88-year-old opened fire at the Holocaust Memorial Museum in Washington, D.C., killing one police officer and injuring two others. In 1981, a 70-year-old killed five people in a shooting in Allen, Ky.
Research on mass shootings can vary, largely because of how a mass shooting is defined. The Times defines a mass shooting as one with four or more people killed — not including the shooter — in a public location with firearms, as defined by the Congressional Research Service.
Even by the definition used by the Regional Gun Violence Research Consortium, an elderly shooter is extremely rare, Schildkraut said.
"As rare as mass shootings are, they actually follow a lot of what we know about crime in general," she said, and that includes the fact that, "people tend to age out of crime," she said.
The tragedy in Monterey Park underscores the need for improved crisis and suicide prevention services, Densley said, noting that mass shootings are "always intended to be a final act" by the shooter — be it by suicide, death at the hands of law enforcement officers or eventual imprisonment.
"I think that is maybe the biggest takeaway here: What would be enough to drive a 72-year-old man to perpetrate a crime like this?" he asked. "I think what it really comes down to is, they have reached their final breaking point and they no longer care if they live or die."
Sign up for Essential California for news, features and recommendations from the L.A. Times and beyond in your inbox six days a week.
You may occasionally receive promotional content from the Los Angeles Times.