Guests on Sunday talk shows: Gina Raimondo on 'Face the Nation' on CBS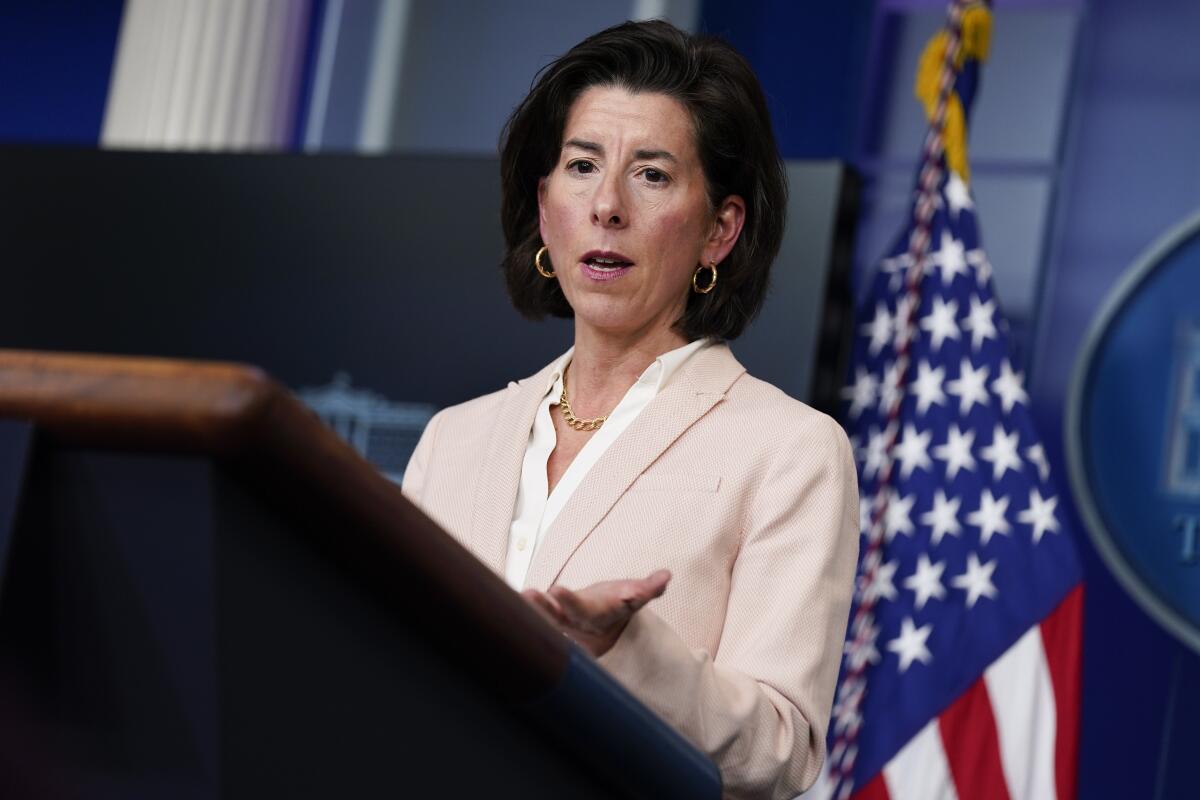 During the coronavirus crisis, the Los Angeles Times is making some temporary changes to our print sections. The prime-time TV grid is on hiatus in print but an expanded version is available in your daily Times eNewspaper. You can find a printable PDF online at: latimes.com/whats-on-tv.
CBS News Sunday Morning Activist and author Stacey Abrams ("While Justice Sleeps"). (N) 6 a.m. KCBS
Good Morning America (N) 6 a.m. KABC
State of the Union White House COVID-19 response coordinator Jeffrey Zients. Rep. James Clyburn (D-S.C.). Gov. Spencer Cox (R-Utah). (N) 6 and 9 a.m. and 8 p.m. CNN
Fareed Zakaria GPS China, Russia, Israel, Iran and Afghanistan: Former secretary of Defense Robert Gates. The expected post-pandemic economic boom in America; the long-term economic effects of the pandemic: Author Niall Ferguson ("The Square and the Tower: Networks and Power, From the Freemasons to Facebook"). India's COVID-19 crisis; the next COVID-19 crisis: Devi Sridhar, University of Edinburgh. President Biden and the Republicans: Author Jake Tapper ("The Devil May Dance"). (N) 7 and 10 a.m. CNN
Sunday Morning Futures With Maria Bartiromo Rep. Kevin McCarthy (R-Bakersfield); Sen. Ron Johnson (R-Wis.); former House Speaker Newt Gingrich (R-Ga.); former DEA acting administrator Timothy Shea. (N) 7 a.m. and noon Fox News
Face the Nation Secretary of Commerce Gina Raimondo; Rep. Adam Kinzinger (R-Ill.); Neel Kashkari, Federal Reserve Bank of Minneapolis; former FDA commissioner Dr. Scott Gottlieb; author Michael Lewis ("The Premonition: A Pandemic Story"). (N) 7:30 a.m. and 2:45 a.m. KCBS
Meet the Press Dr. Anthony Fauci, National Institute of Allergy and Infectious Diseases; Sen. Bill Cassidy (R-La.); Gov. Larry Hogan (R-Md.). Panel: Cornell Belcher; Hallie Jackson; Danielle Pletka; Jake Sherman. (N) 8 a.m. and 1:30 a.m. KNBC; 1 a.m. MSNBC
This Week With George Stephanopoulos (N) 8 a.m. and 2 a.m. KABC
Fox News Sunday With Chris Wallace Michael McConnell, Facebook Oversight Board. Rep. Jim Banks (R-Ind.). Former FCC chair Newton Minow. Panel: Karl Rove; Susan Page, USA Today; Jonathan Swan, Axios. (N) 8 a.m. KTTV; 11 a.m. and 11 p.m. Fox News
Reliable Sources With Brian Stelter Reports that the Trump Administration Department of Justice obtained reporter phone records: Author Devlin Barrett, the Washington Post ("October Surprise: How the FBI Tried to Save Itself and Crashed an Election"). The consequences of "Foxitis" in politics and culture: Susan Glasser, the New Yorker; author Amanda Marcotte ("Troll Nation"); David Zurawik, the Baltimore Sun. Right-wing media sources ignore the Trump riot: Dan McAdams. Tribune Publishing reporters make pleas to save local newspapers: Liz Bowie, the Save Our Sun campaign; Larry McShane, New York Daily News. A new book about Jeff Bezos, Amazon, the Washington Post and the National Enquirer: Author Brad Stone ("Amazon Unbound"). (N) 8 a.m. CNN
MediaBuzz Kat Timpf; Mara Liasson; Mike Emanuel; Jedediah Bila; pollster Frank Luntz. (N) 8 a.m. Fox News
Frank Buckley Interviews Author Mark Bittman ("Animal Vegetable Junk: A History of Food From Sustainable to Suicidal"). (N) 4:30 p.m. and 12:05 a.m. KTLA
60 Minutes The story of Jews who escaped the Nazis and joined the U.S. Army to fight Hitler during WWII; Ingenuity and Perseverance on Mars. (N) 7 p.m. KCBS
TV highlights for May 9-15 also include a salute to female comedians on Lifetime and the return of "High School Musical: The Musical: The Series"
TV Grids for the entire week of May. 9 - 15 in PDF format for easy downloading and printing

Movies on TV this week: May 9: 'Rosemary's Baby' on Showtime; 'Forrest Gump'; on Comedy Central; 'The Philadelphia Story' on TCM and more
Movies on TV for the entire week, May. 9 - 15 in interactive PDF format for easy downloading and printing

What's on TV: Television listings
Looking for what to watch on TV? Here are the television listings from the Los Angeles Times in printable PDF files.
Updates
12:27 p.m. May 8, 2021: Updated guests for "Reliable Sources" on CNN.
Get our L.A. Goes Out newsletter, with the week's best events, to help you explore and experience our city.
You may occasionally receive promotional content from the Los Angeles Times.